Indian Cuisines for the Holidays
Christmas has been a largely religious holiday that is celebrated with equal fervor by people of every religion. The Indian community has embraced this festivity with the same gusto as the celebration of Diwali, Eid, and Holi.
With influence from the Western culture, the long-prepared Christmas meal is served on Christmas Eve to be shared together by the family. To help you choose what dishes to prepare here 5 festive Indian cuisines you can delight and enjoy you and your guests with:
1. Sanna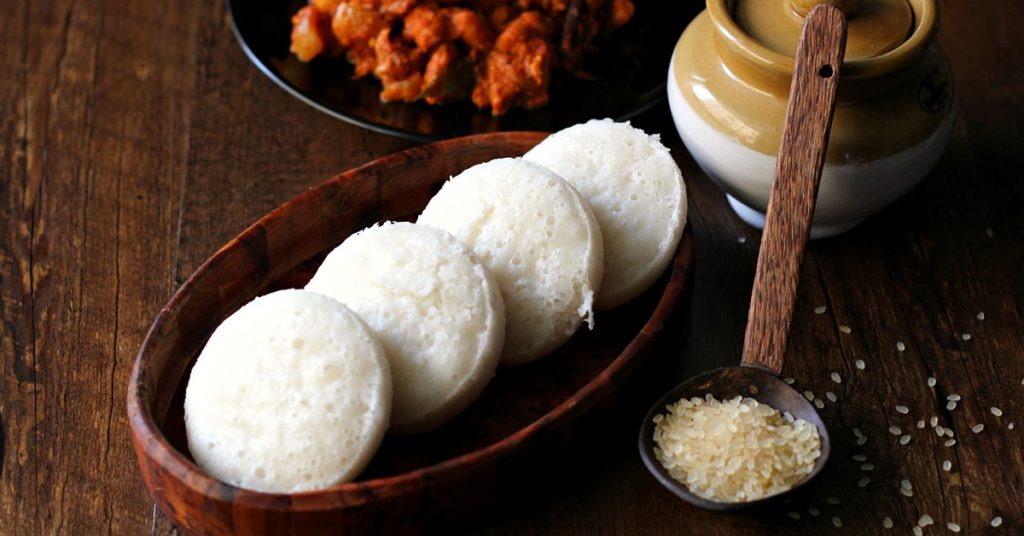 Warm, soft, and fluffy sanna can be eaten on their own or with curries and stir-fries. It is a unique dish that requires specific ingredients.
Ingredients
2 cups (500 grams) rice
2 medium-sized coconuts
1 pint (500 milliliters) Goan toddy or 2 1/2 teaspoons dried yeast
2 teaspoons sugar (to mix with yeast if using)
Salt to taste
4 teaspoons sugar (to add to batter)
1 cup warm water (if using yeast)


Instructions:
Step 1: Wash the rice well and soak in water overnight. In the morning, drain the water and grind the rice into a fine paste with a little toddy. If you are not using today, grind the rice on its own.
Step 2: Scrape the coconut out of the shell and grind it into a paste too.
Step 3: If you are using the yeast, mix it with 2 teaspoons of sugar and the warm water. Stir well. Allow to sit for a few minutes and it will begin to rise.
Step 4: Mix the rice and coconut pastes together in a large, deep bowl and add the toddy/ yeast water. Mix well to form a thick batter.
Step 5: Allow this batter to ferment for 4 to 5 hours.
Step 6: Grease an Idli stand (or small ramekin dishes with a little cooking oil and pour enough batter into the mold/ramekin dishes to fill about 3/4 of the way.
Step 7: Put the Idli stand/ ramekin dishes into a steamer and steam for 20 minutes at least (or till cooked – a toothpick inserted in the center will come out clean) on high flame.
Step 8: When cooked, gently remove from the Idli molds/ramekin dishes and serve hot with a curry of your choice.

Indian Sanna Bread
2. Malai Kofta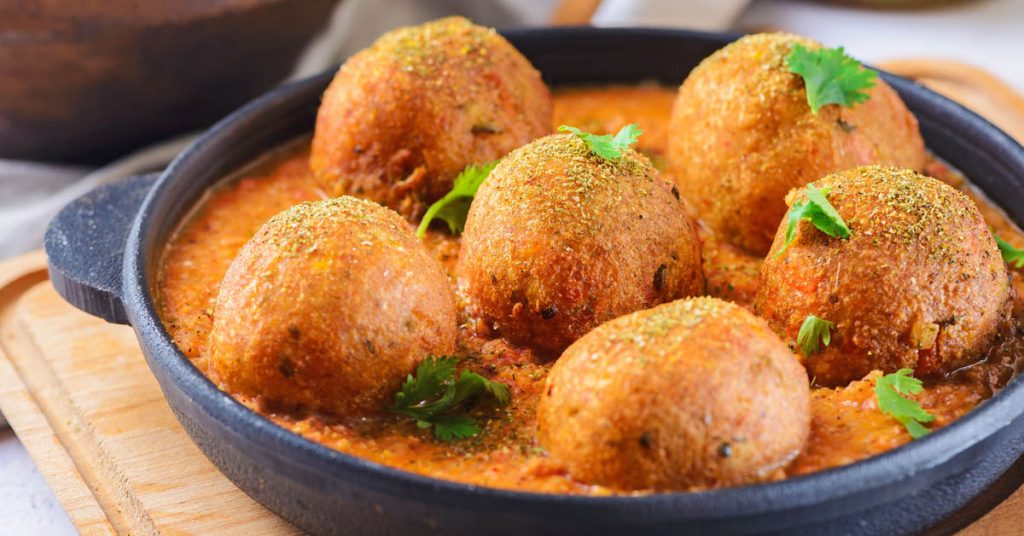 Malai kofta may be a tedious meal to prepare but the efforts are well-rewarded as it is both pleasing to vegetarians and meat-eaters alike who will ask for more. It is the perfect mixture of traditional spices that are deep-fried made from potato and paneer dunked in a creamy spiced velvety smooth curry.
It is best served with garlic naan for an ultimate indulgence.
Ingredients:
Gravy
1 tablespoon oil 15 ml, I used avocado oil
1 bay leaf
1 inch cinnamon stick
4 whole green cardamoms slightly crushed
3 cloves
1 teaspoon shahi jeera caraway seeds
6-7 large garlic cloves 22 grams, roughly chopped
1.5 inch ginger 16 grams, roughly chopped
1 green chili chopped
1 large yellow onion 190 grams, chopped
2 large tomatoes 390 grams, chopped
12 cashews whole and raw
2 cups water 16 oz
2 tablespoons butter 28 grams
1 teaspoon oil 5 ml
1 teaspoon coriander powder
1/4 teaspoon kashmiri red chili powder
1/2 teaspoon salt or to taste
1 teaspoon sugar
1/8 teaspoon garam masala or more to taste
2 teaspoons crushed kasuri methi dried fenugreek leaves
3 tablespoons heavy cream 45 ml
pinch cardamom powder
cilantro to garnish


Malai Kofta
1 cup mashed & boiled potatoes
1 cup grated paneer
1 tablespoons finely chopped ginger
1.5 tablespoons chopped cilantro
1 green chili chopped
1 tablespoon chopped cashews
1 tablespoon chopped raisins golden raisins
1.5 tablespoons cornstarch
1/2 teaspoon salt
1/4 teaspoon white pepper powder
1/4 teaspoon cardamom powder
oil for frying, I used sunflower oil


Instructions:
Make the gravy/curry
Step 1: Heat a pot/pan on medium heat. Once hot, add 1 tablespoon oil and then add the bay leaf, cinnamon, green cardamom, cloves and shahi jeera.
Step 2: Let the spices sizzle for few seconds and then add the chopped garlic, ginger, green chili and onion.
Saute for around 2 minutes, do not brown the onion.
Step 3: Then add the tomatoes along with cashews and 2 cups of water and stir.
Step 4: Cover the pot with a lid and cook for around 10 to 12 minutes until tomatoes soften.
Step 5: Let it cool down down a bit (around 15 minutes, if you blend it while it's hot it might blow off from the blender), then discard the bay leaf and transfer mixture to a blender.
Blend to a smooth paste. Use a strainer and strain the puree into another bowl. This makes sure the gravy is really smooth.
Step 6: Put the same pan on medium heat again. Once hot, add 2 tablespoons unsalted butter and 1 teaspoon oil. Let the butter melt.
Step 7: Add in the pureed gravy and cook for 2 minutes. Then add the coriander powder, kashmiri red chili powder, salt, sugar and garam masala.
Let the curry cook for 2 to 3 minutes.
Step 8: Add crushed kasuri methi and then cream. Cook for additional 2 to 3 minutes on medium-low heat. Sprinkle some cardamom powder on top. The gravy is now done. Set aside and make kofta.


Make the kofta
Step 1: Boil the potatoes using a pressure cooker, 8-9 whistles on a stove-top pressure cooker. You can do this on the side while making the gravy.
Once the potatoes are boiled, let them cool a bit then peel and mash them.
Step 2: To a large bowl, now add all ingredients for kofta- boiled and mashed potatoes, grated paneer, finely chopped ginger, cilantro, green chili, cashews, raisins, cornstarch, salt, white pepper powder and 1/4 teaspoon cardamom powder.
Step 3: Mix everything together with your hands to form a dough. Start making koftas from the dough. Take some part of the dough and roll between your palms to make it round.
Step 4: Similarly makes all the koftas. I made 9 koftas, each around 40 to 42 grams.
Step 5: Heat enough oil to fry in a kadai on medium-high heat. Make sure oil is hot, else koftas can stick to the pan and also disintegrate in the oil.
Drop koftas in hot oil and fry until golden brown from both sides. Remove the fried koftas on a paper towel. You can also shallow fry them, just press the koftas and flatten them like a burger tikki and shallow fry.
Serve the malai kofta
Step 1: To serve place koftas on plate and top with the gravy. Garnish with cream and cilantro. Or you can also place the gravy first on the serving plate, drizzle with cream and place koftas on top.
If you like melt in mouth koftas, it's also a good idea to let the koftas simmer in the gravy for 2 minutes before serving.
If you prefer the koftas to be on the crispier side, then add gravy on top only before serving.
Enjoy malai kofta with naan or rice!

Malai Kofta
3. Dhaba Style Matar Paneer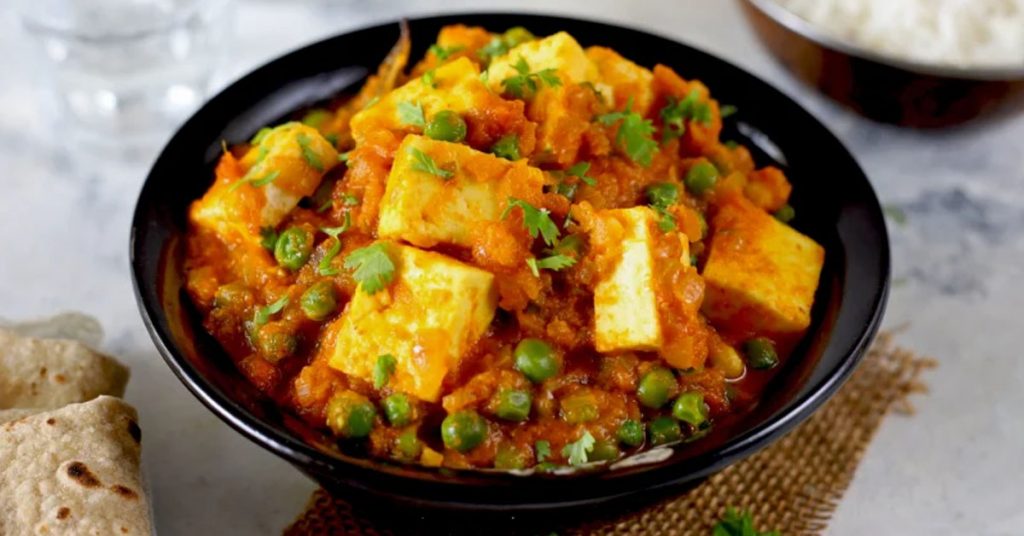 A popular Indian curry dish, Matar paneer is a North Indian cuisine made with green peas and cottage cheese. It is also one of the frequently ordered vegetarian dishes.
Ingredients
For Masala Paste
1 teaspoon cumin seeds
60 grams onion or ⅓ cup chopped onion
1 green chili – chopped
1 inch ginger – chopped
5 medium garlic cloves – chopped
2 tablespoons chopped coriander leaves (cilantro leaves)
215 grams tomatoes or 3 medium tomatoes or 1 cup chopped tomatoes
1 teaspoon coriander seeds
1 inch cinnamon
2 green cardamoms
5 whole black peppers
3 cloves
12 cashews


For Gravy
3 to 4 tablespoons oil
¼ teaspoon turmeric powder (ground turmeric)
1 teaspoon kashmiri red chili powder or deghi mirch
1 cup green peas fresh or frozen
2 to 2.25 cups water or add as required
200 to 250 grams Paneer – cubed (cottage cheese)
½ inch ginger – julienne
½ teaspoon crushed kasuri methi (dry fenugreek leaves)
¼ teaspoon Garam Masala Powder
3 tablespoons low fat cream
3 tablespoons chopped coriander leaves (cilantro leaves)
salt as required


Instructions
Making Masala Paste
Step 1: In a grinder jar, add 1 teaspoon cumin seeds, ⅓ cup chopped onion, 1 green chili (chopped), 1 inch ginger, (chopped) and 5 medium garlic cloves (chopped).
Step 2: Add 2 tablespoons chopped coriander leaves and 1 cup chopped tomatoes.
Step 3: Then add 1 teaspoon coriander seeds, 1 inch cinnamon, 2 green cardamoms, 5 black peppers and 3 cloves.
Step 4: Add 12 cashews. You can even soak cashews in hot water for 30 minutes. Drain all the water and then add.
Step 5: Grind to a smooth paste without adding any water. If required you can add 2 to 3 tablespoons of water while grinding.


Making Dhaba Style Matar Paneer
Step 1: Heat 3 to 4 tablespoons oil in a heavy pan. Then add the ground masala paste.
Step 2: On a low to medium-low flame begin to saute the paste.
Step 3: Keep on sautéing and stirring often till the paste thickens and you see oil leaving the sides of the paste.
Step 4: The color of masala will also change and you will clearly see the oil releasing from the paste.
Step 5: Then add ¼ teaspoon turmeric powder, 1 teaspoon kashmiri red chili powder or deghi mirch.
Step 6: Mix the spice powders very well with the masala.
Step 7: Add 1 cup green peas. You can use fresh or frozen green peas. Mix the peas with the masala.
Step 8: Then add 2 to 2.25 cups water or add as required. Season with salt as required. Mix very well.
Step 9: Cover the pan with its lid and simmer the matar gravy on a medium-low to medium flame till the peas are cooked.
Step 10: Do check when the peas are cooking and if required add some more water.
Step 11: Check the doneness of peas by pressing them with a spoon and they should get mashed easily.
Step 12: Then add ¼ teaspoon garam masala powder.
Step 13: Add ½ teaspoon kasuri methi (crushed).
Step 14: Add 200 to 250 grams paneer (cubed). Mix and cook for a minute.
Step 15: Then add ½ inch ginger (julienne) and 3 tablespoons low fat cream.
Step 16: Mix very well. Switch off the flame.
Step 17: Then lastly add 3 tablespoons chopped coriander leaves. Mix again.
Step 18: Serve matar paneer with chapatis, tandoori rotis, naan, lachcha paratha, pudina paratha or steamed rice or jeera rice.

Dhaba Style Matar Paneer
4. Vegetable Samosas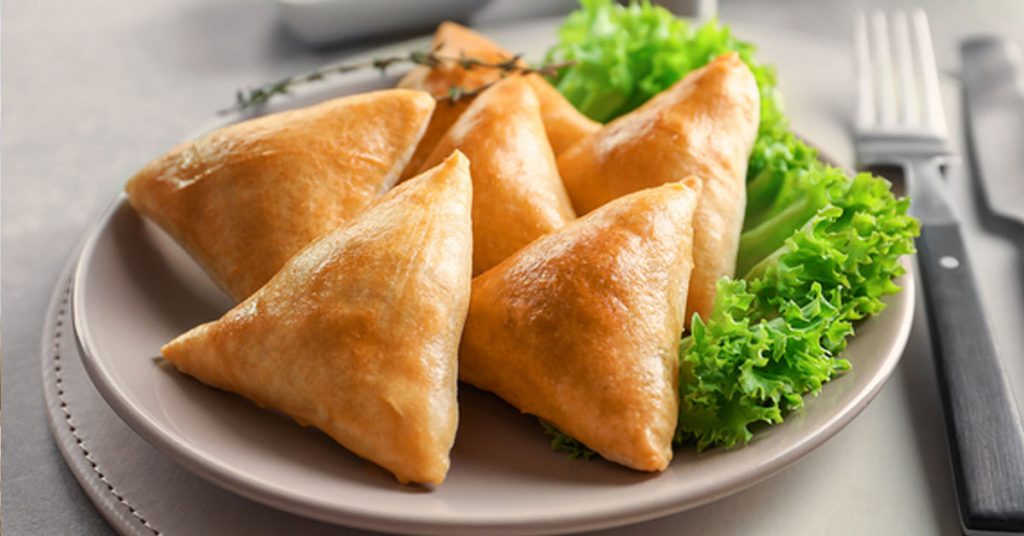 A perfect snack any time, vegetable samosas are packed with flavour that every member of the family will surely enjoy. It can be good as an appetizer or as a side dish that matches with a curry-based recipe.
Ingredients
1 tbsp vegetable oil
1 onion, finely chopped
2 garlic cloves, crushed
1 potato (about 150g) finely diced
1 carrot (about 100g) finely diced
100g frozen peas
2 tsp curry powder or your own spices according to taste
100ml vegetable stock


For the pastry
225g plain flour
2 tsp sea salt
2 tbsp vegetable oil
2l vegetable oil to deep fry


Instructions:
STEP 1: To make the filling, heat the oil in a frying pan, add the onion and garlic, mix in the spices and fry for 10 mins until soft. Add the vegetables, seasoning and stir well until coated. Add the stock, cover and simmer for 30 mins until cooked. Leave to cool.
STEP 2: To make the pastry, mix flour and salt into a bowl. Make a well in the centre, add the oil and 100ml water to make a firm dough. Knead the dough on a floured surface for 5-10 mins until smooth and roll into a ball. Cover in cling film and set aside at room temperature for 30 mins.
STEP 3: Divide the pastry into 12 equal pieces. Roll each piece into a ball and roll out into a circle of 15cm. Divide this circle into two equal pieces with a knife.
STEP 4: Brush each edge with a little water and form a cone shape around your fingers, sealing the dampened edge. Fill with 1 tbsp mixture and press the two dampened edges together to seal the top of the cone. Repeat with the remaining pastry.
STEP 5: Heat the oil in a large deep saucepan to 180C. The oil should come 1/3rd of the way up the pan. Deep fry the samosas in batches for 8-10 mins until crisp and brown. Take out and drain on kitchen paper.

Vegetable Samosas
5. Kheer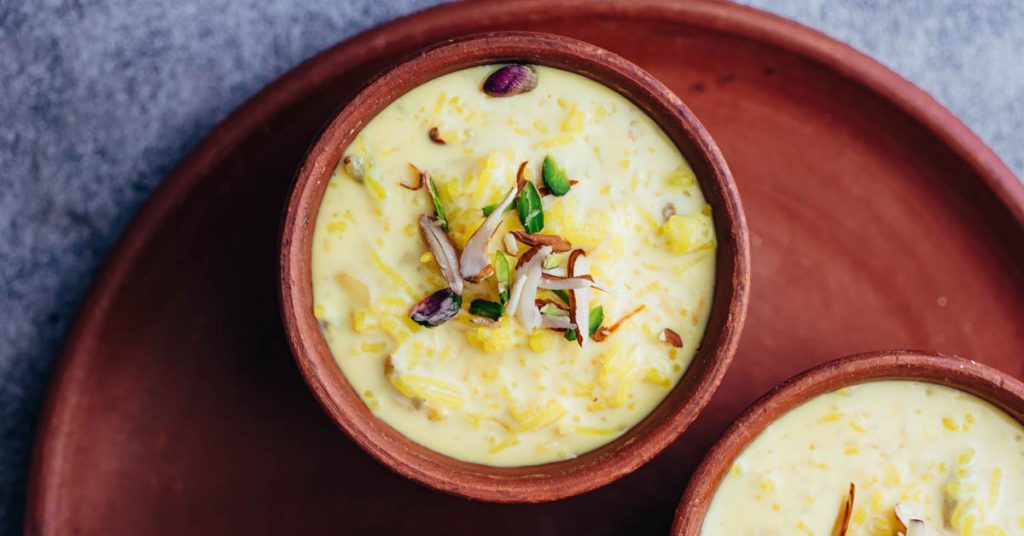 A traditional Indian dessert, kheer is made from rice, vermicelli, or cracked wheat. It is served with raisins and different kinds of nuts that can be enjoyed by every member of the family.
Ingredients to Make Kheer
2 cups whole milk
2 cups coconut milk
3 tbsp white sugar
1 cup Basmati rice
1⁄2 tsp ground cardamom
1⁄4 cup raisins
Optional: 1⁄2 tsp rose water, 1⁄4 cup sliced almonds and 1⁄4 cup pistachios, chopped.


Instructions
Step 1: In a medium non-stick pot, combine the milk, coconut milk and sugar and bring to a boil.
Step 2: Next, add the rice to the pot and simmer over low heat for 20 minutes, stirring occasionally.
Step 3: Once the mixture begins to thicken, use a whisk to stir in the cardamom.
Step 4: Stir in the raisins and optional rose water. Cook for another 5-10 minutes. Once the mixture begins to thicken again, remove from the heat.
Step 5: Decorate with nuts if you like. Enjoy your kheer warm or cold!

Kheer
You can also add in Diwali snacks on this special occasion to make it merrier.
Whoever and wherever you are, allow yourself to feel the warmth of Christmas and serve you and your guests with one of these hearty meals pride from the Indian culture. Happy holidays!
Over to you…
Your kitchen looking a bit moldy and not functional? Allow us to turn your kitchen into the most convenient and functional kitchen and send us a message. Let us start working on achieving your dream kitchen together.