Easter in London is packed with fun activities whereas painted eggs can be seen adorning homes and every other place. Exciting family egg-hunts are always an attraction or just enjoy munching down egg-shaped chocolates to commemorate this celebration.
Since the lockdown due to COVID-19 took place last year, most of us are on quarantine lockdown for the safety of everyone while this year will be seeing lifted lockdown rules once conditions are met.
So before we get excited about going outside again, here's easy to follow recipes to enjoy a hearty brunch this coming Easter,
1. Vegan Hot Cross Buns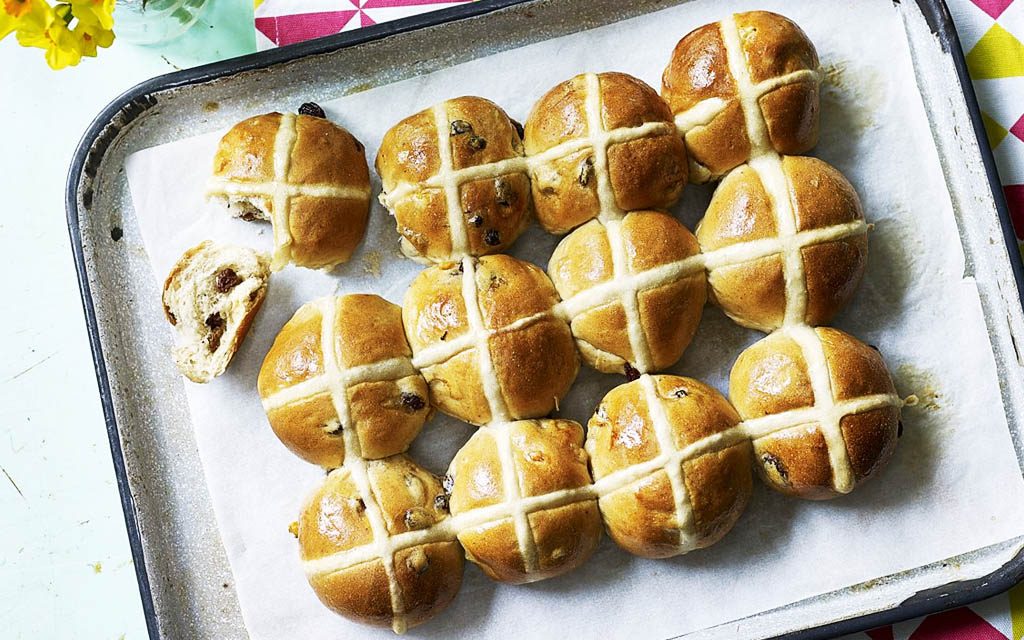 Do you remember that catchy song hot cross buns, now you can take a bite into it and enjoy baking this one for you and the rest of your family.
Ingredients
65g/2¼oz dairy-free margarine
50g/1¾oz caster sugar
250ml/9fl oz lukewarm unsweetened almond milk, or other plant-based milk
7g sachet dried fast-action yeast
400g/14oz strong white flour, plus extra for dusting
½ tsp fine sea salt
2 tsp ground mixed spice
150g/5½oz dried mixed fruit
sunflower oil, for greasing
To decorate
25g/1oz strong white flour
1½ tsp maple syrup
Recipe tipsHow-to-videos


Method
a. Heat the dairy-free margarine in a saucepan very gently until melted, stirring with a wooden spoon. Remove from the heat and stir in the sugar and milk; the milk should be lukewarm (if it remains quite cold, heat it gently but don't allow it to overheat or the yeast won't work). Sprinkle the yeast over the milk, stir and leave to stand for 2 minutes.
b. Mix together the flour, salt and mixed spice in a large bowl. Make a well in the centre. Pour the warm milk into the flour mixture, stirring with a wooden spoon until the mixture forms a soft ball.
c. Turn onto a very lightly floured surface and knead for 5 minutes to make a smooth, pliable dough. Knead the mixed fruit into the dough, a little at a time, for 2–3 minutes, or until evenly distributed. Place the dough in a lightly oiled bowl and cover with oiled cling film. Leave to rise in a warm place for 1½ hours, or until doubled in size and spongy to touch.
d. Return the dough to the work surface and knock back with your knuckles. Knead lightly, then divide into 12 portions. Roll each portion into a ball, then pull the dough from around the sides to underneath each bun to give a neat shape.
e. Place the buns around 1½cm/½in apart on a baking tray lined with baking paper. Flatten slightly with the palm of your hand. Cover lightly with oiled cling film and leave to prove for 45–60 minutes, or until well risen. The buns should be just touching each other. Preheat the oven to 200C/180C Fan/Gas 6 and remove the cling film from the buns.
f. To make the cross decoration, mix the flour with 2 tablespoons of cold water to make a smooth paste. It should have a thick dribbling consistency, so you may need to add a few more drops of water, but don't allow it to get too thin or the crosses won't show up when the buns are baked. Spoon the paste into a small freezer bag and snip off one corner, or piping bag fitted with a round nozzle. Pipe lines of the flour paste on top of each row of the buns in one direction and then the other.
g. Bake the buns in the centre of the oven for 20 minutes, or until risen and golden brown. Brush the warm buns with maple syrup and leave to cool a little before eating. Once cold, they can also be toasted under a grill.

Vegan Hot Cross Buns
2. Garden Greens and Pumpernickel Panzanella Salad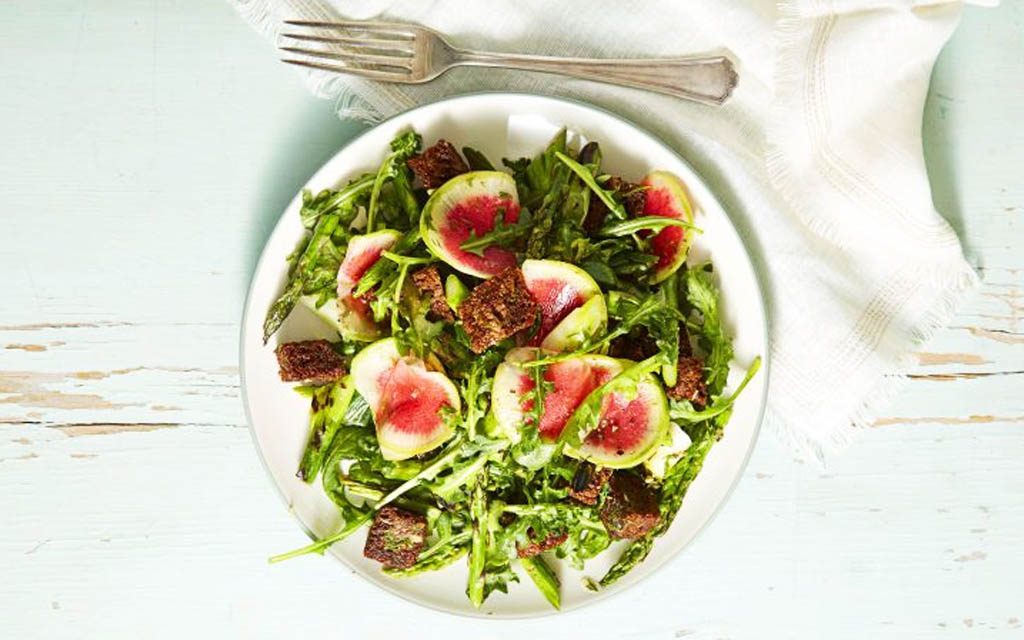 It boasts that colours of spring perfect for Easter. This is a zesty twist to your green salad favourite mixed with toasted pumpernickel bread.
Ingredients
1 lb. asparagus, trimmed and cut into 1″ lengths
1 bunch green onions, cut into 1″ lengths
2 tsp. extra-virgin olive oil, plus 2 Tbsp. for dressing
6 c. cubed pumpernickel bread (each about 1/4″)
2 tbsp. fresh lemon juice
1 tbsp. white wine vinegar
1 tbsp. spicy brown mustard
1 tbsp. prepared horseradish
1/4 c. Chopped fresh dill
4 c. arugula
1/2 bunch watermelon or regular radishes, trimmed and thinly sliced


Methods
a. Arrange two oven racks in upper and lower thirds of oven. Preheat oven to 450 degrees F. On a large rimmed baking sheet, toss asparagus, green onions, 2 teaspoons olive oil, and 1/4 teaspoon salt; spread in single layer. Bake on lower rack until vegetables are browned and tender, 15 minutes. On another large rimmed baking sheet, arrange bread in single layer. Bake on upper rack until crisp and dry, stirring once; 10 to 12 minutes.
b. Meanwhile, in large bowl, whisk remaining 2 tablespoons oil, lemon juice, vinegar, mustard, horseradish, and 1⁄2 teaspoon salt; stir in dill.
c. Toss bread cubes with vinaigrette in bowl; add roasted vegetables, arugula, and radishes; toss until well-combined.

Garden Greens and Pumpernickel Panzanella Salad
3. Easy Vegan Turkey-less Roast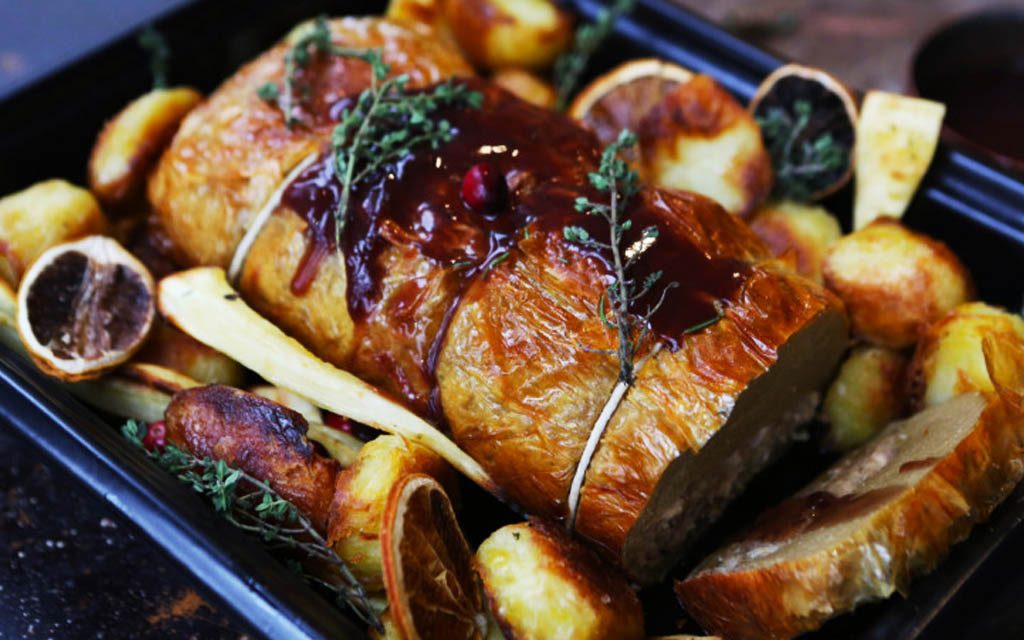 Take a bite into a heavenly made turkey less roast and have the ultimate centrepiece for your Easter feast.
Ingredients:
Wet ingredients for the roast
1 onion, finely diced
2-3 cloves garlic, finely chopped
200ml/scant cup soya milk or other plant milk of your choice
160ml/⅔ cup vegan white wine (use equivalent in plant milk if you want an alcohol-free version)
1 tbsp syrup (eg maple or agave)
1 tbsp dried or fresh sage, finely chopped
1 tbsp dried or fresh rosemary, finely chopped
½ tsp smoked paprika
1 tsp salt
4 tsp vegan stock powder (eg Marigold), dissolved in 1 tbsp boiling water and stirred thoroughly
2-3 tbsp white miso paste
100g/3½ oz firm tofu, drained
60g/⅓ heaped cup chickpeas, drained and rinsed
1 tsp Dijon mustard (optional)
2 tsp lemon juice (optional)
Pinch freshly ground nutmeg (optional)


Dry ingredients for the roast
285g vital gluten flour
3 tbsp nutritional yeast
70g chickpea/gram flour


Stuffing
130g (approx.) of your favourite dry stuffing mix (make according to the packet but set aside and don't bake it yet!) OR use 1 batch of our Apricot & Chestnut Stuffing recipe (again don't complete the baking stage)


Skin
3 large sheets of dried yuba (dried bean curd skin – buy this online or from Asian supermarkets. Make sure you get the spongy bean curd skin and not the hard crispy sheets). This stage is optional


Method:
a. Preheat the oven to 180ºC (fan)/350ºF/Gas Mark 4.
b. Fry the onion until soft and golden then add the garlic and fry for a further minute.
c. Add the garlic and onion to a blender and then add all the other wet ingredients. Blend until smooth.
d. In a large mixing bowl, thoroughly combine all of the dry ingredients, mix well.
e. Pour the blended wet ingredients into the bowl of dry ingredients and combine with your hands until you have a dough. This is your seitan dough.
f. On a floured surface, knead the dough for a minimum of 10 minutes.
g. With your hands, stretch the dough into a rectangle around 1 inch deep.
h. Fill the middle of the seitan dough with your stuffing, fold up each end of the dough around it and then roll it up lengthways so that it's fully sealed.
i. If using yuba skin, run each sheet underneath the tap to rehydrate. Wrap them around the seitan until it's fully covered and then tie in three different places with baking string (it will look a bit of a soggy mess at this stage but don't worry it soon crisps up in the oven!).
j. Wrap a large piece of foil around the seitan roll and twist at both ends to seal tightly, making sure it's watertight.
k. Place the seitan, wrapped in the foil, onto a deep baking tray with about half an inch of water. Place in the oven and cook for 45 minutes, turning once halfway through. Add more water to the pan if it's dried out.
l. Open the foil and check to see if the roast is golden. If not, put it back in until it's crisp and golden.
m. Once the roast is crisp and golden, remove from the oven, take off the foil and transfer into a dry baking tray. Brush with a little oil and put back in the oven for 5-10 minutes.
n. Serve with roast potatoes and all the trimmings!

Easy Vegan Turkey-less Roast
4. Mushroom and ale pie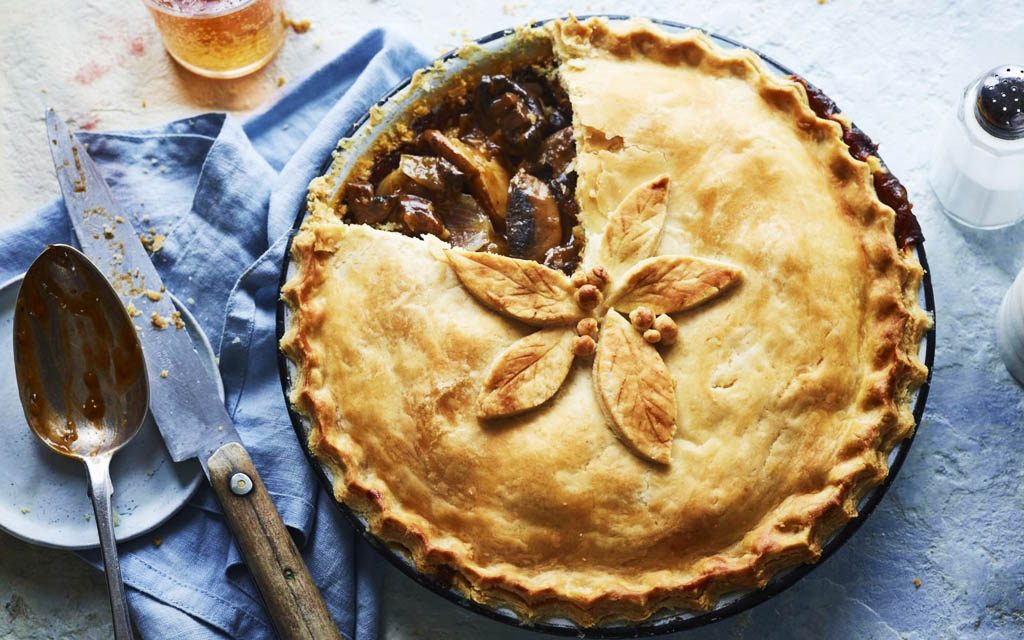 It is vegan comfort food that will surely warm your tummy, rich with mushrooms and sweet shallots. This is perfect for cooking for the whole family or just for you and have slice and store the rest in the fridge and have a bite again.
Ingredients
15g/½oz dried mixed mushrooms
250ml/9fl oz just-boiled water
4 tbsp sunflower oil
300g/10½ oz shallots, peeled and cut in half if large (try and keep the root intact, so they keep their shape)
1 medium onion, thinly sliced
2 garlic cloves, crushed
400g/14oz mixed mushrooms, chestnut, button, shiitake, portabello, sliced or quartered if large
330ml/11fl oz pale ale (vegan)
1 vegetable stock cube
2 tbsp tomato purée
2 tbsp redcurrant jelly
1 tbsp soft light brown sugar
1 tbsp fresh thyme leaves or 1 tsp dried thyme
2 bay leaves
3 tbsp cornflour mixed with 3 tbsp cold water
180g/6oz cooked and peeled chestnuts (vacuum packed is fine)
flaked sea salt and ground black pepper


For the vegan pastry
300g/10½oz plain flour, plus extra for rolling
1 tsp fine sea salt
100g/3½oz sunflower oil
5-6 tbsp cold water
1 tbsp aquafaba (canned chickpea water) or plant-based milk, such as soya or almond milk


Method
a. Put the dried mushrooms in a small bowl and pour the just-boiled water over the top. Set aside.
b. Heat 2 tablespoons of oil in a large non-stick frying pan. Fry the shallots and onion over a medium heat for 10-12 minutes, or until softened and lightly browned, stirring occasionally. Add the garlic and cook for a few seconds more. Tip into a bowl and set aside.
c. Heat the remaining oil in the same frying pan and fry the mixed mushrooms for 5 minutes, or until lightly browned.
d. Stir in the soaked mushrooms and their liquor, the ale, crumbled stock cube, tomato purée, redcurrant jelly, brown sugar, thyme and bay leaves. Add the shallots and onions back into the pan. Season with a good pinch of salt and lots of ground black pepper.
e. Bring the liquid to a gentle simmer and cook for 15–20 minutes, stirring occasionally. Mix the water with the cornflour in a small bowl until smooth, and stir into the mushroom mixture. Cook for 1–2 minutes or until the sauce thickens, stirring. Stir in the chestnuts and season to taste.
f. Spoon the mushroom mixture into a 1.5 litre/2½ pint pie dish and leave to cool before topping with pastry.
g. Preheat the oven to 200C/180C Fan/Gas 6.
h. To make the pastry, mix the flour and salt in a large bowl. Add the sunflower oil and rub into the flour first with a fork and then with your fingertips until the mixture resembles breadcrumbs. Don't let the mixture come together in a ball, it should remain in damp, flaky pieces.
i. Add the cold water and mix with a fork and then your hands until the dough comes together and forms a smooth ball.
j. Dust a work surface with flour. Dust a rolling pin with a little more flour, then roll out the dough until around 7.5mm/⅜in thick. Cut a circle of pastry that is around 3cm/¼ in larger than the pie dish containing the filling. Reserve the trimmings for decoration.
k. Brush the rim of the pie dish with a little aquafaba or plant-based milk and place the pastry on top. Press the pastry edges firmly to seal and trim off any excess with a knife. Brush the pastry all over with aquafaba or milk.
l. Use the trimmings to make decorations for the pie. Brush with more aquafaba or milk.
m. Bake the pie for 45–50 minutes, or until the pastry is pale golden brown and the filling is hot. Serve with freshly cooked green vegetables and mash.

Mushroom and ale pie
5. Strawberry Coconut Popsicles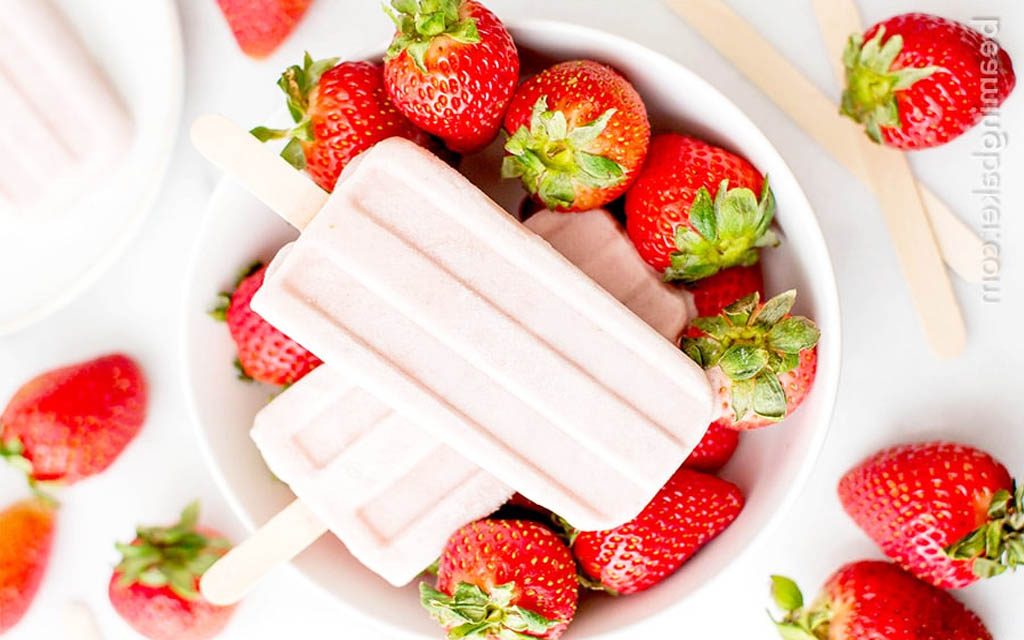 Perfect for springtime and best serve after all the hearty meal. It's a delicious vegan, paleo, gluten-free, and dairy-free dessert perfect for even the pickiest of eater.
Ingredients
6 medium bananas, sliced and frozen
3 can full-fat coconut milk (41 oz.)
3 cup frozen strawberries
6–9 tablespoons pure maple syrup


Method
a. Add bananas and coconut milk to a blender or food processor. Blend until smooth, scraping down the sides of the blender as needed. Add strawberries and maple syrup. Blend until smooth, again scraping down the sides of the blender as needed.
b. Pour this mixture into a popsicle mold. Make sure to leave about ¼" of space at the top of the mold to allow the popsicles to expand in the freezer. Insert popsicle sticks, or follow instructions for your mold.
c. Freeze for 6-8 hours.
d. Remove from freezer. If needed, allow to thaw for a few minutes. Optionally, run popsicle mold under a bit of lukewarm water to help them loosen.
e. Place the popsicle mold on a flat surface and wiggle the popsicles out. Enjoy!

Strawberry Coconut Popsicles
These recipes are a sure-hit for your Sunday brunch and enjoy the long weekend with a full tummy. Happy Easter!
Over to you…
Your kitchen looking a bit sad and shabby? Give your kitchen the upgrade it deserves and allow us to let you achieve your dream kitchen together. We'll be waiting, see you!