Diwali Snack Recipes
Celebrate the Festival of Lights with the right snack and stuff you and your guests' tummy with delicious treats that will bring happiness into their life.
Here are 5 easy to make snacks you can magically create in your kitchen this celebration of Diwali.
1. Samosas (Baked instead of Fried)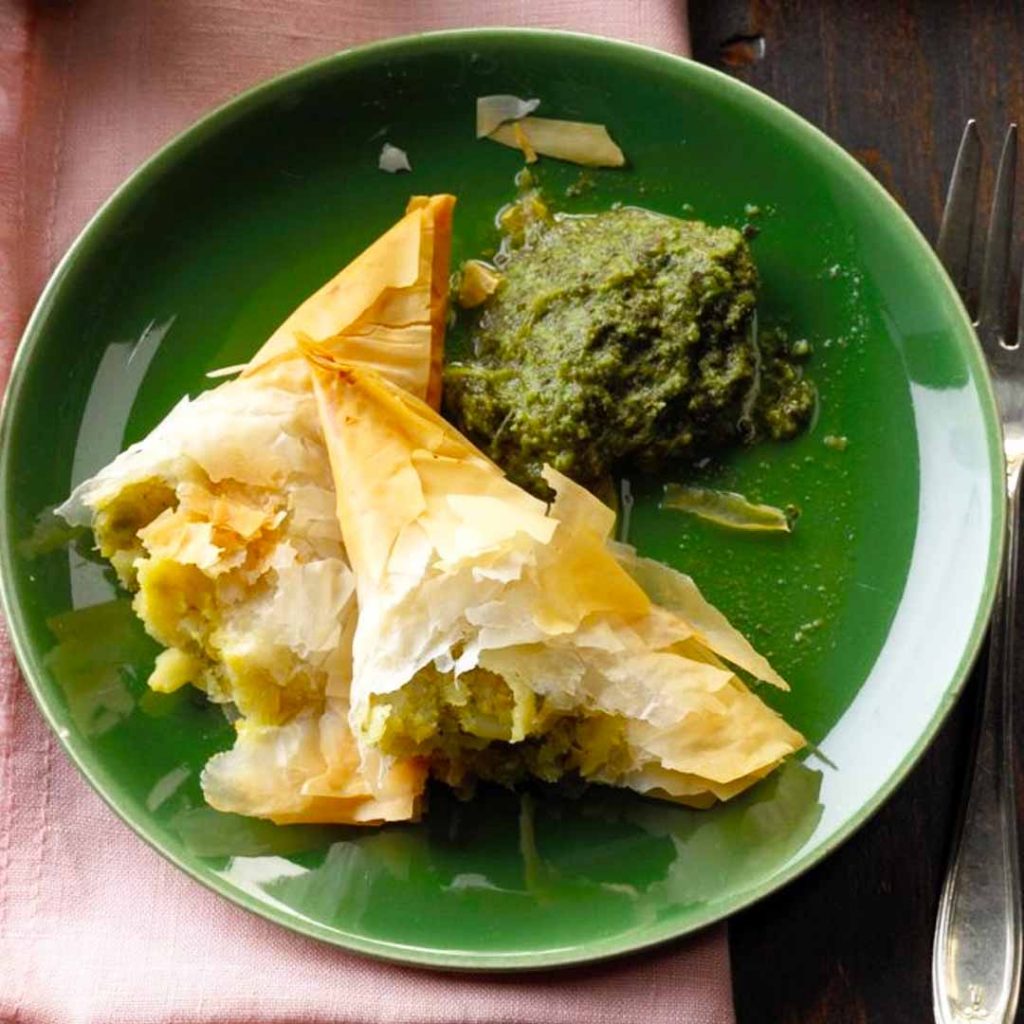 This ancient treat can be cooked in under an hour which makes it the perfect triangular snack for you and your family.
Note: These savory pastry pockets can be stuffed with spices like coriander, pepper, and caraway seeds.
Ingredients
2 large potatoes, peeled and cubed
1 medium onion, chopped
2 tablespoons olive oil
2 garlic cloves, minced
1 teaspoon salt
1 teaspoon curry powder
1/2 teaspoon ground cumin
1/4 teaspoon pepper
1 cup canned garbanzo beans or chickpeas, rinsed, drained and mashed
1 cup frozen peas, thawed
2 tablespoons minced fresh cilantro
1 package (16 ounces, 14×9-inch sheet size) frozen phyllo dough, thawed
Cooking spray
Mint chutney, optional


Directions
a. Place potatoes in a large saucepan and cover with water. Bring to a boil. Reduce heat; cover and cook for 15-20 minutes or until tender. Drain. Mash potatoes; set aside.
b. In a large skillet, saute onion in oil until tender. Add the garlic, salt, curry powder, cumin and pepper; cook 1 minute longer. Remove from the heat. Stir in the mashed potatoes, garbanzo beans, peas and cilantro.
c. Place 1 sheet of phyllo dough on a work surface with a short end facing you. (Keep remaining phyllo covered with a damp towel to prevent it from drying out.) Spray sheet with cooking spray; repeat with 1 more sheet of phyllo, spraying the sheet with cooking spray. Cut into two 14×4-1/2-in. strips.
d. Place 2 tablespoons of filling on lower corner of each strip. Fold dough over filling, forming a triangle. Fold triangle up, then fold triangle over, forming another triangle. Continue folding, like a flag, to the end of the strip.
e. Spritz end of dough with spray and press onto triangle to seal. Turn triangle and spritz top with spray. Repeat with remaining phyllo and filling.
f. Place triangles on greased baking sheets. Bake at 375° for 20-25 minutes or until golden brown. If desired, serve with mint chutney.

Samosas
2. Masala Vada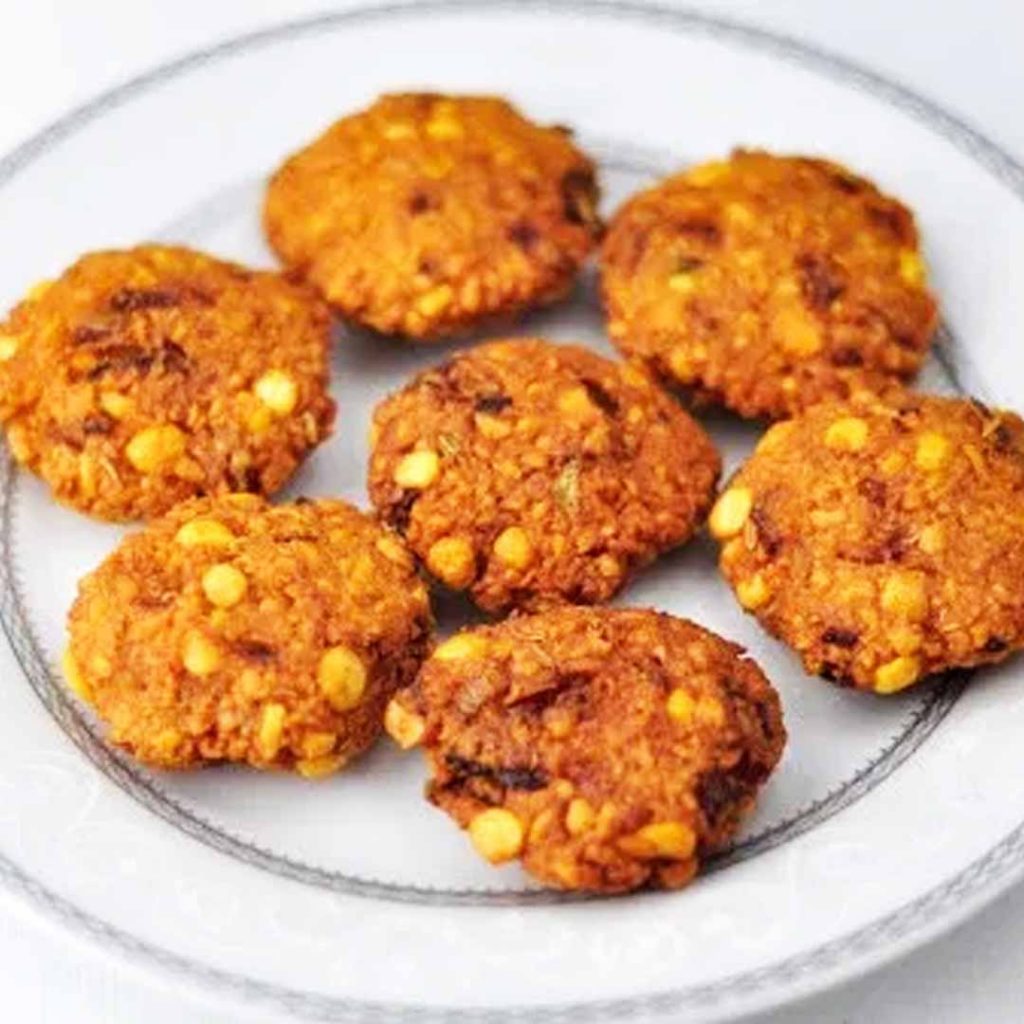 This crispy, very flavourful, and addictive Masala Vada is like traveling to the South of Indian Street Stalls and Restaurants and enjoy a super delicious treat perfect for any occasion.
Best served with a cup of tea as an evening snack.
Ingredients
2 cup CHANNA DAL
0.50 tbsp FENNEL SEED
1 no GREEN CHILIES
2 no DRY RED CHILIES
1 tsp GINGER GRATED
1 inch CINNAMON STICK
1 cup ONION CHOPPED
2 cups OIL (for deep frying)
0.25 tsp HING OR ASAFOETIDA
1 tsp SALT


Instructions
a. Soak the channa dal in cold water for about 5 hours and drain the water completely.
b. Grind fennel seeds, cinnamon stick, green chilies, red chilies, ginger to a coarse paste first.
c. Add channa dal and grind it together with spices to a coarse paste (this step helps to blend and mix the spices with channa dal without staying as it is or getting stuck in between while grinding.
d. In a medium bowl add grounded channa dal mixture, chopped onion, salt, hing (asafoetida) and mix well.
e. Divide the batter into small portions and roll it into the ball shape. Press in between the palms and make a patty.
f. Deep fry it in a medium flame until the color changes into golden brown.

Masala Vada
3. Soya Hara Bhara Kebab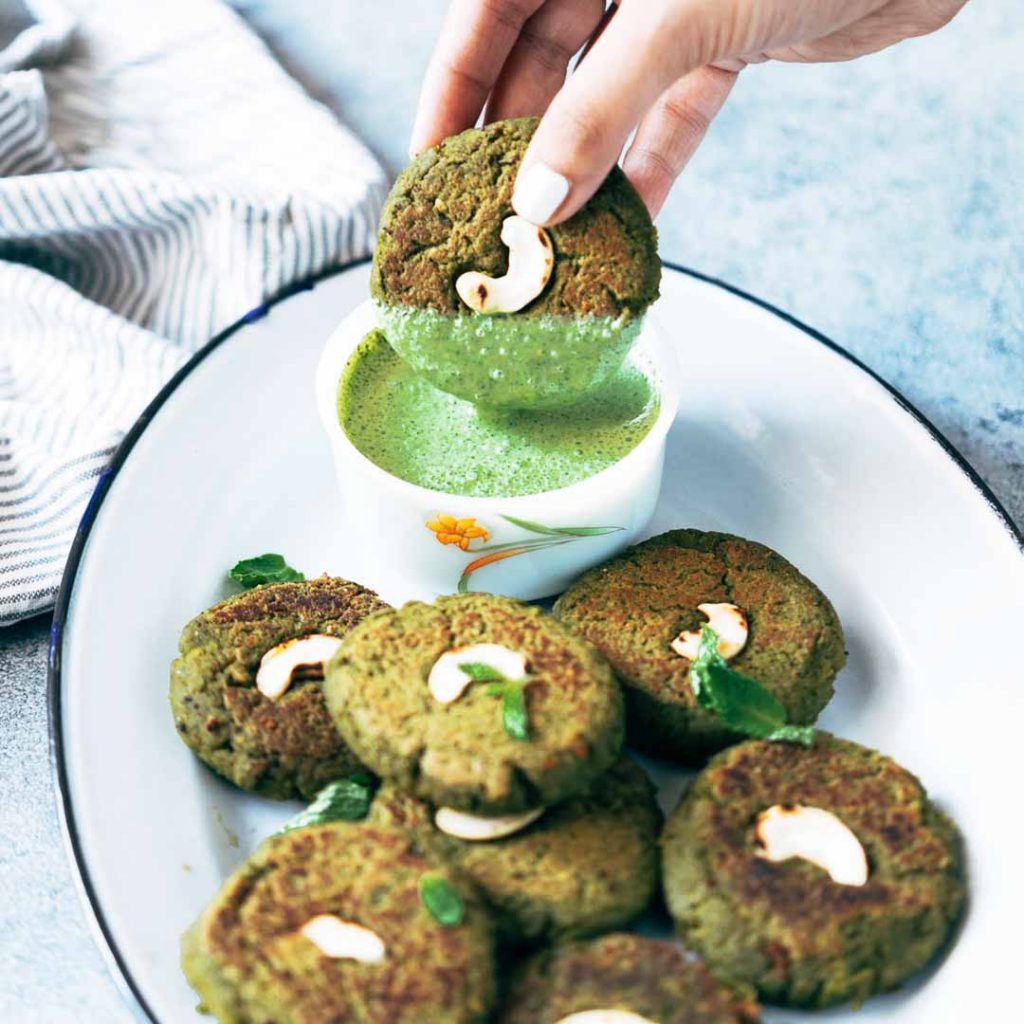 Turn your favourite style hara bhara kebabs with this healthy twist that is perfect for everyone and will surely have them asking for seconds.
Eat a lot but not gain a lot as they are fat-free and your guilt-free snack.
Ingredients
1 cup Soya Granules
1 Green Chilli chopped
1 teaspoon Ginger Paste
1 teaspoon Garlic Paste
1 cup Green Peas
2 cups Spinach chopped
1 teaspoon Chaat Masala
2 tablespoons Chickpea Flour or Besan
1 1/2 teaspoon Salt
3 tablespoons Oil divided


Instructions
a. Soak the soya granules in hot water and set aside.
Heat a tablespoon of oil in a pan and add green chillies, ginger and garlic. Saute for a minute till fragrant and add green peas and salt. Cover and cook for 8-10 minutes till the peas are cooked.
b. Add spinach and raw mango powder (amchoor) and saute for 2-3 minutes till the spinach wilts completely. Set aside to cool.
c. In another pan, dry roast the chickpea flour (besan) till a nutty aroma comes out and the flour is a light brown. Be careful not to burn the flour.
d. Strain the soya granules, squeeze out the water completely and add them to a mixer grinder, along with the green peas and spinach mixture. Pulse a few times till the mixture is mixed through but still coarse. Transfer it to a bowl and mix in the roasted chickpea flour (besan). Form the mixture into tikkis or flat circles (like in the picture) and set aside.
e. Heat the remaining oil in a non stick pan, and add 4-5 tikkis or as many that fit into the pan without crowding. Cook them on either side for 5-8 minutes till golden brown. Repeat with the remaining tikkis. Serve hot with mint coriander chutney and ketchup.

Hara Bhara Kebab
4. Rava Laddu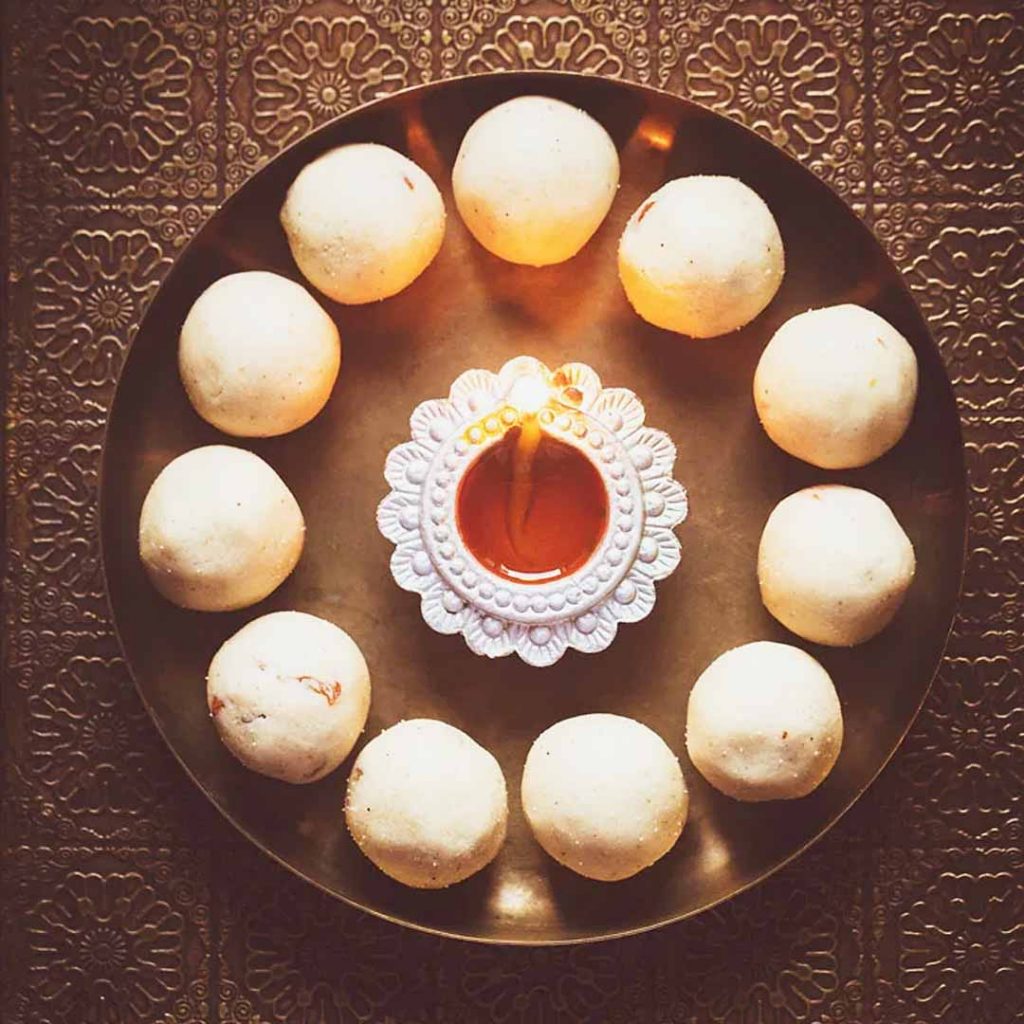 Rava Laddu, a popular Indian sweet that is also called Sweet Semolina Balls. This recipe is made without sugar syrup (or pak) which makes this one a foolproof treat for your occasion.
Ingredients


For Roasting Rava
1 tablespoon ghee (clarified butter)
1 cup heaped fine rava (sooji or semolina) or 185 grams rava
6 tablespoons fresh grated coconut or desiccated coconut


Other Ingredients
½ cup sugar – 120 grams or add as per taste
3 tablespoons ghee (clarified butter)
3 tablespoons chopped nuts like cashews, almonds, pistachios
1 tablespoon golden raisins
½ teaspoon cardamom powder – or 5 to 6 green cardamoms seeds crushed to a powder in a mortar-pestle or coffee grinder


Instructions


Roasting Rava
a. Heat 1 tablespoon ghee in a heavy pan or kadai. Keep the flame to medium and let the ghee melt.
b. Once the ghee has melted, lower the flame and add 1 heaped cup fine rava. use the fine variety of rava.
c. Mix rava very well with the ghee. stir often and begin to roast rava on a low flame.
d. Continue to roast rava till the rava become fragrant and changes its color. No need to brown the rava. The texture will also appear crumbly, loose and light. Roasting rava takes about 10 to 12 minutes on a low flame.
e. Once the rava becomes hot, then you have to stir non-stop so that the rava does not get browned or burnt.
f. Once the rava is roasted well, then add 6 tablespoons grated fresh coconut. You can also add desiccated coconut instead of fresh coconut.
g. Stir and roast for about one to two minutes on a low flame.
h. Now keep the pan on the kitchen counter and let the laddu mixture cool at room temperature.


Grinding Sugar And Roasted Rava+Coconut Mixture
a. When the laddu mixture had cooled, take ½ cup sugar in a grinder jar.
b. Grind the sugar to a fine powder. Now do not open the lid. Wait for a few minutes. If you open the lid immediately after grinding, you will some of the sugar powder drifting in the air.
c. To the powdered sugar in the jar, add the rava+coconut mixture.
d. Grind to a semi-fine or fine texture. Keep the grinder jar aside.


Frying Dry Fruits
a. In the same pan, in which rava was roasted heat 3 tablespoons ghee on a low to medium-low flame.
b. Add 3 tablespoons chopped nuts. You can add almonds, pistachios, cashews or any nuts you like.
c. Fry the nuts in the ghee till they start to become golden.
d. Then add 1 tablespoon raisins. stirring often fry the raisins till they plump and swell in size.
e. Switch off flame and keep the pan on the kitchen counter.


Making Rava Laddu
a. Add the ground rava+coconut+sugar mixture directly from the grinder jar. the ghee should be hot when you add the powdered rava mixture.
b. Mix very well with a spoon or spatula.
c. Add ½ teaspoon cardamom powder.
d. Mix again very well and then wait for the laddu mixture to become lightly warm or completely cooled at room temperature. If unable to form ladoo, then add 2 to 3 teaspoons of melted ghee. In case ladoo don't hold shape and flatten, then keep the mixture in the fridge for 20 to 30 minutes and then shape in rava ladoo.
e. Then take some portion of the mixture in your palms and shape into round balls which we call as ladoo.
f. Make rava laddu with the entire mixture. Keep them in an air-tight steel jar.
g. Serve rava laddu as a festive sweet. Store them in the fridge.

Rava Laddu
5. Gulab jamun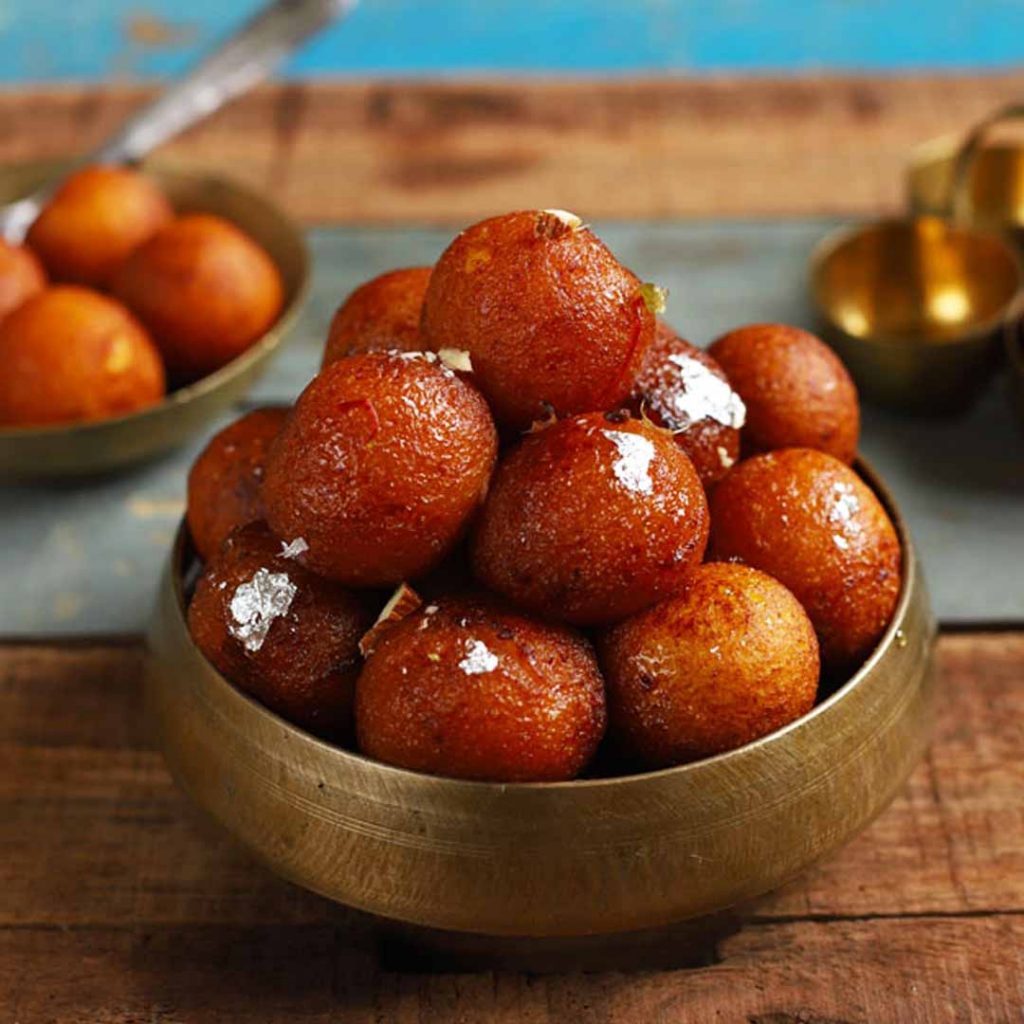 Gulab Jamun, it's a popular Indian sweet made with khoya (mawa) and sugar syrup. It's a mouth-melting crowd-pleaser perfect as a treat for special occasions like Diwali, Eid, or Raksha Bandhan.
Fall in love with this recipe and share a bowl of full homemade goodness with family and friends.
Ingredients For Gulab Jamun:
200 gram khoya (mawa)
1/3 Cup semolina (rava/sooji)
1/4 Cup paneer (cottage cheese), crumbled
1 teaspoon cardamom powder
1/4 teaspoon baking soda
1/4 Cup water
4 Cup Ghee/Refined Oil for deep frying


Ingredients For Sugar Syrup:
2 Cup sugar
2 Cup water
1 teaspoon green cardamom powder
1/4 teaspoon saffron


Instructions


How To Make Gulab Jamuns With Khoya:
a. Grate khoya in a clean bowl. Please note that for soft Gulab Jamun it is necessary to grate khoya and not to crumble it with fingers. Set aside.
b. In a separate bowl add sooji and pour 1/4 Cup of water over it to moisten and soften sooji. Set aside for 5 – 10 minutes so that water is absorbed by sooji. This helps in mixing it well in the dough. Do not get carried away and add too much water.
c. To make a dough, combine grated khoya, softened sooji, crumbled paneer, baking soda, and cardamom powder. Knead well for 5 – 10 minutes or until smooth, soft and firm dough is formed.
d. Let it rest for 5 – 10 minutes in the fridge while you heat oil for deep frying.
e. To shape Gulab Jamuns, pinch a small portion from the dough and shape it round rolling between your palms. Similarly, shape rest of the gulab jamun.
f. Heat oil in a heavy bottom pan over medium heat.
g. Deep fry the khoya balls in small batches over low heat until dark brown on both sides. Keep the flame low to medium while deep frying for even cooking.
h. Drain fried balls on a kitchen towel while you prepare sugar syrup.

Gulab Jamun
To all our brothers and sisters in the Indian community, we wish you & your family a Successful and Prosperous Diwali. Happy Diwali!
Over to you…
Need help renovating your kitchen? We can help you with that. Just send us a message and let us create your dream kitchen together. Happy cooking!