Football Nights Snacks:
The Euro League 2020 is finally here. The games will be televised internationally on TV for an entire month so no action will be missed.
You can watch the games at BBC or ITV so when the lockdown extension will be pushed you will have something to binge on while staying at home.
Yelling in the telly and coaching like you've played since forever is best enjoyed with some healthy snacks to slightly calm your nerves while watching. Here's a list of healthy snacks you can prepare for yourself:
1. Roasted Cauliflower Pizza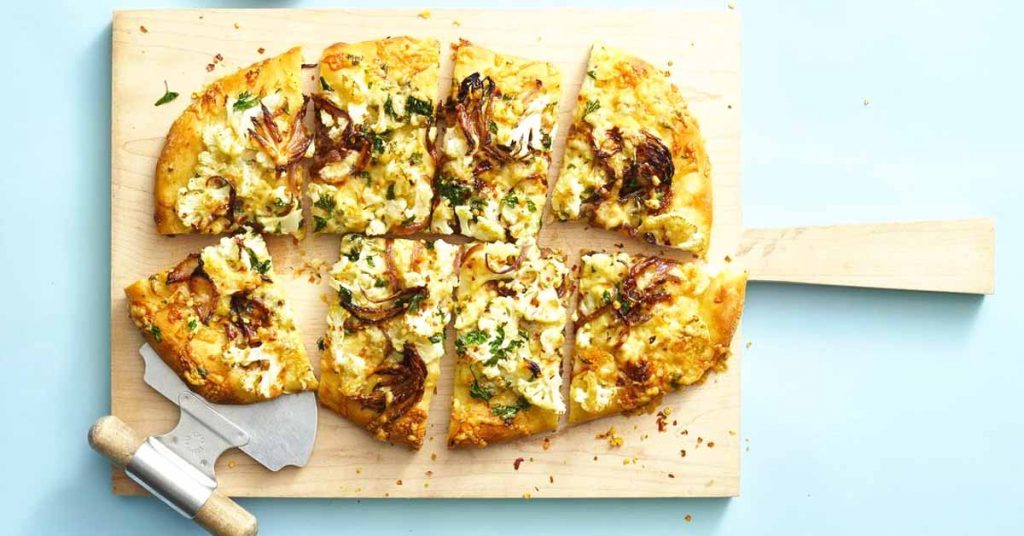 Homemade pizzas are always a hearty meal and with this 5 ingredient recipe that only requires 20-25 minutes of your time is your perfect snack while cheering on your team.
Ingredients

1 lb. pizza dough
1/2 medium head (about 1 lb) cauliflower (thinly sliced)
1 small red onion (thinly sliced)
1/2 c. fresh flat-leaf parsley
4 oz. (about 1 3/4 cups) gruyère cheese (coarsely grated)
2 tbsp. olive oil
1/4 tsp. crushed red pepper (optional)
1/2 tsp. Salt


Directions
a. Heat oven to 425°F. Dust baking sheet with cornmeal. Shape pizza dough into 16-inch oval and place on prepared sheet.
b. Toss, in large bowl, cauliflower, red onion and fresh flat-leaf parsley leaves with olive oil, crushed red pepper (optional) and salt. Fold in Gruyère cheese.
c. Scatter vegetable mixture over dough. Bake until cauliflower is tender and crust is golden brown and crisp, 20 to 25 minutes.

Roasted Cauliflower Pizza
2. Buffalo Cauliflower Wings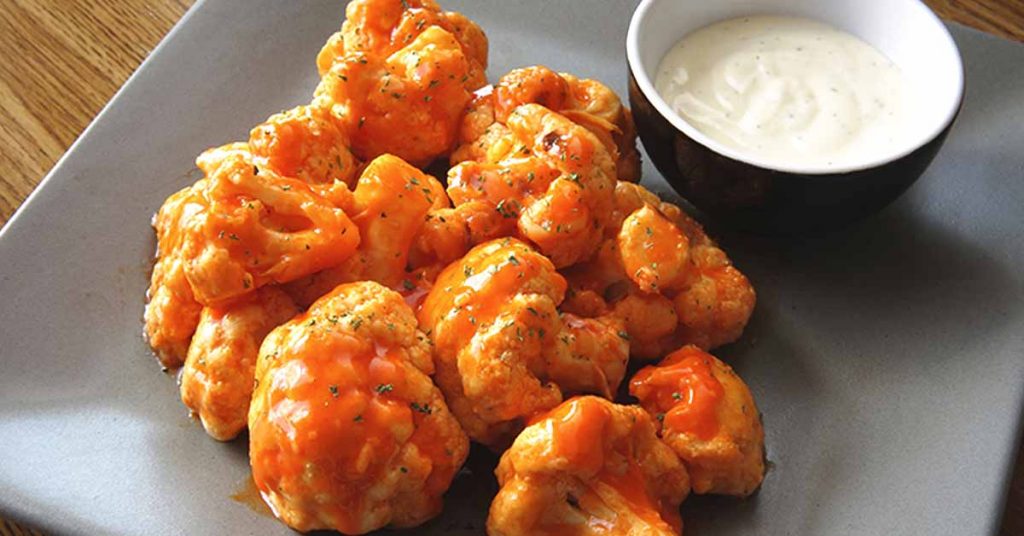 The right crisp for your Saturday nights just got better with Buffalo cauliflower wings. It's vegan and healthy that is all good for you but still savor the taste of the classic buffalo wings.
It is best paired with ranch dressing for that tangy taste richness dipping sauce.
Ingredients
1 head of cauliflower, cut into large florets
1 c. all-purpose flour
1 c. milk
1/2 tsp. garlic powder
1/2 tsp. kosher salt
Freshly ground black pepper
1 c. hot sauce (such as Franks)
4 tbsp. melted butter
Ranch dressing, for serving
Celery sticks, for serving (optional)


Directions
a. Preheat oven to 450° and line two large baking sheets with parchment paper. Make batter: In a medium bowl, whisk flour, milk, and garlic powder until combined. Season with salt and pepper and whisk until the batter is smooth.
b. Dredge cauliflower in batter until evenly coated. Shake off excess batter and transfer to prepared baking sheets. Bake until the cauliflower is crispy and golden around edges, about 20 to 25 minutes.
c. Meanwhile make buffalo sauce. In a large bowl, whisk together hot sauce and melted butter. Toss baked cauliflower "wings" in sauce before serving.
d. Serve with ranch dressing and celery sticks, if desired.

Buffalo Cauliflower Wings
3. Spicy Vegetables and Chickpea Pasta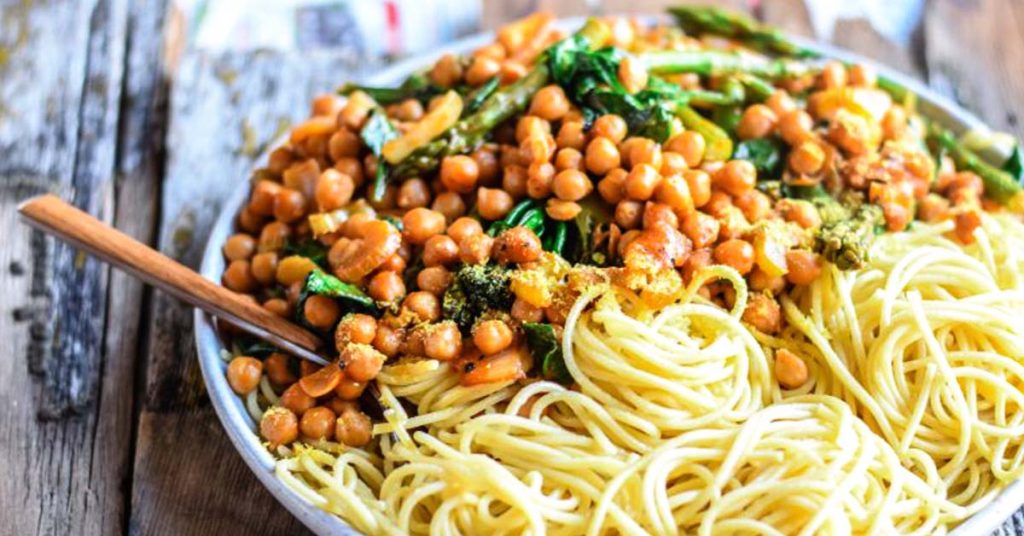 While watching the game you can dig into a protein-packed meal of spicy vegetables and chickpea pasta, perfect for the whole family, even the kids won't mind chomping down this goodness. It's a simple recipe that is easy to make, healthy, and tasty.
Ingredients
4 servings pasta of choice (gluten-free, grain-free, etc…)
2 tablespoons extra virgin olive oil
1 large white onion, thinly sliced
1 garlic clove
1 15.5-ounce can chickpeas, strained and drained
1 head of asparagus, halved
1 head of broccolini, only use heads save stems for a homemade sauce
1 tablespoon tomato paste
1 teaspoon salt
1 teaspoon fresh black pepper
1 tablespoon sweet curry
1 tablespoon paprika
A dash of cayenne
1 teaspoon cumin
1 teaspoon nutritional yeast
1 tablespoon hot sauce
1 cup coconut milk


Preparation
a. Add water to a large pot and bring to a boil. Once boiled add your pasta of choice and cook as instructed.
b. Into a large pan on medium heat add your olive oil, onions, and garlic. Let them cook down for 5 minutes or until golden.
c. Add your chickpeas and cook for 5-7 minutes, stirring occasionally to avoid burning.
d. Add your asparagus and broccolini. Cook for 5 minutes then add your tomato paste, spices, and hot sauce. Stir well till your pasta has completely coated the veg.
e. Simmer/Cook on low heat for 10 minutes. Make sure your vegetables are cooked (not overdone).
f. Then add your coconut milk, bring to a boil, and cook on low for 5 minutes.
g. Strain your pasta and serve with this gorgeous sauce immediately.

Spicy Vegetables and Chickpea Pasta
4. Grilled Onion Dip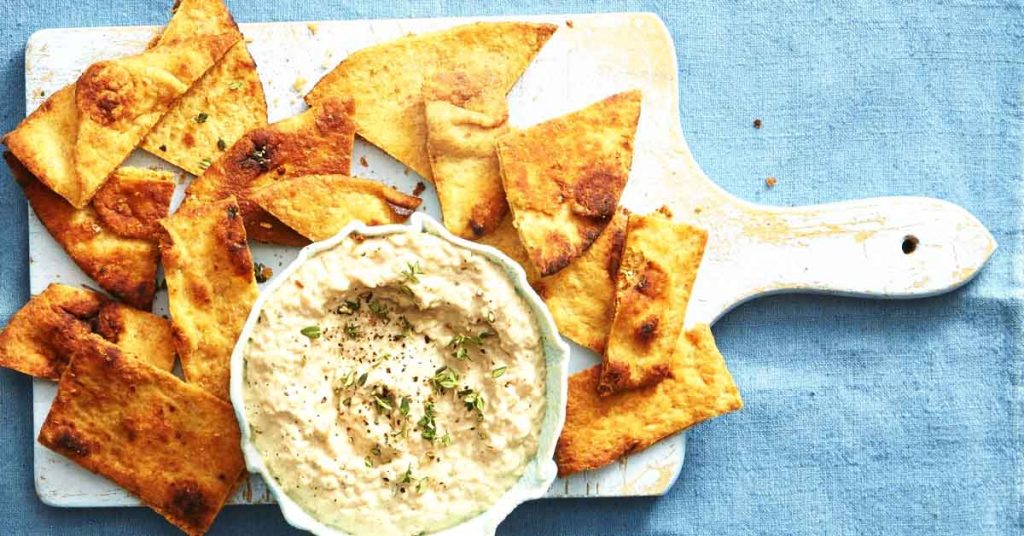 The never gets old chip and dip is best served with grilled onion dip with naan chips for that crunchy game night. This close to home recipe will not only satisfy your taste buds but will also allow you to enjoy the game even more.
Ingredients
2 tbsp. extra-virgin olive oil
1 tsp. fresh thyme leaves, chopped
1 medium sweet onion, cut into 1/2″-thick slices
1 clove garlic, unpeeled
4 oz. cream cheese, softened
1/2 c. low-fat sour cream
1/4 c. mayonnaise
2 tbsp. lemon juice
2 tbsp. Worcestershire sauce
Naan chips or pita chips, for serving


Directions
a. Heat grill to medium-low. Combine oil, thyme, and 1⁄4 teaspoon pepper; brush over onion. Grill onion and garlic 15 minutes or until tender and slightly charred, turning once. Transfer to cutting board; cool.
b. Peel garlic and place in bowl of food processor along with onion. Pulse just until chopped. Add cream cheese, sour cream, mayonnaise, lemon juice, Worcestershire sauce, and 1/2 teaspoon salt; pulse until combined but not smooth. (Makes about 1 1/2 cup) Transfer to serving bowl. Refrigerate, covered, until cold. Serve with Naan Chips or pita chips.

Grilled Onion Dip
5. Grilled Asparagus and Shiitake Tacos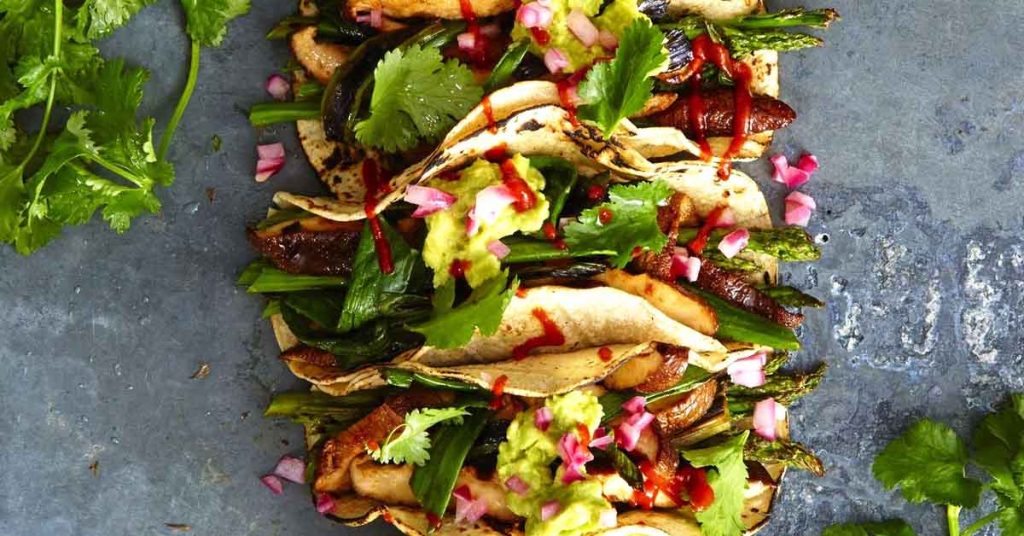 No need to wait for Taco Tuesday as you can make one yourself with this easy to prepare grilled asparagus and shiitake tacos. It is equal parts healthy, yummy, and pleasing to the eyes, a good match for the game you're about to watch.
Ingredients
3 tbsp. canola oil
4 garlic cloves, crushed with press
1 tsp. ground chipotle chile
1/2 tsp. Kosher salt
8 oz. shiitake mushrooms, stems discarded
1 bunch green onions, trimmed
8 corn tortillas, warmed
1 c. homemade or prepared guacamole
Lime wedges
cilantro sprigs
Hot sauce, for serving


Directions
a. Heat grill on medium. In a large baking dish, combine oil, garlic, chipotle, and salt. Add asparagus, shiitakes, and green onions; toss to coat. Grill asparagus until tender and lightly charred, turning occasionally; 5 to 6 minutes. Grill shiitakes and green onions until lightly charred, turning occasionally; 4 to 5 minutes. Transfer vegetables to cutting board.
b. Cut asparagus and green onions into 2″ lengths and slice shiitakes. Serve with corn tortillas, guacamole, lime wedges, cilantro, and hot sauce.

Grilled Asparagus and Shiitake Tacos
Enjoy the game while having a bite or two of one of these delicious and easy to make snacks and make memorable memories together as a family.
If these snacks did not entice you, choose immuno-boosting snacks and enjoy the game.
Over to you…
Need help renovating your kitchen? We can help you with that. Just send us a message and let us create your dream kitchen together. Happy cooking!