Vegan Halloween Treats:
The Halloween is creeping its way to your homes and it got one message for you. 'Boo!' Have an undead party for the living and serve them well with spooky yet delicious vegan snacks that would surely spook their tastebuds.
Here's our list of spooky vegan recipes to get started with your Spookfest:
1. Witchy Guacamole Dip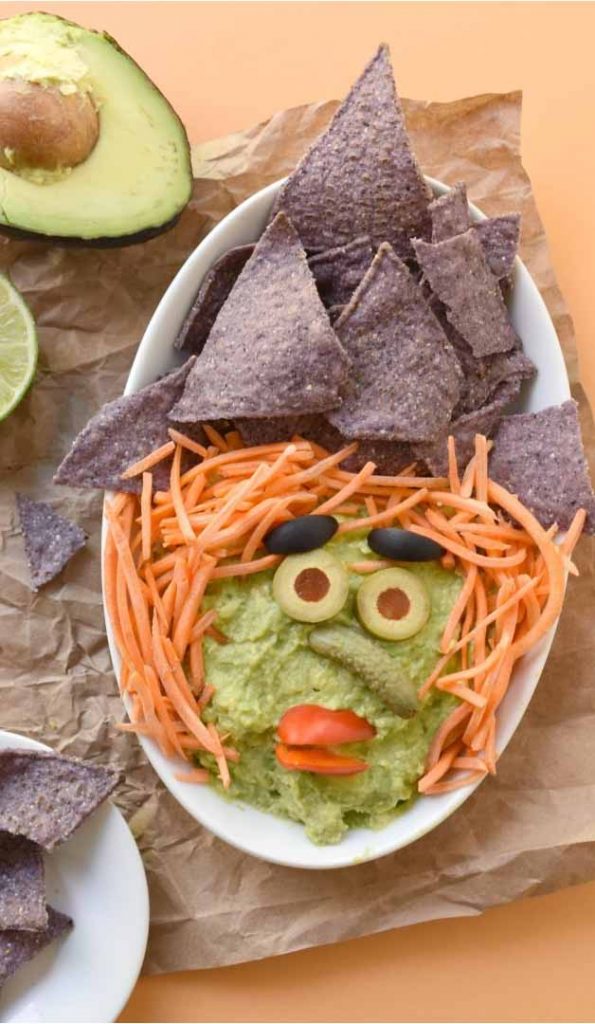 Be enchanted with this witchy guacamole dip and give your taste buds a wicked good time and experience the magic of evil filling your stomach.
The trick is to let your imagination come to play and decorate yourself one spooky witch dip for everyone to enjoy.
Note: Other spooky figures can be used as inspiration so be sure to let your imagination run wild.
INGREDIENTS
2 large avocados
1/4 red onion, thinly chopped
2 garlic cloves, minced
juice of 1 lime
shredded carrots (for the hair)
2 green olive slices (for the eyes)
2 black olive slices (for the eyebrows)
2 slices of a mini red bell pepper (for the lips)
1 cornichon (for the nose)
handful blue corn chips (for the hat)


INSTRUCTIONS
a. In a bowl, mash the avocado. Add the garlic, onions and lime juice and mix until well combined. Season with sea salt for flavor.
b. Add the guacamole to the lower half of a serving plate.
c. Create the corn chip hat first and then add the carrots for the hair.
d. Assemble the face and serve!

Witchy Guacamole Dip
2. Mummy Quesadillas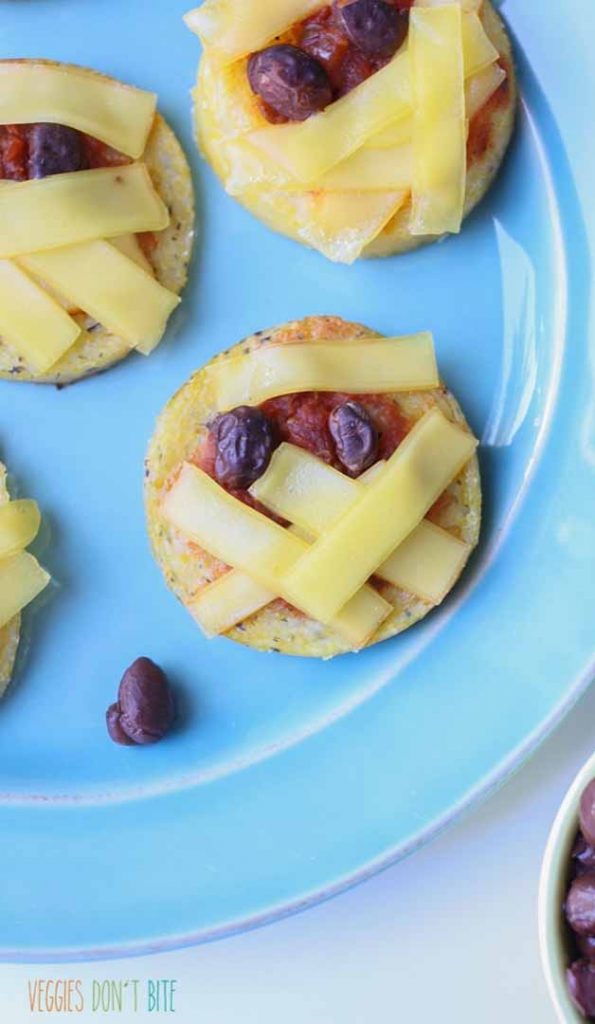 Your favourite Mexican snack turned into a mummy perfect for the Halloween spirit is what we think is missing as an appetizer for your party.
This wrapped goodness is your undead come to life to give a fright and deliciousness to your party. Plus, it is great for toddlers and kids.
INGREDIENTS
1 sleeve of polenta 18 ounces
6 slices white dairy free cheese
1/2 cup fresh salsa or jarred
1 can 15 ounces black beans (you will have extra to serve on the side)
Guacamole optional as a side


INSTRUCTIONS
a. Preheat oven to 400 degrees.
b. Slice polenta into 1/4 inch rounds (should make 15 slices), place on a parchment lined baking sheet and bake for 35 minutes, flipping at 20 minutes.
c. Meanwhile cut cheese slices into 1/4 inch strips, then cut those strips in half so they are about 2 inches long. Rinse black beans.
d. When polenta slices are done, take out of the oven. Top with about 1/2 tablespoon salsa, place black beans for the eyes. Then cover with cheese slices back and forth to form mummy strips.
e. Place back in the oven and bake for another 10 minutes. Serve and watch little faces light up with excitement! For a complete meal, serve with the extra black beans and guacamole or diced avocado on the side.

Mummy Quesadillas
3. Silly Apple Bites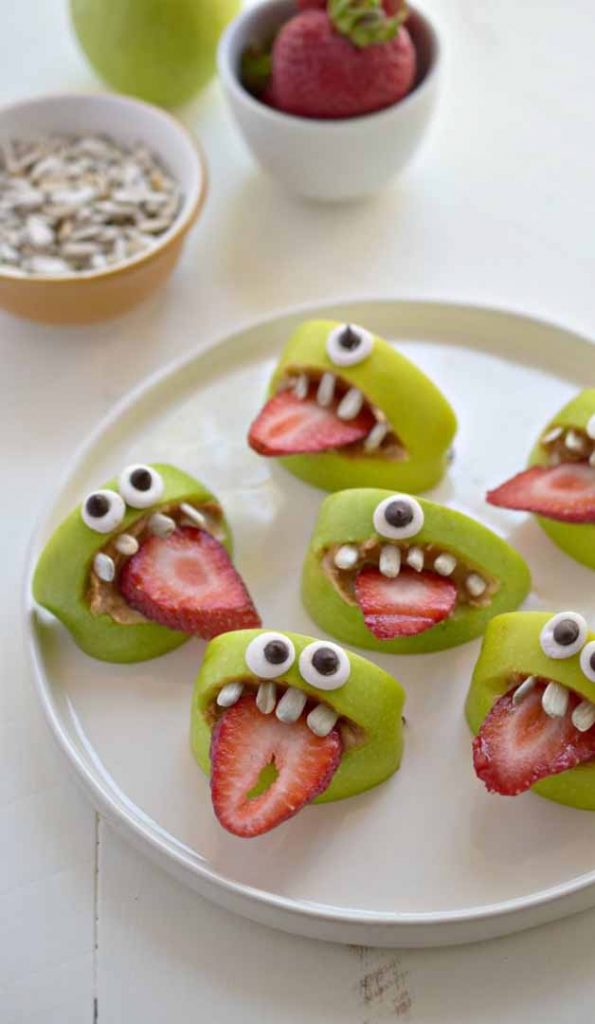 Mike Wazowsky will be proud of this one. These silly apple bites are your combination of healthy and spooky suited for your spookfest.
This meal preparation only requires your time and patience, well, of course, the fruity ingredients too but no cooking will be involved, perfect as snacks for your ghoul guests.
INGREDIENTS
2 green apples, each quartered
sunflower butter
32 sunflower seeds
2–3 strawberries, sliced
1–2 homemade googly eyes per apple bite


INSTRUCTIONS
a. Cut the middles out of each quarter of the apple to create a mouth. Don't worry about perfection, you are filling this gap with sunbutter anyway so if you cut too deep, you can always just cover it up and no one will know.
b. Coat the inside of the cut gap with a filling of sunflower butter.
c. Place 4 sunflower seeds on the top of the "mouth" for the teeth.
d. Place 1 sliced strawberry inside the mouth for the tongue.
e. "Glue" each eye above the mouth with a dab of sunbutter to stick.
f. Serve with a smile.

Silly Apple Bites
4. Nakd Graveyard Chocolate Mousse Pot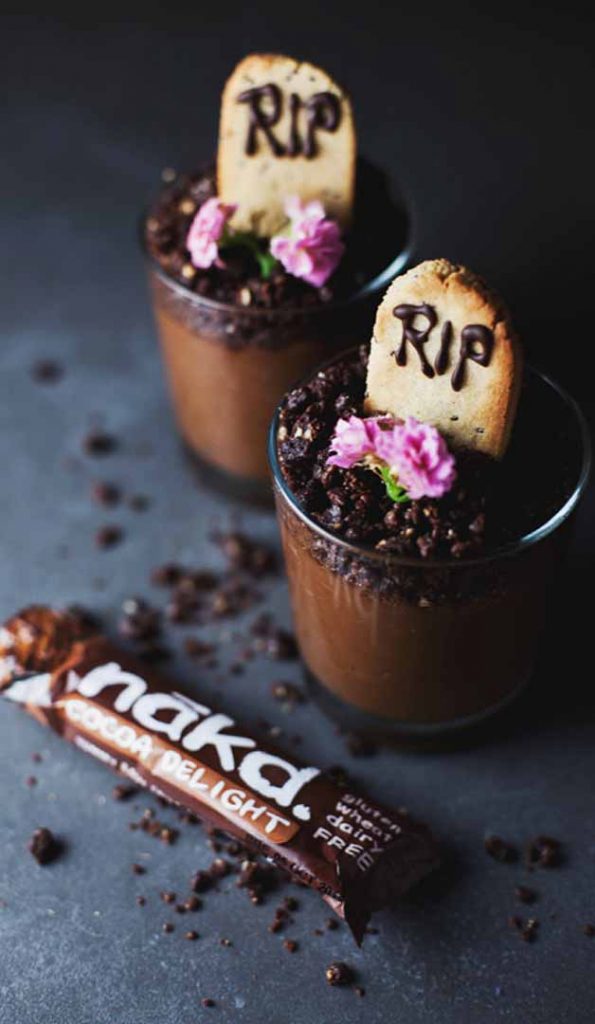 Make the extra effort and create graveyard chocolate mousse pots to pay tribute to your undead guests. You can also personalise it with the guests' initials and guarantee an instant social media story shoutout.
Patience is required on making this one but we assure you that once finished and perfected, your efforts will be rewarded with cute smiles and appreciation from your little ghoul guests.
Ingredients
For the chocolate mousse pots
Nakd mousse pots recipe
For the tombstone cookies
175 g / 1 3/4 cup ground almonds
1 tbsp arrowroot powder
2 tbsp coconut oil
2 tbsp agave nectar
1 tbsp vanilla extract
Zest of 1 medium lemon
1 tbsp poppy seeds
For the chocolate icing
2 tbsp coconut oil
2 tbsp cocoa powder
1 tbsp agave nectar
1 tsp vanilla extract


Instructions
a. Make the mousse pots according tothese instructions. You can make two large servings or four small pots. Leave in the refrigerator whilst you prepare the cookies.


To make the cookies
a. Preheat the oven to 180c / 350f and line a baking tray with parchment paper.
b. In a food processor or mixer, mix together the ground almonds and arrowroot powder. Add the coconut oil in a small bit at a time so it's evenly distributed throughout the dough.
c. Mix in the rest of the ingredients and turn the dough out onto a board.
d. Roll the dough so it's about 1/4 inch thick and using a small sharp knife, cut out your tombstone shapes. Or , if you have tombstone cookie cutters, even better!
e. Transfer to the baking sheet and bake for 5-8 minutes until golden brown around the edges. Leave to cool before icing.
f. To make the icing
g. Melt the coconut oil over a bowl of hot water. Stir in the cocoa powder, agave and vanilla extract. Leave to cool in the fridge for a few minutes.
h. Transfer the chocolate to an icing bag with a narrow nozzle, suitable for writing. Test a small amount to see if the icing is too runny. If so, return to the fridge to firm up slightly. Once it's the perfect texture, pipe your RIP letters onto the top of the tombstone cookies and leave to set in the fridge for at least 10 minutes.


To assemble
Stand the tombstone cookies on top of your mousse pots.
Optional: Add a few small edible flowers to complete the look.

Nakd Graveyard Chocolate Mousse Pot
5. Halloween Pizza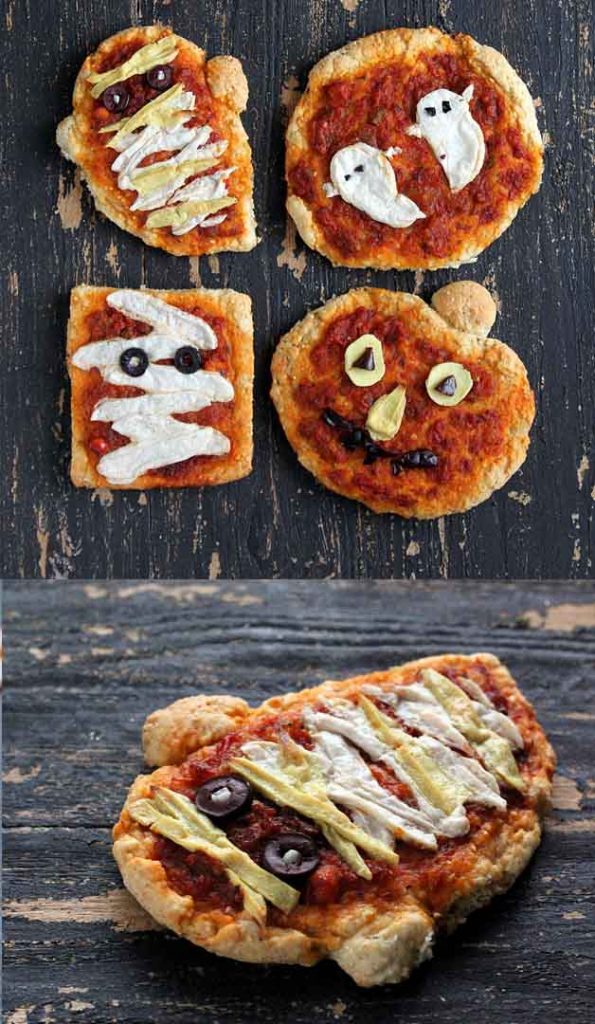 The beloved morning, lunch, and even dinner meal can also be turned into a spooky treat for your ghoul guests. This Halloween pizza can be shaped and garnished with terrifying creatures perfect as snacks for your Spookfest.
Just have fun with mozzarella and cheddar and turn your pizza into a mummy or a ghost.
Mozzarella and Cheddar ghosts and Mummies with Sun-dried Tomato Marinara on Sesame Barley crust
Dairy, egg, soy, nut, corn free recipe
Makes 4, 4-5 inch pizzas.


Ingredients:
Crust:
1/2 cup water
1.5 teaspoons active yeast
2 teaspoons raw sugar
1/4 cup coarsely ground white Sesame seeds
1/2 cup Barley flour
1/2 cup bread flour
1/3 teaspoon salt
1 teaspoon dried basil
2 teaspoons extra virgin olive oil (evoo)
2-3 Tablespoons bread flour for dusting.
Sun-dried Tomato Marinara sauce:
1 Tablespoon evoo
1/4 cup chopped onion
1 bay leaf
2 ripe large tomatoes
3-4 garlic cloves
2 Tablespoons sun-dried tomato
1/2 teaspoon dried herbs(I used basil and parsley)
1/3 teaspoon salt


I made this batch with
a. With 1/2 cup full fat canned coconut milk. 1/4 cup So delicious creamer, 1.5 teaspoons agar powder, 1/3 teaspoon salt, a generous pinch of black salt, 3/4 teaspoon coconut vinegar, pinch of garlic powder, pinch of mustard powder. Once agar is mixed in, add 1 teaspoon tapioca starch and 1 teaspoon potato starch
b. After the last step when the starches were all mixed in, I poured half into a container to set as Mozzarella and converted the other half to cheddar.With 1 tablespoon chickpea miso, 1/8 teaspoon mustard powder, 1.5 tablespoons nutritional yeast and 1/8 teaspoon turmeric powder. Mix in, cook on low for half a minute. Pour and let sit for atleast an hour in refrigerator.


Sun-dried tomato Marinara sauce:
a. In a pan, add oil and heat on low-medium.
b. Add onions, dried herbs and bay leaf. Cook for 5-6 minutes until translucent.
c. Blend tomatoes, garlic and sundried tomatoes into a puree.
d. Add the tomato puree to the onions. Add salt, herbs and cook on low-medium heat until the sauce thickens. 10-15 minutes


Crust:
a. In a bowl, add warm water, yeast and sugar. Mix well and let sit for 10 minutes until frothy.
b. Add the flours, salt, evoo, herbs and mix well for 2 minutes.
c. Cover the bowl with a damp towel. Let the dough sit/rise for 1.5 hours or until doubled.
d. Add 2 Tablespoons of flour, gather it and knead into a smooth dough for 2-3 minutes.
e. Divide the dough and shape into shapes of choice. Ghosts. squares, pumpkins.
f. Top with Sundried Tomato marinara, Kalamata olives and cheese strips and cheese ghosts.
g. I used olive slices and small olive pieces to make the eyes.
h. Bake in preheated 400 degrees F oven for 12-13 minutes.
i. Broil on Lo for half a minute to melt the cheese.
j. Remove from oven, let cool for a minute and serve.

Halloween Pizza
Embrace the Halloween spirit with a full tummy and enjoy the trick or treat season. Happy Halloween!
Perhaps you best enjoy eating healthy snacks while watching the game because it's about that time of the year.
Over to you…
Need help renovating your kitchen? We can help you with that. Just send us a message and let us create your dream kitchen together. Happy cooking!