Valentine Full Course Dinner Meal
Valentine's Day is just around the corner, make someone happy and feel loved by preparing a fancy tasteful home-cooked meal full of love.
To help you with what to prepare on this romantic day, here's a full course meal to fill your appetite with and enjoy a lovely night together.
Appetizer: Bruschetta with Heirloom Tomatoes, Olives, and Basil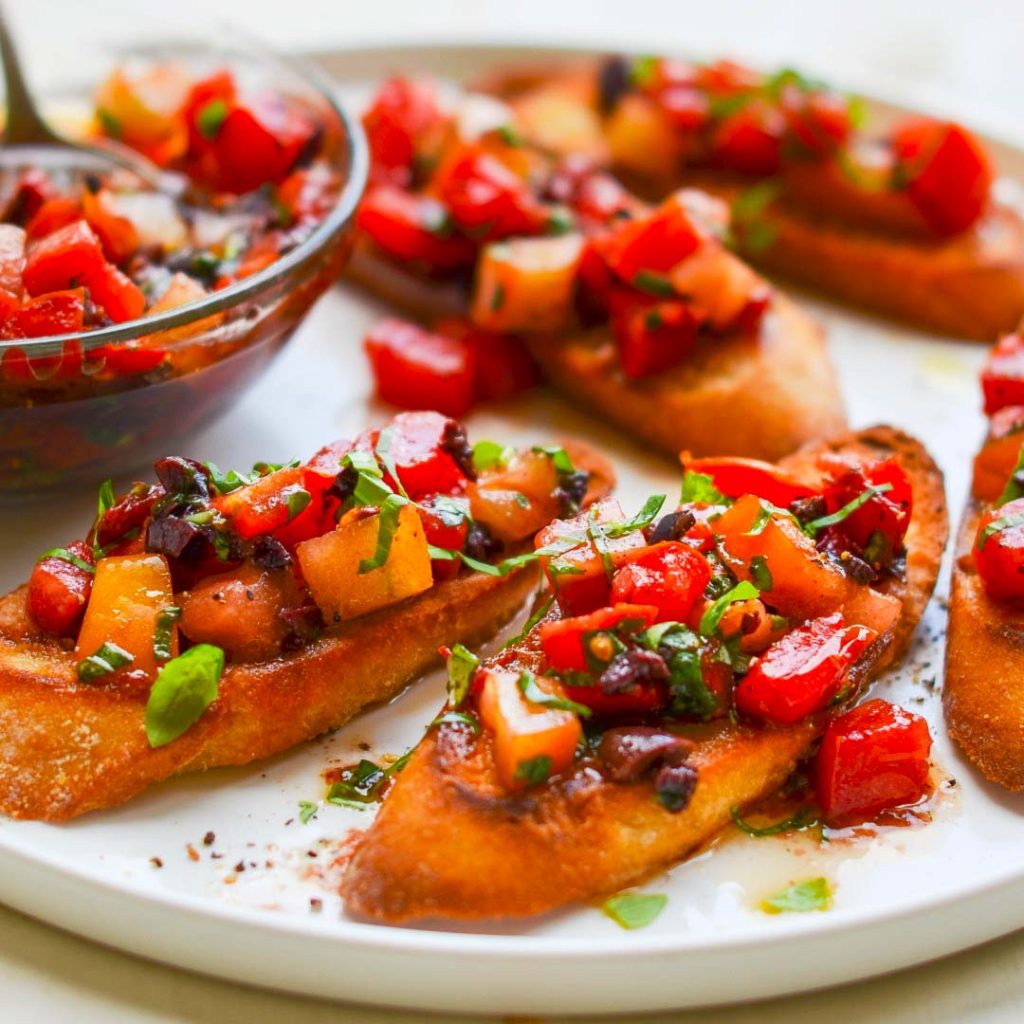 Start your dinner light with a classic favourite of Bruschetta. It is an easy recipe that is always a hit. It can also be customised according to your taste.
INGREDIENTS
1-1/2 lbs ripe tomatoes (preferably heirloom), cored and diced (3 to 4 tomatoes)
1/4 cup pitted Kalamata olives, finely chopped
2 teaspoons balsamic vinegar
1/4 cup finely chopped fresh basil, plus more for serving
1/4 teaspoon salt
A few grinds freshly ground black pepper
1/2 cup extra-virgin olive oil, divided
1 good quality baguette, cut into scant 1/2-in-thick slices on the bias
1 clove garlic, halved lengthwise


INSTRUCTIONS
a. Preheat the oven to 425°F and set a rack in the middle position.
b. In a medium bowl, combine the tomatoes, olives, balsamic vinegar, basil, salt, pepper, and 1/3 cup of the oil. Toss to combine, then taste and adjust seasoning, if necessary. (If the tomatoes aren't as sweet as you'd like, add 1/8 teaspoon sugar.)
c. Arrange the bread slices on a baking sheet. Brush both sides of the bread with the remaining 3 tablespoons of oil. Bake for about 10 minutes, until crisp and golden on the bottom.
d. Using tongs, flip the bread slices so the golden side is facing up. Rub the top side of each slice with the cut side of the garlic, going back and forth once (or twice, if you like your bruschetta extra garlicky). Transfer the toasted bread to a serving platter and top each slice with a spoonful of the tomato mixture. Sprinkle the bruschetta with more basil. Serve within 10 minutes so that the bread stays crisp.
e. Make-Ahead Instructions: The tomato mixture can be prepared up to 3 hours ahead of time and stored in a covered container in the refrigerator. Taste and adjust seasoning before topping the toasted bread.

Bruschetta with Heirloom Tomatoes, Olives and Basil
Entree: Pasta or Steak
Pasta: Vegetable Bolognese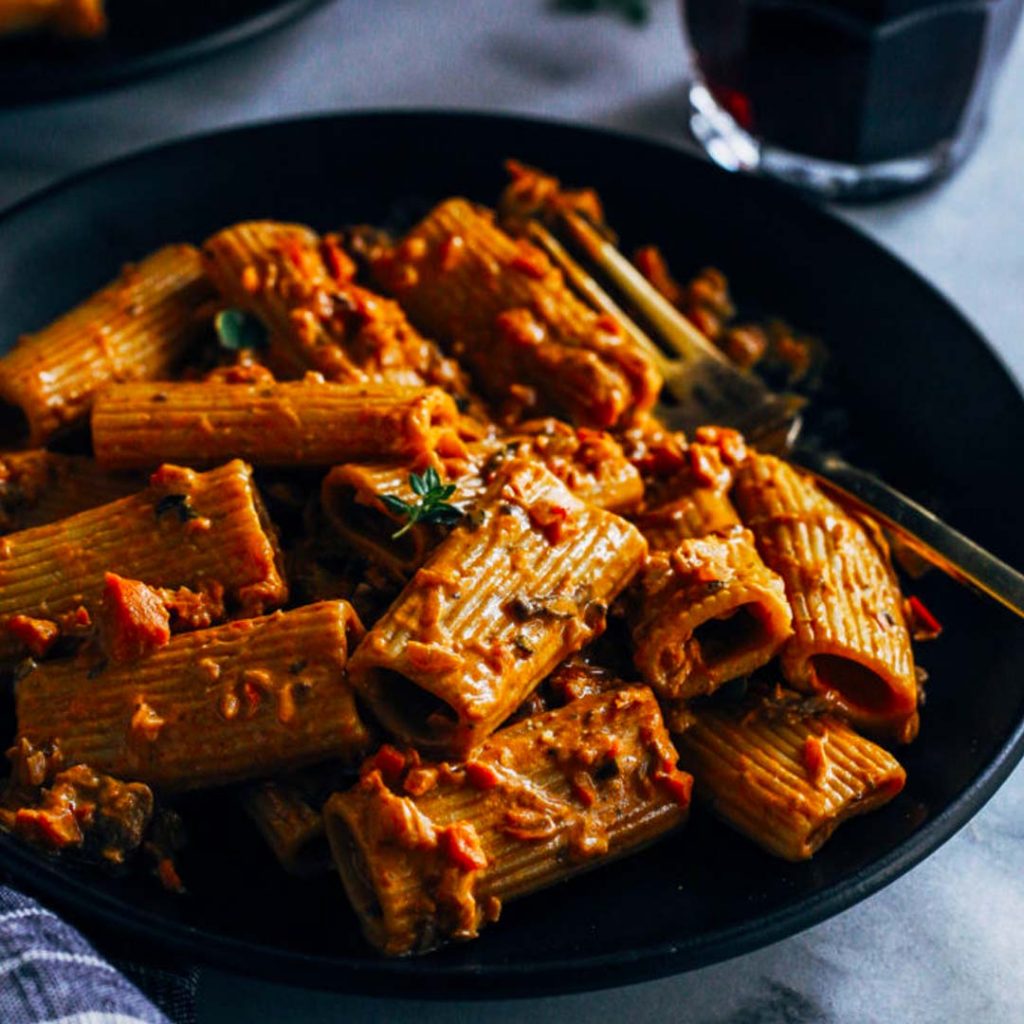 Vegetable Bolognese, comfort food that is always a hit comes with a twist full of umami flavour. It is the perfect food for your cosy night in.
INGREDIENTS:
1 cup raw cashews
1 ounce dried mushrooms (I like porcini)
4 tablespoons olive oil
1 large onion, roughly chopped
3 garlic cloves, minced
3 carrots, roughly chopped
1 red bell pepper, cored and roughly chopped
2 teaspoons salt
1/2 teaspoon pepper
4 tablespoons tomato paste
2 teaspoons fresh or dried thyme
1 teaspoon fresh or dried oregano
8 ounces fresh mushrooms, finely chopped
1/2 cup dry red wine (such as cabernet, merlot or pinot noir)
1/4 cup lemon juice (about 2 lemons)
1 tablespoon miso
2 tablespoons nutritional yeast
1/2 teaspoon salt
1 lb rigatoni pasta (preferably whole grain)*


DIRECTIONS:
a. In a small pot, bring 3 cups water to a boil. Turn off the heat, add the raw cashews and allow to soak for 30 minutes.
b. In a measuring cup, microwave 1 cup water for 2 minutes, or heat until boiling. Add the dried mushrooms and allow to soak for at least 15 minutes.
c. Using a food processor, finely chop the onion, red pepper, garlic and carrot. In a large pot, warm the olive oil over medium heat. Add the finely chopped vegetables, sprinkle with salt & pepper, and cook for 5 minutes.
d. Separate the dried mushrooms from the hot water (while reserving liquid for later) and finely chop them, discarding any hard pieces. Use the food processor to finely chop the fresh mushrooms (careful not to over blend, you want some texture here).
e. To the pot, stir in the tomato paste, herbs, chopped mushrooms and rehydrated mushrooms. Cook for another 3 minutes, then pour in the reserved mushroom liquid and red wine. Bring to a boil, reduce to a simmer and cook for 10 minutes, until liquid has reduced by half.
f. Strain the excess water from the cashews then add them to a blender. Add 1/4 cup water, lemon juice, salt, nutritional yeast, and miso then blend on high until smooth. Transfer the cream to the pot and stir together until evenly distributed.
g. Bring a large pot of salted water to a boil and prepare the pasta as directed. When pasta is tender, reserve 1/4 cup of the cooking water then strain the rest. Add the cooked pasta and the reserved water to the pot with the bolognese. Stir until evenly coated then serve warm with fresh thyme and cashew parmesan (optional- see notes).

Vegetable Bolognese
Steak: Juicy Vegan Seitan Steak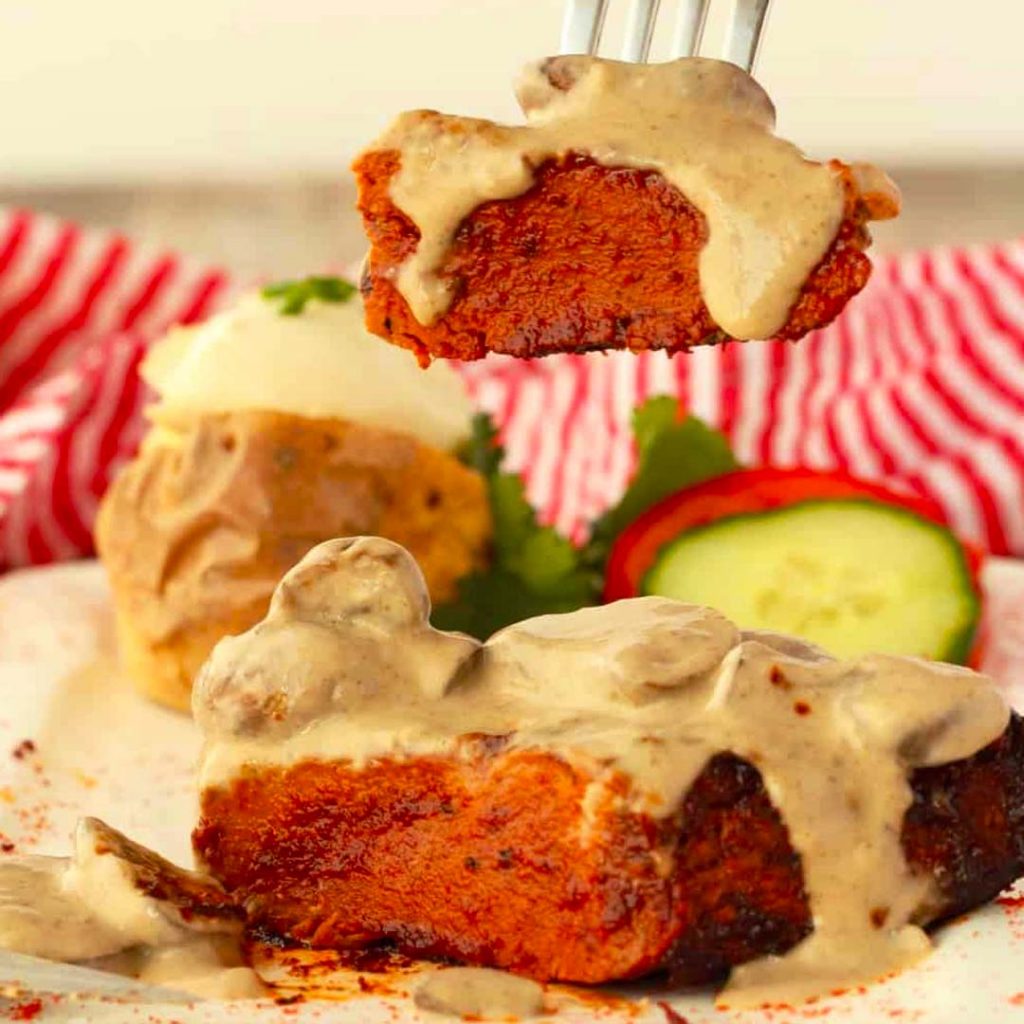 Fill your tummy with super high in protein meal with this juicy vegan seitan steak. It is perfectly spiced and deliciously textured.
INGREDIENTS
For the Vegan Steaks:
3/4 cup (123g) Canned Chickpeas (Drained)
1/4 cup (15g) Nutritional Yeast
1 tsp Garlic Powder
1 tsp Onion Powder
1/4 tsp Cumin
1/4 tsp Coriander Powder
1/2 tsp Oregano
2 Tbsp Soy Sauce
1/2 cup (130g) Tomato Paste
1 tsp Paprika
1/4 tsp Black Pepper
1 Tbsp Dijon Mustard
1/4 tsp Liquid Smoke
1/2 cup (120ml) Vegetable Stock
1 and 3/4 cups (263g) Vital Wheat Gluten*


For the Marinade:
1/4 cup (60ml) Soy Sauce
1 tsp Paprika
2 Tbsp Brown Sugar
2 Tbsp Tomato Paste
1/8 tsp Liquid Smoke


For Frying:
1 Tbsp Olive Oil (or other oil)


For Serving (Optional):
Baked Potatoes with Vegan Sour Cream
Creamy Mushroom Sauce


INSTRUCTIONS
a. Add the chickpeas, nutritional yeast, garlic powder, onion powder, cumin, coriander powder, oregano, soy sauce, tomato paste, paprika, black pepper, dijon mustard, liquid smoke and vegetable stock to the food processor and process until well mixed.
b. Transfer to a mixing bowl and add the vital wheat gluten. Stir in with a spoon briefly and then get in there with your hands, mixing it into a dough. Knead the dough for around 2 minutes, you want it to go from sticky and soft to firm and stretchy, so that when you pull it, it snaps back into place. See our full post for lots more info on kneading. Make sure you don't over-knead it because that will cause your steaks to become very tough.
c. As soon as you have a firm, stretchy texture, flatten it out and cut it into 4 roughly equal sized steaks. Use a potato masher to bash the steaks down a bit to flatten, but don't do this too much as it counts as kneading, and you don't want to overdo it.
d. Wrap the steaks individually in tinfoil and then steam them for 20 minutes. Don't wrap them too tight as they will expand while steaming. You can steam them in a steamer basket over a pot of boiling water, or in any steamer that you have.
e. While the steaks are steaming, prepare your marinade sauce by adding all the ingredients to a bowl and whisking them together. Let it sit for a little while and then whisk again. You want it to be nice and smooth and it can take a couple of minutes for the brown sugar to dissolve properly.
f. After steaming for 20 minutes, unwrap the steaks from their tinfoil and place into a square dish. Pour over the marinade sauce and use a brush to make sure the steaks are properly covered. Turn them over in the sauce a few times.
g. Heat a pan with a little olive oil (or other oil, 1 Tbsp is fine) and then fry the steaks (I found they all fitted into the same pan) flipping them regularly and brushing more marinade sauce on them every time you flip them, until they are nicely browned and caramelized.
h. Serve with a side salad, baked potatoes with vegan sour cream, and if you like sauces with your steaks, then a creamy mushroom sauce goes wonderfully with this!

Vegan Seitan Steak
Dessert: No-Bake Chocolate Cheesecake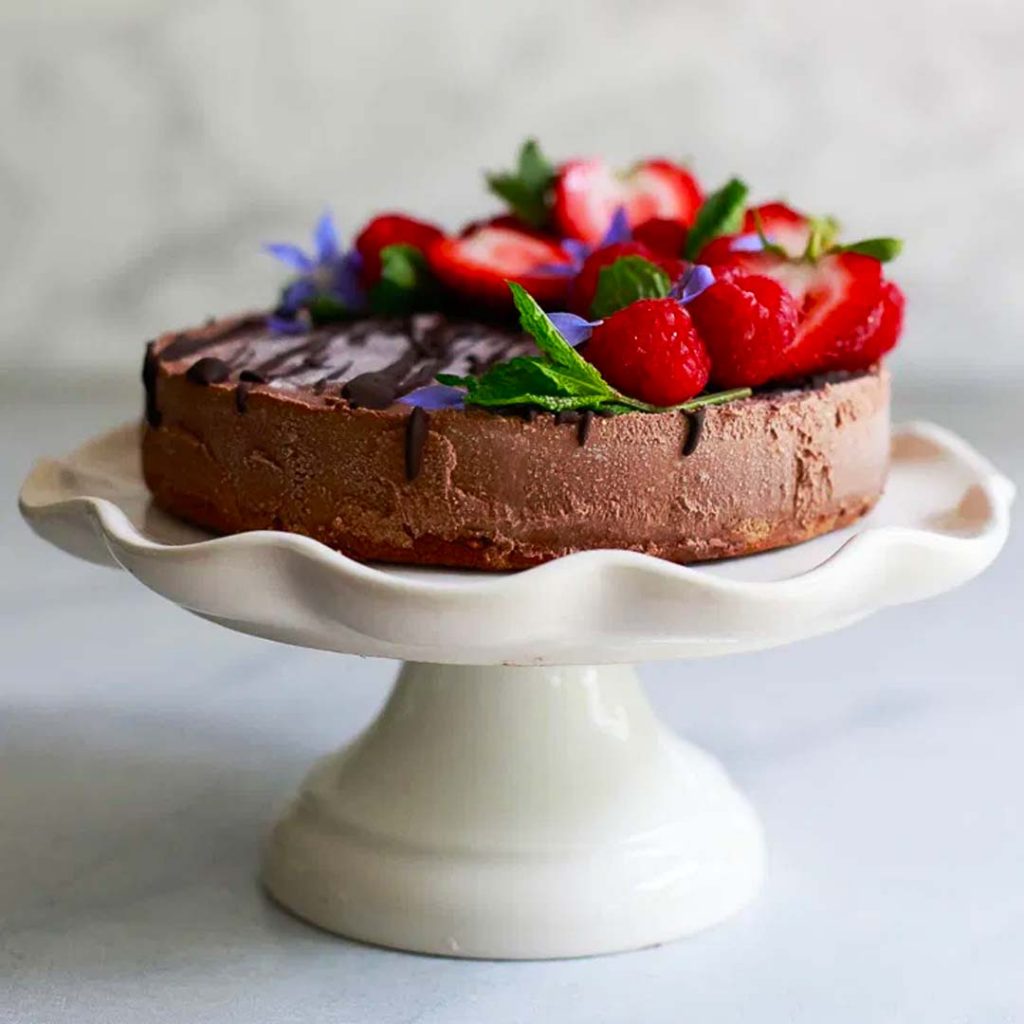 Best served chilled, this no-bake chocolate cheesecake is your mouth-watering dessert to end the night with. It's dairy-free, gluten-free, paleo, and utterly delicious.
INGREDIENTS
1/2 cup pitted dates
1/2 cup almonds
1/4 cup flaked coconut
1 cup raw cashews, soaked in water overnight (or with boiling water poured over at least 4 hours)
1/8 cup coconut butter
1/6 cup maple syrup
1/2 teaspoon vanilla extract
1/4 cup unsweetened cocoa/cacao powder
pinch sea salt
1/3 cup almond or coconut milk
1/3 cup dairy-free, gluten-free chocolate chunks/chips
1 tablespoon coconut oil
Fresh strawberries and/or raspberries
fresh mint


INSTRUCTIONS
a. Coat a 6-inch cake pan with cooking spray. Line the bottom with a round piece of parchment paper for easy removal.
b. To make the crust, place the dates, almonds, and coconut into a food processor. Blend until the mixture comes together when pressed. If your dates are on the dry side, you may need to add a little water. Press the crust mixture into the bottom of the cake pan very firmly with your hands or the bottom of a glass or measuring cup. Set aside and rinse the processor bowl.
c. To make the filling, drain the cashews well and place them into the food processor or blender. Add the coconut butter (you could also use coconut oil), syrup, vanilla, cocoa, salt, and milk. Cover and blend until very smooth and creamy. Add more milk if needed. This takes a few minutes so keep blending until creamy. Pour the filling into the crust. Transfer to the freezer to set up for at least 4 hours or overnight. If completely frozen, let thaw about 30 minutes. Remove the cheesecake from the pan by running a thin knife under hot water and then around the inside of the cake pan.
d. Garnish your vegan chocolate cheesecake with fresh berries, mint, and/or a drizzle of melted dark chocolate and enjoy chilled.

No-Bake Chocolate Cheesecake
Drinks/Cocktails: Rosé Vodka Cocktail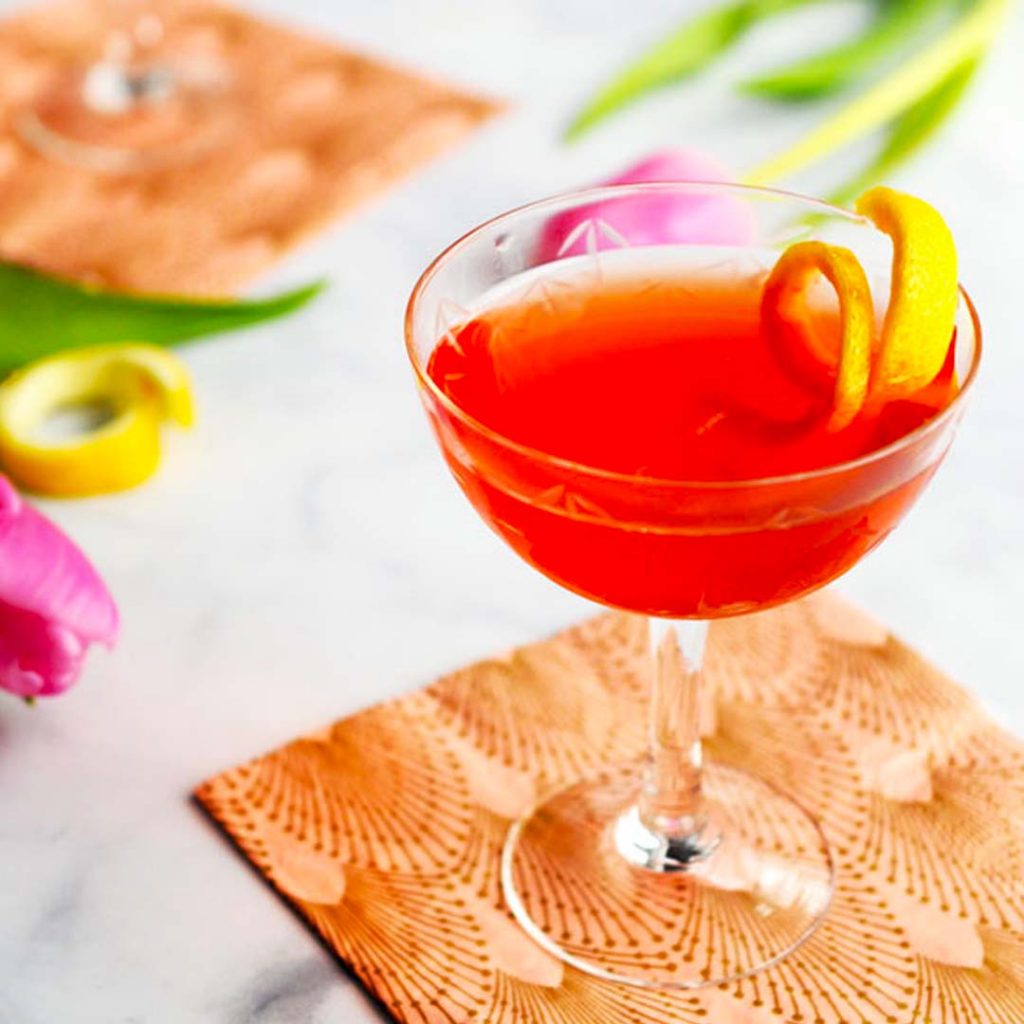 A go-to drink that is perfect for your night together. It is light and crisp with just the right fruity punch.
Ingredients
1/2 ounce orange liquor (I like Cointreau)
1/2 ounce Aperol
1/2 ounce lemon juice
2 ounces cranberry juice
1 1/2 ounces rosé vodka
1/2 cup crushed ice
lemon peel (for garnish)


Instructions
a. Add all ingredients to a cocktail shaker.
b. Shake vigorously to mix, and to chill the cocktail (the breaking ice will cool it down).
c. Strain and pour into a cocktail glass. Garnish with a lemon twist (see notes).
d. Serve and enjoy!

Rosé Vodka Cocktail
Charcuterie board: Tangy Herbed Vegan Cheese Spread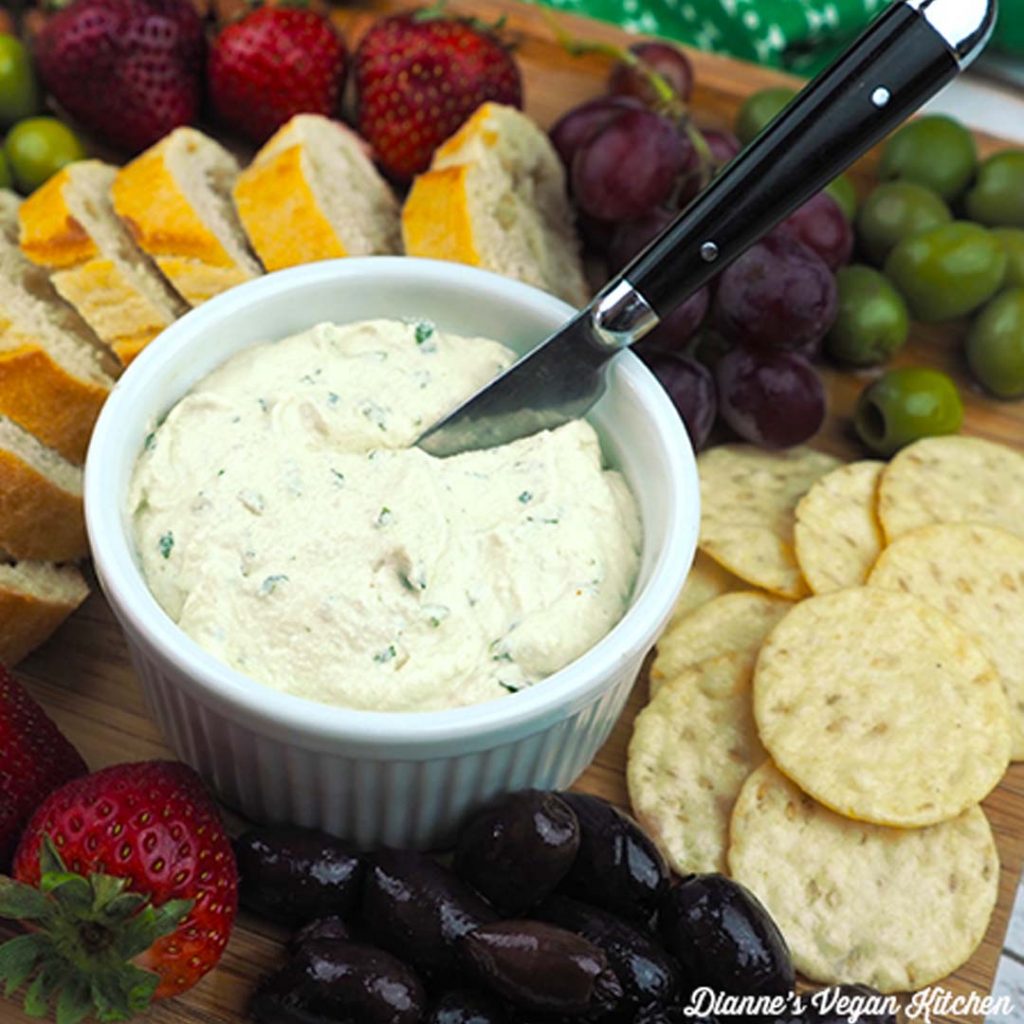 Continue with some hearty snack and indulge yourselves with a charcuterie board filled with dairy-free and gluten-free treat.
Tip: If you happen to be allergic to some of the chosen mixes you can always change it to snacks you like that matches well with vegan cheese spread.
Ingredients
½ cup raw cashews soaked for 2 hours, drained and rinsed
1/2 cup raw macadamia nuts soaked for 8 hours, drained and rinsed
1/3 cup water
1 tablespoons apple cider vinegar
2 tablespoon lemon juice
2 teaspoons mellow white miso
1 clove garlic minced
1/2 teaspoon sea salt
½ teaspoon garlic powder
½ teaspoon onion powder
1 tablespoon chopped chives
1 tablespoons chopped parsley


Instructions
a. Mix everything except the chives and parsley in a high-speed blender or food processor. Mix until smooth and creamy, stopping to scrap down the sides if necessary. If the mixture is too thick to blend, add a little more water a tablespoon at a time.
b. Pulse in the chives and parsley.
c. Chill the cheese spread in the fridge for an hour or two before serving.

Tangy Herbed Vegan Cheese Spread
Enjoy a lovely night together or just yourself and fill your tummy with the right mix of love and warmth.
Over to you…
Your kitchen looking unloved and sad, give it that much needed kitchen lift and visit our showroom. Allow us to help you achieve your dream kitchen even with a little kitchen upgrade and contact us now!