Vegan Dinner Recipe for the Holidays:
The season of gift-giving made especially for children, Christmas has been a long-celebrated tradition in every household. In the UK, Christmas Day is when families come together; enjoy a hearty dinner feast while watching the Queen's speech.
This year's Christmas will be a bit different for some due to the current situation but the festivities are still observed and with that, here are 5 vegan dinner recipes you can prepare for the whole family (limited to family members who live with you) or just yourself (via zoom party):
1. Smoky Vegan Black Bean Soup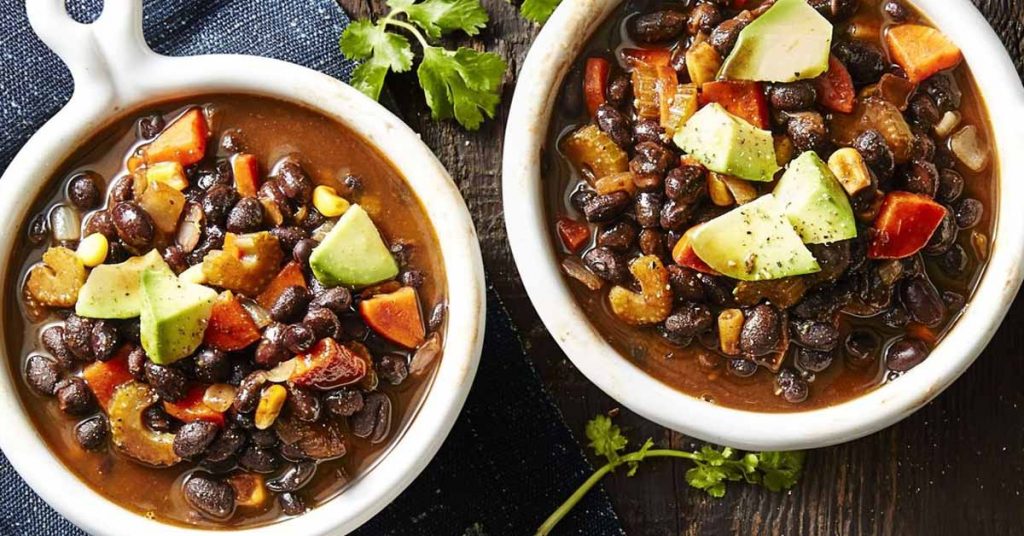 Start your hearty meal with a warm healthy soup with smoky vegan black bean soup. It is packed with nutritious ingredients that are not only good for you but will definitely keep you craving for more.
Ingredients
2 tbsp extra virgin olive oil
2 medium carrots, chopped
2 stalks celery, sliced
1 medium onion, finely chopped
¼ cup tomato paste
3 cloves garlic, crushed with press
1 ½ tsp ground cumin
3 cups lower-sodium vegetable or chicken broth
15 oz (approx 3 cans) lower-sodium black beans, undrained
1 cup frozen corn
Avocado chunks and cilantro leaves, for serving


Directions
a. In a skillet, heat oil on medium-high. Add carrots, celery and onion. Cook 6 to 8 minutes or until starting to brown, stirring occasionally.
b. Add tomato paste, garlic and cumin. Cook, stirring, 1 to 2 minutes or until garlic is golden and tomato paste has browned. Stir in 1/2 cup broth, scraping up any browned bits from the sides.
c. Transfer contents of skillet to slow-cooker bowl along with beans, corn and remaining broth.
d. Cover and cook on High for 4 hours or Low for 6 hours. Serve with avocado and cilantro.

Smoky Vegan Black Bean Soup
2. Vegan Creamy Linguine with Wild Mushrooms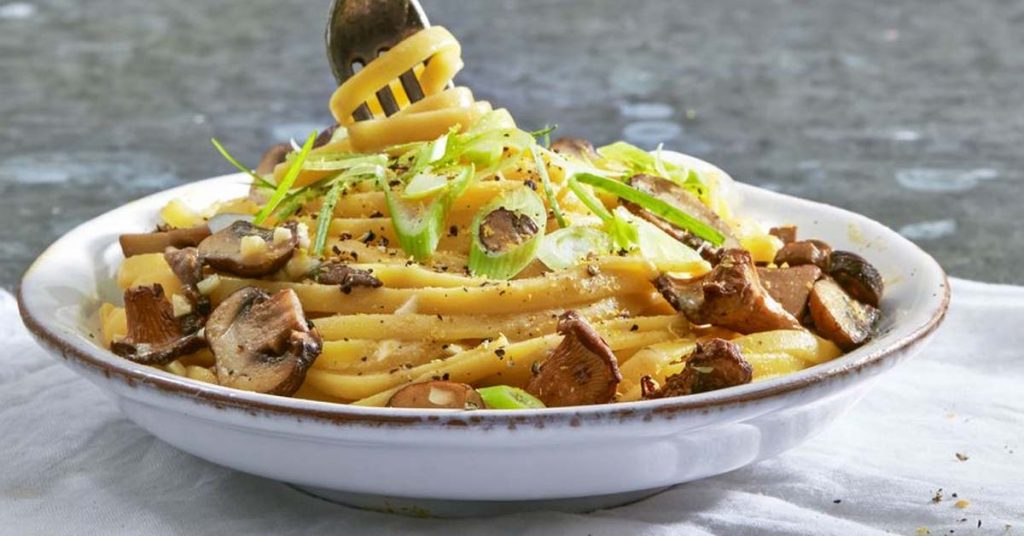 Creamy flavoured pasta that will also entice kids to eat their vegetables. This vegan creamy linguine with wild mushrooms is your garlicky pasta that is oh so good which is also nutritious.
Ingredients
1 lb. linguine or fettuccine
6 tbsp. olive oil
12 oz. mixed mushrooms, thinly sliced
3 cloves garlic, finely chopped
1/4 c. nutritional yeast
2 green onions, thinly sliced on an angle


Directions
a. Cook linguine as label directs, reserving 3/4 cups pasta cooking water before draining. Return drained linguine to pot.
b. Meanwhile, in 12″ skillet, heat oil on medium-high. Add mushrooms and garlic; cook 5 minutes or until mushrooms are browned and tender, stirring.
b. Transfer to pot with cooked, drained linguine along with nutritional yeast, reserved cooking water, 1/2 teaspoon salt and 3/4 teaspoon coarsely ground pepper. Toss until well combined. Garnish with green onions.

Creamy Vegan Linguine with Wild Mushrooms
3. Vegan Shepherd's Pie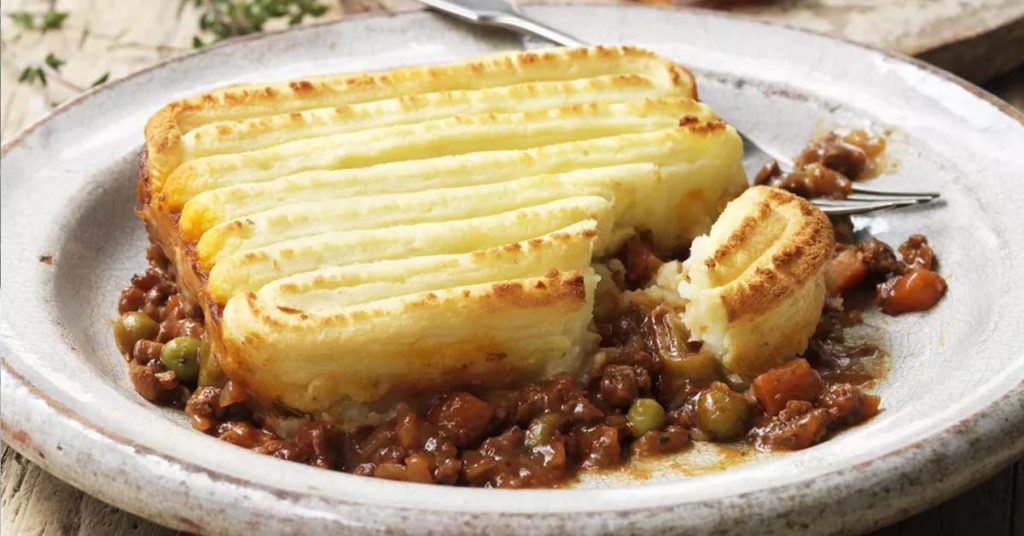 A staple British food now made with a meat substitute suitable for vegetarians, vegans, and omnivore diets alike. A satisfying hearty meal made with green peas, gravy, and corn.
Ingredients
4 potatoes (chopped)
2 tablespoons margarine
1/4 cup soy milk
Salt and pepper (to taste)
1 onion (diced)
1 tablespoon vegetable oil
1 1/2 cups vegetarian ground beef substitute (or rehydrated TVP; see recipe tips below)
1 1/4 cups vegetarian gravy
1/2 cup green peas
1/2 cup corn
1/2 teaspoon garlic powder
Dash of cayenne pepper


Direction:
a. Pre-heat oven to 350 F.
b. Boil or microwave the potatoes until soft. Drain and mash with the margarine and soy milk. Add a bit of salt and pepper, to taste.
c. Sauté the onion for a few minutes, until tender, in the vegetable oil.
d. In a large mixing bowl, combine the onions, beef substitute or rehydrated TVP, vegetarian gravy, peas, corn, garlic powder, and cayenne. Pour into a pie pan or baking dish.
e. Spread the mashed potatoes over the veggie mixture.
f. Bake for 30 to 40 minutes until heated through.

Vegan Shepherd's Pie
4. Gluten-free Chocolate Ganache Tart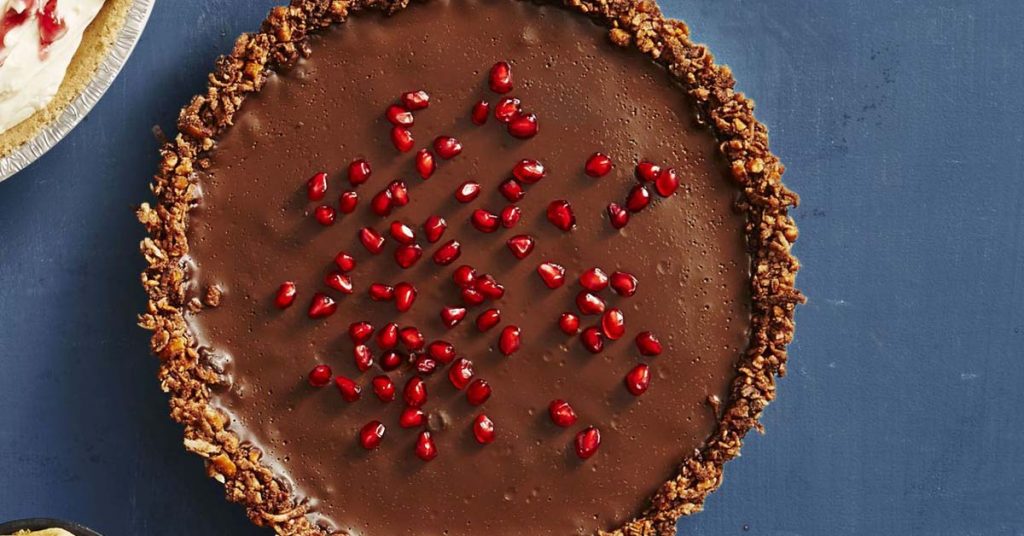 Serve your guest with the right mix of fruit and dark chocolate with our Gluten-free chocolate ganache tart to end your holiday on a sweet note.
Ingredients
1 c. shredded sweetened coconut
1 c. salted gluten-free pretzels, crushed into small pieces
1/2 c. rice flour
1/2 c. coconut oil, melted
3 tbsp. brown sugar
2 tbsp. unsweetened cocoa
1 c. coconut milk
6 oz. vegan dark chocolate, finely chopped
Pomegranate seeds, for garnish (optional)


Directions
a. Preheat oven to 375°F. Grease 9″ tart pan with removable bottom.
b. In large bowl, combine shredded coconut, pretzels, rice flour, coconut oil, sugar, and cocoa. Transfer to prepared tart pan. With hands, firmly press mixture into bottom and up side of pan in even layer; place on cookie sheet. Bake 10 minutes. Cool completely on wire rack.
c. In small saucepan, heat coconut milk on medium until just bubbling at edges, whisking occasionally. Place chocolate and pinch salt in medium heatproof bowl. Pour hot coconut milk over chocolate. Let stand 5 minutes. Gently whisk until smooth. Pour into tart shell. Refrigerate, uncovered, 2 hours or until set.
d. To serve, top with pomegranate seeds, if desired. Can be made up to 2 days ahead. Once set, cover with plastic and keep refrigerated.

Gluten-Free Chocolate Ganache Tart
5. Easy Vegan Eggnog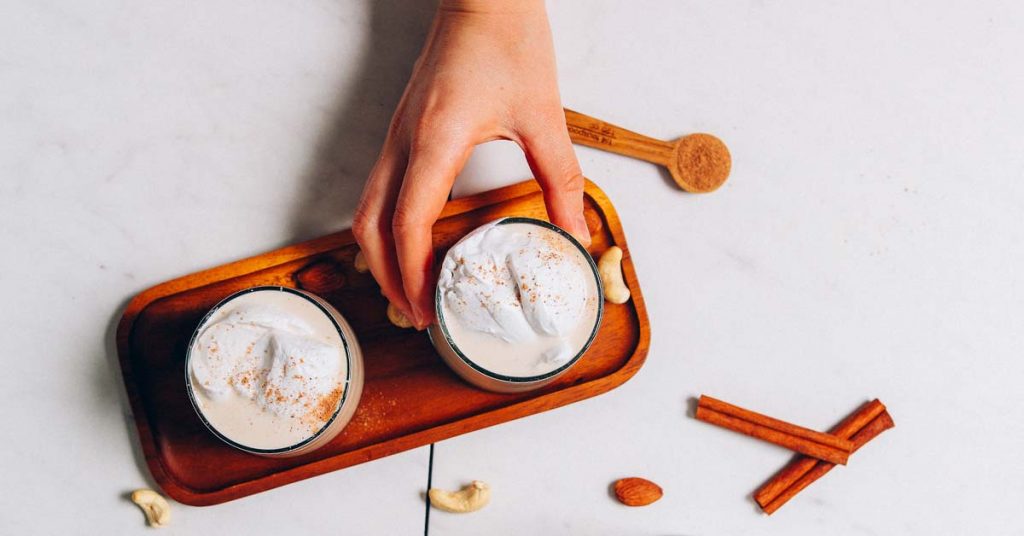 This easy-to-make vegan eggnog is your comforting hot drink after your hearty meal to keep the merriment going until the end of the night. No worries, this vegan eggnog does not have any eggs which can be substituted with a little tofu and soymilk.
Take a quick drink of a classic holiday beverage made for vegans that even non-soy milk lover will change their mind and ask for a second sip.
Ingredients
EGGNOG
3 cups dairy-free milk (preferably homemade // we love a cashew-almond blend — see instructions)
1 14-oz can full-fat coconut milk (use light for lighter eggnog)
4-6 Tbsp maple syrup, plus more to taste (substitute up to half with coconut sugar)
1/2 tsp ground cinnamon, plus more to taste
1/4 tsp ground nutmeg, plus more to taste
1 tsp pure vanilla extract
1/8 tsp ground cardamom (optional)
FOR SERVING optional
1 ounce bourbon (per 8-ounce serving)
Coconut whipped cream
Cinnamon or nutmeg


Instructions
a. Optional: If making your own dairy-free milk, soak nuts of choice overnight in cool water or cover with hot water and soak for 1 hour. Then drain, rinse well, and add to a high speed blender along with desired amount of filtered water (for a creamier milk, we went with 3/4 cup (90 g) raw soaked cashews, 3/4 cup (95 g) raw soaked almonds, and 4 cups (946 ml) water as the recipe is written; adjust amounts as needed if adjusting serving size). Strain through a nut milk bag and set aside.
b. To a high-speed blender, add 3 cups (710 ml) dairy-free milk (as recipe is written, adjust amounts as needed if adjusting serving size), coconut milk, maple syrup (starting with the lesser amount), cinnamon, ground nutmeg, vanilla extract, and cardamom (optional).
c. Blend on high until creamy and smooth — 1-2 minutes. Then taste and adjust flavor as needed, adding more spices for warmth or maple syrup for sweetness.
d. For serving, enjoy cold, over ice, or hot by heating over medium heat until warm (we prefer chilled, no ice). Optionally, you can add 1/2 – 1 ounce bourbon per 1 cup (8-ounce) serving. This is optional, but a festive addition! Serve as is or with coconut whipped cream and a pinch more cinnamon or nutmeg.
e. Transfer remaining eggnog to a jar for storing. Leftovers should keep in the refrigerator up to 4-5 days. Or freeze into ice cubes and store up to 1 month. Shake well before serving — a little separation is natural.

Easy Vegan Eggnog
You can also add immuno-boosting snacks into your meal and enjoy your time together.
We know times are tough but always be reminded that after a rainstorm a beautiful rainbow will always great you. Happy holidays!
Over to you…
Been thinking of renovating your kitchen? Let us be a part of your dream kitchen journey and send us a message.