If you search the internet for the price of a pullout kitchen tap you will surely be taken aback and might forget about this item and move on to the next cheaper option.
But wait, before you buy that cheaper one, give this item a good look and see yourself using it. To further help you picture its advantages; here are some of its notable features:
1. More Freedom Around the Sink
One problem with traditional kitchen taps is their limits on how you can spray water. Pullout taps come with a retractable long hose that helps direct water flow whenever you're rinsing plates, sinks, and even food items that need thorough washing.
The retractable hose has varying reach for an increased work area. Its spraying capabilities vary from delicate showering of fruit or fish to rapidly filling a kettle using just one hand operation.
2. Commendable Water-saving Feature
Pullout kitchen taps are not only convenient and look good; it also comes with clever water-saving technology costing you less on your water bill for a sustainable kitchen.
3. Wide Range of Finishes with Anti-Limescale Feature
Pullout taps come in various finishes that will surely match your current kitchen design but preferably it matches well with modern kitchen designs. It comes in stainless steel, rose gold, matt black, brushed steel, and many more.
No more yucky sight of limescale build-up on your tap nozzle with the anti-limescale feature.
Did its advantages finally change your mind? If it did, here are our top-picked pullout kitchen taps you can buy right now!
1. Quooker Flex: All-in-one tap with Flexible Pull out Hose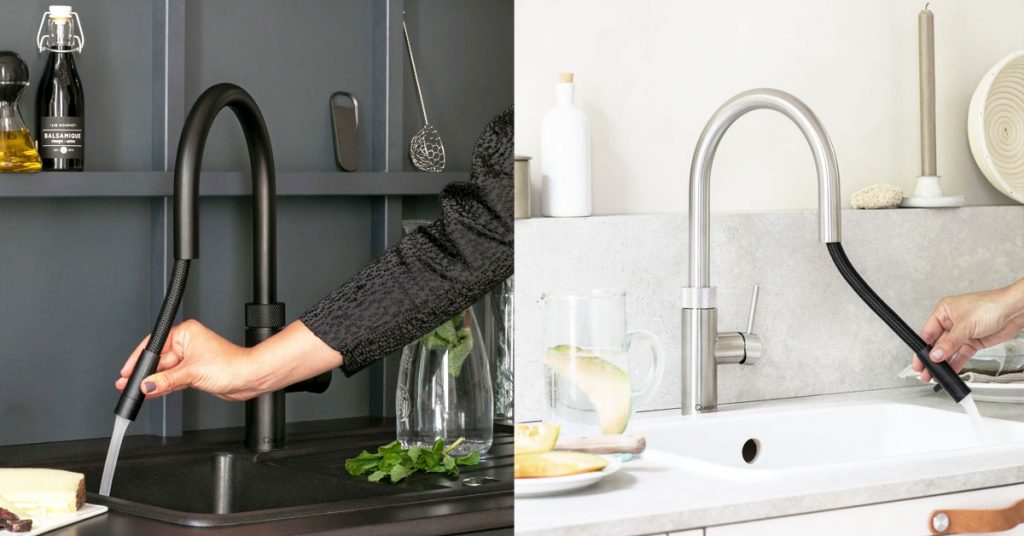 Cold filtered water straight from your kitchen tap now possible with Quooker Flex. The Quooker Flex is a kitchen innovation that amplifies the way you use your kitchen tap.
It has the convenience of a flexible pull-out hose ready to dispense hot and cold water. It has a childproof safety feature to prevent children from accidentally using hot water unsupervised just simply double push-and-turn the textured handle.
2. Franke Atlas Neo Sensor Pull-out Nozzle in Stainless Steel
Since kitchen taps are known to be one of the most used items in the kitchen, virus spread is unavoidable so Franke came up with this smart solution and allow no-touch tap operation.
It's a pullout tap that can function via an infrared motion sensor whenever you need water. It has intuitive functions with a 5-10cm range to avoid accidental use. Water flow stops automatically after 30 seconds.
3. Hansgrohe Aquno Select M81
Reinterpret the way you interact with water with Hansgrohe Aquno Select M81. Its pullout function enables flexible works just easily pull out the hose to rinse pots or fill a nearby container and after use safely retract and store it in its high arc spout.
It is also integrated with the flat spray positioned at the tap base to allow optimised flow rate to conserve resources and minimise splashing.
Its resource-saving quality ensures water is used efficiently with optimised flow rate of 4 l/min.
Pullout kitchen taps are a costly investment but think of it this way. You invest in one, enjoy its full capacity, and have peace of mind with supplier warranty.
Over to you…
Ready to experience the convenience of a pullout kitchen tap? Just book an appointment with us and achieve your dream convenient and smart kitchen with us. Happy washing!