Halloween has been traditionally celebrated throughout Britain may it be bobbing for apples in containers full of water, telling ghosts stories, and carving faces on vegetables like swedes and turnips.
This year, adult Halloween parties are now allowed in the UK and there are places you can go to fully enjoy this event or you can make your own party and have a get-together with your loved ones and acquaintances.
In addition to our list of spooky delicious vegan recipes, here are more choices you can prepare with yourself to bring a feast to your spookfest party:
1. Stuffed Mushroom Eyeballs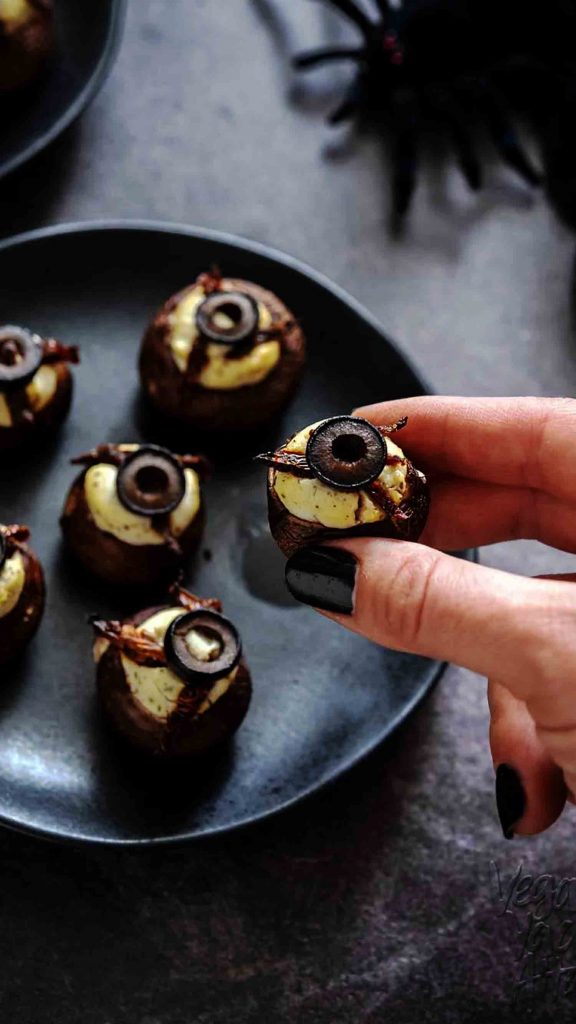 Why not serve up some eyeballs at your party? No worries, this one is all organic, taste great, and is a healthier option.
A big ol' plate of creepy stuffed mushroom eyeballs is just the right amount of spook to your Halloween party menu.
Ingredients
18 ounces (510 g) cremini mushrooms*
14-ounce (397 g) package extra-firm tofu, drained but not pressed
1 clove garlic
2 teaspoons lemon juice
1 teaspoon salt
1 teaspoon Italian seasoning
1 teaspoon onion powder
1/4 teaspoon black pepper
2 1/2 tablespoons (37 ml) balsamic vinegar
2 tablespoons (10 g) julienne-cut sun-dried tomatoes, dry not in oil
2.5-ounce (71 g) can of sliced black olives


Instructions
a. Rinse or brush off the mushroom caps and pull all of the stems out of them. Set aside on a baking sheet.
b. Puree the tofu, garlic, lemon juice, salt, Italian seasoning, onion powder and black pepper together in a food processor until completely smooth. Scoop the mixture into a piping bag or ziploc bag with a circle tip.
c. Preheat the oven to 350ºF. Carefully, pour just a couple of drops of balsamic vinegar into each mushroom cap.
d. Pipe the tofu ricotta mixture into each cap so that it creates a small mound. It will be a different amount depending on the size of your mushroom caps.
e. Finely chiffonade cut the sun-dried tomato pieces and start placing them on stuffed mushrooms. You can make them more vein-like by scrunching them a bit. Top with one slice of olive and press it down gently.
f. Bake the mushrooms for 10 to 15 mins. or until the caps begin to wrinkly slightly. You can serve these warm (which I prefer), or room temperature.

Stuffed Mushroom Eyeballs
2. Graveyard Taco Cups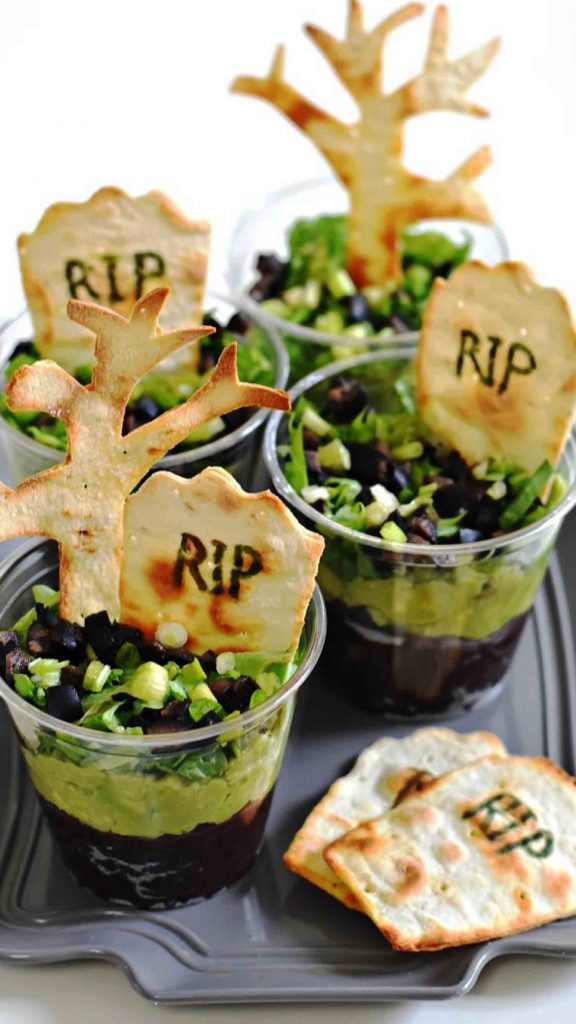 Who doesn't love tacos right, why not add this easy-to-make treat to your menu and create your very own guacamole dipping sauce.
The tacos are made from flatout pizza crust to allow you to cut trees and tombstones to match it well with the theme.
INGREDIENTS
2 FlatOut pizza crusts
1 can refined black beans
2 avocados
2 cloves garlic
juice of 1 lime
8 black olives, chopped
green onion, chopped


INSTRUCTIONS
a. Preheat your oven to 375 degrees.
b. Stencil out a tree on a piece of paper first and cut it out to use it as a stencil for the pizza crusts. You can do this for the tombstones too or use a Halloween cookie cutter.
c. Cut out your trees and tombstones. I used an Exact-O-Knife for precision. Kids, use only with parental supervision!
d. Lightly coat with olive oil and a sprinkle of sea salt. Place on a baking sheet and cook for 5-8 minutes, or until just lightly browned. Allow to completely cool and using an edible pen, write R.I.P. on each tombstone.
e. Heat up your refried beans over medium-low heat until warmed through. Remove from heat and set aside.
f. To make the guacamole, scoop out the avocado flesh into a bowl. Add the minced garlic, lime juice and sea salt for taste. Mash until smooth.
g. Layer your cups with the black beans, guacamole and top with the chopped black olives and green onions.

Graveyard Taco Cups
3. Vegan Halloween Pudding Cups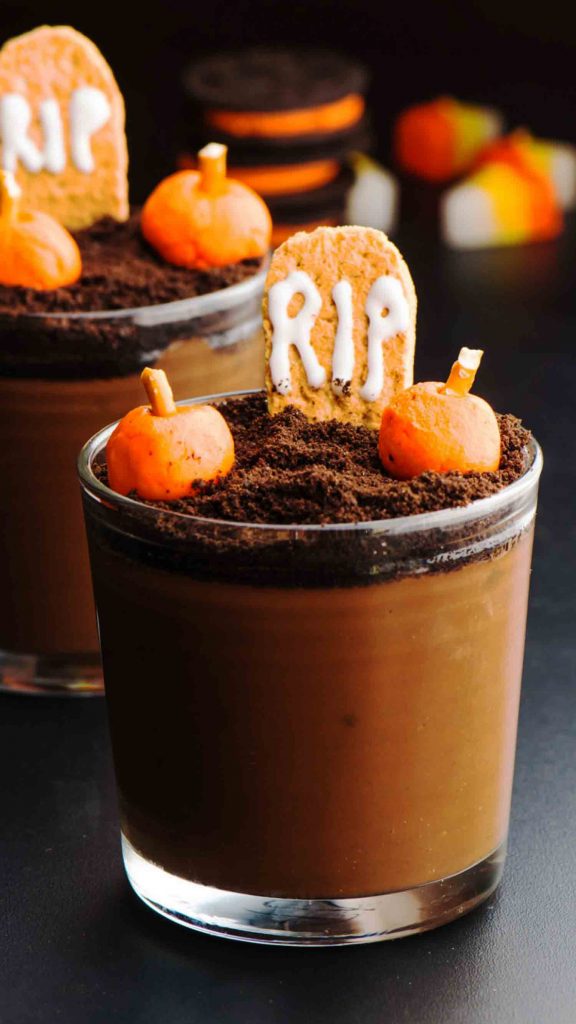 Chocolate pudding cups are always a treat and turning it into your tombstone-like snack in a cup makes it an even better addition for your ghoul party.
Plus, it is dairy-free and guilt-free suitable for your vegan diet with just the right amount of sweetness for your sweet tooth.
Ingredients
3 tablespoons cornstarch
¼ cup cocoa powder
¼ cup granulated sugar
1¾ cups soy milk cold
4 Halloween Chocolate Sandwich Cookies * with orange filling
2 Graham Crackers*


Instructions
a. In a saucepan combine the cornstarch, cocoa powder, and sugar. Stir to combine. Pour ½ cup of the Silk into the mixture and stir to combine. It will be thick, but continue stirring until all the powdery mixture is combined.
b. Add the remaining Silk and then place over a burner on medium heat. Bring to a simmer/low boil, continually stirring.
c. Cook for a minute or two, until thickened.
d. Remove from heat and pour equal amounts into 2 regular-size cups, 4 smaller cups. Place in the refrigerator where the mixture will continue to thicken.
e. Twist the tops off of the four Halloween chocolate sandwich cookies and scrape off the orange filling.** Roll each of the four orange filling pieces into a ball and insert a broken pretzel piece into the top. Set aside.
f. Use a food processor or rolling pin to crush the chocolate cookies.
g. Use a butter knife to gently scrape off the edges of the graham crackers, so that they're rounded, like a tombstone.
h. After about 30 minutes, top each pudding cup with chocolate cookie crumbles
i. Use decorator icing to write RIP on each of the graham cracker piecess. Place one in the pudding for each cup. Add two candy pumpkins to the top.
j. Return to the fridge to stay chilled until serving.

Vegan Halloween Pudding Cups
4. Witches Brew – A Halloween Cocktail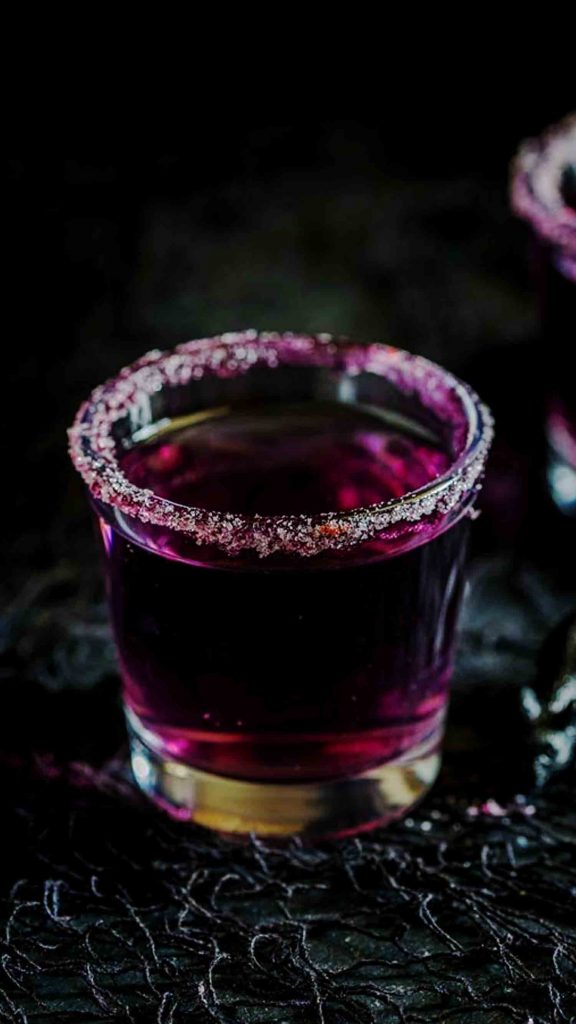 The dark violet mysterious colour of this shot makes it even more intriguing perfect for your Halloween fest to be served to your adult guests.
Heads up! This is a simple vodka-based cocktail; it is delicious and has just the right amount of spooky while keeping the sense of fun at your party.
Ingredients
US Customary – Grams
To rim the glass
1 fresh lime
3 drops purple food colouring
1 tablespoon sugar
For the cocktail
½ cup vodka
⅓ cup lime juice (see note 1)
¼ cup raspberry liqueur


Instructions
a. Start by preparing the shot glasses.
b. Cut the lime in half and squeeze the juice together into a saucer.
c. Add the purple food colouring and mix with a cocktail stick.
d. Place the sugar in a second saucer.
e. Dip the shot glasses into the lime juice and then into the sugar.
f. Set to one side.
g. Pour the ingredients into a cocktail shaker. Add the ice.
h. Shake well.
i. Strain into the prepared shot glass.

Witches Brew
5. Pumpkin Caramel Chocolate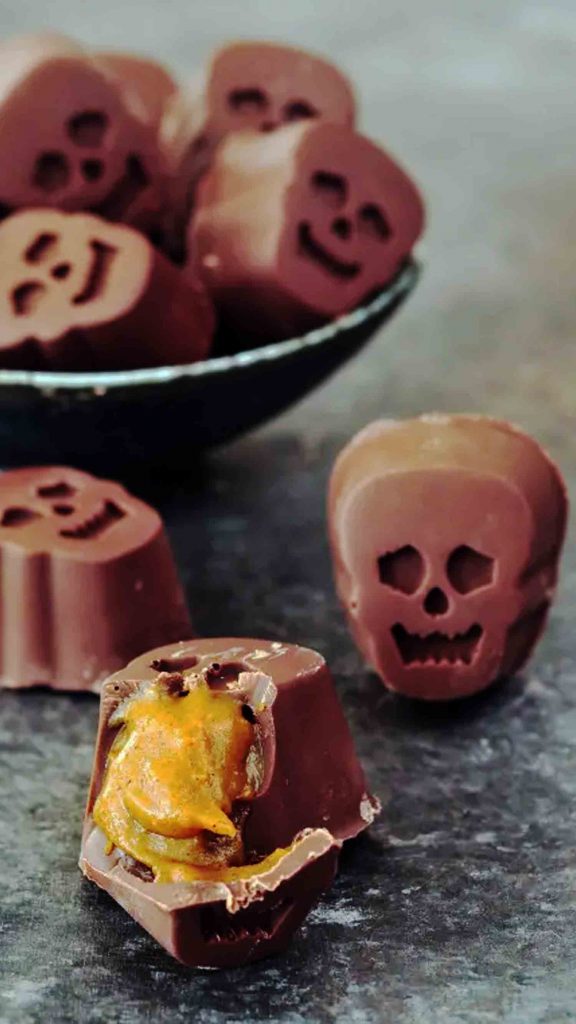 Nothing screams spooky than a pumpkin caramel chocolate. It is easy to make, delicious, and have a short ingredient list.
It is the perfect after-party gifts to hand out to your spooky guests to remind them of the fun night they had because who doesn't love chocolates.
INGREDIENTS
8 ounces semi sweet / dark chocolate, chopped
⅓ to ½ cup Pumpkin Coconut Caramel Sauce


INSTRUCTIONS
a. Make Pumpkin Coconut Caramel Sauce. (This takes several hours – I make mine the day before.)
b. In small saucepan over low heat, melt chopped chocolate until smooth. Remove from heat.
c. Spoon a small amount of melted chocolate into each mold. Using a small paintbrush or spoon, completely coat the inner walls of the mold with chocolate. Place in refrigerator for 5 minutes or until chocolate has set.
d. Fill each mold with Pumpkin Caramel filling*, leaving room at the top to seal with more chocolate. *If making the Pumpkin Caramel the same day as the chocolates, make sure the Pumpkin Caramel is cooled before adding to / filling the chocolate molds.
e. Reheat remaining chocolate and fill each mold, covering the filling completely.
f. Carefully tap molds on counter to remove any bubbles, return to refrigerator to set.
g. Store in refrigerator. Enjoy within 10 days.

Pumpkin Caramel Chocolate
Over to you…
Your kitchen not up for the job? Let us help you with that just leave us a message and discuss your dream kitchen. Happy Halloween!