Ballerina Kitchens have been a good place to look for inspiration for your kitchen and we at Cattleya Kitchens is a dedicated partner to supply you with only the finest kitchen convenience.
But first, take a look back at their 2021 kitchen design list and compare it for yourself. Ballerina Kitchens' 2021 kitchen design inspiration mostly consists of darker hues to allow easy match-up to various kitchen designs. This era has provided us with new kitchen tools like freeBridge, freeMobile, and more that will still be relevant in the coming years.
Moving forward, here is their new line set to be released in 2022, let us start to get to know them in advance:
1. Blue Sky Meets Industrial Inspired Kitchen Design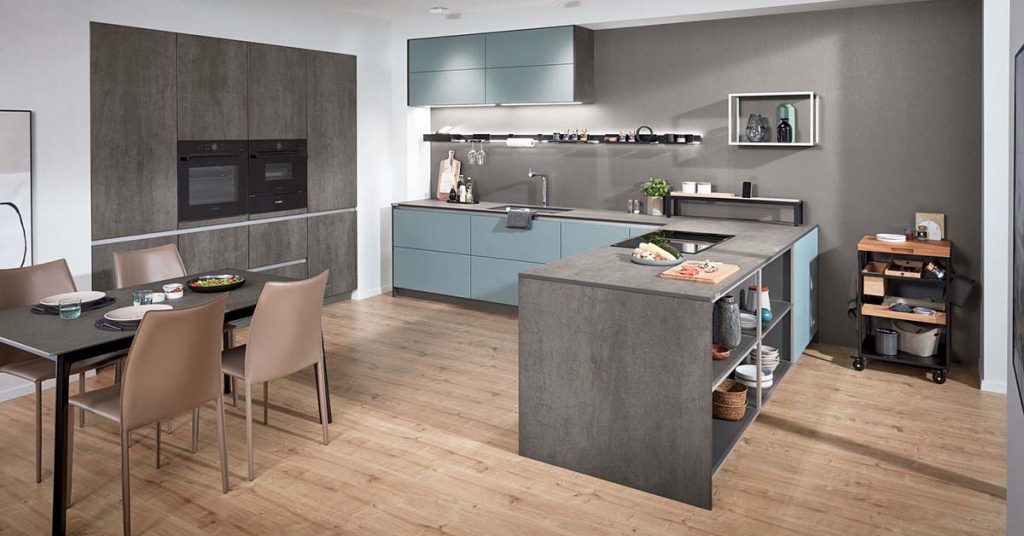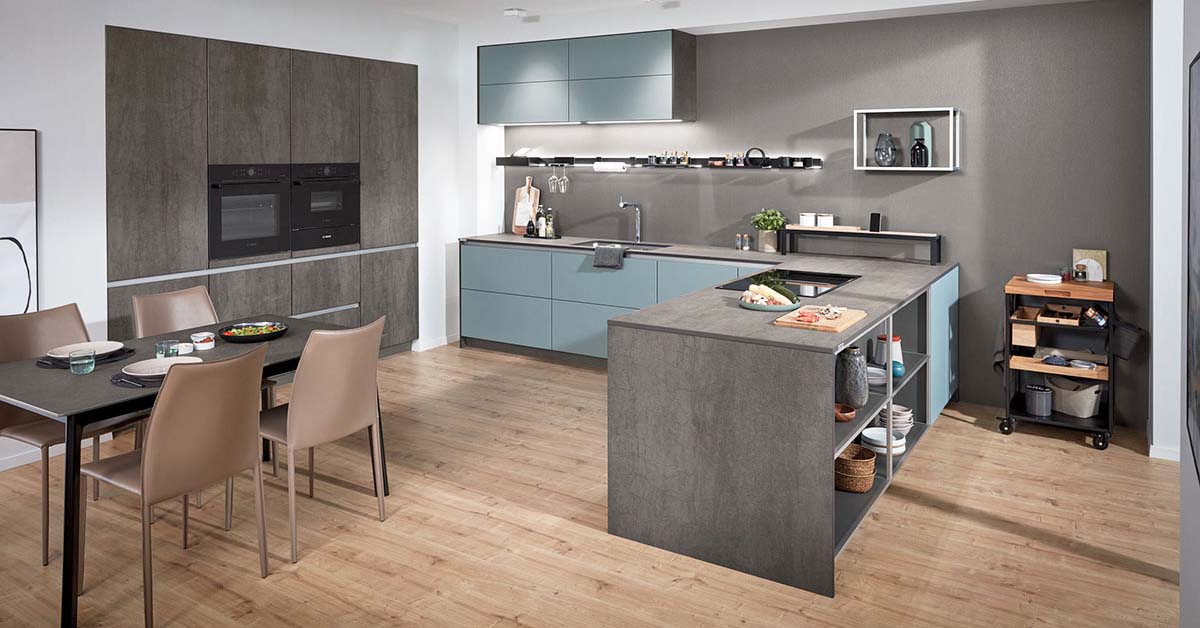 The Ceramic 7865 is an industrial-inspired kitchen set-up matched with a soft touch of blue creating a harmonious cooking space.
This set-up is a combination of indoor and outdoor kitchens with help of freeMobile and freeBridge to easily connect the inside with the outside.
2. Timeless Art Pepper Kitchen Design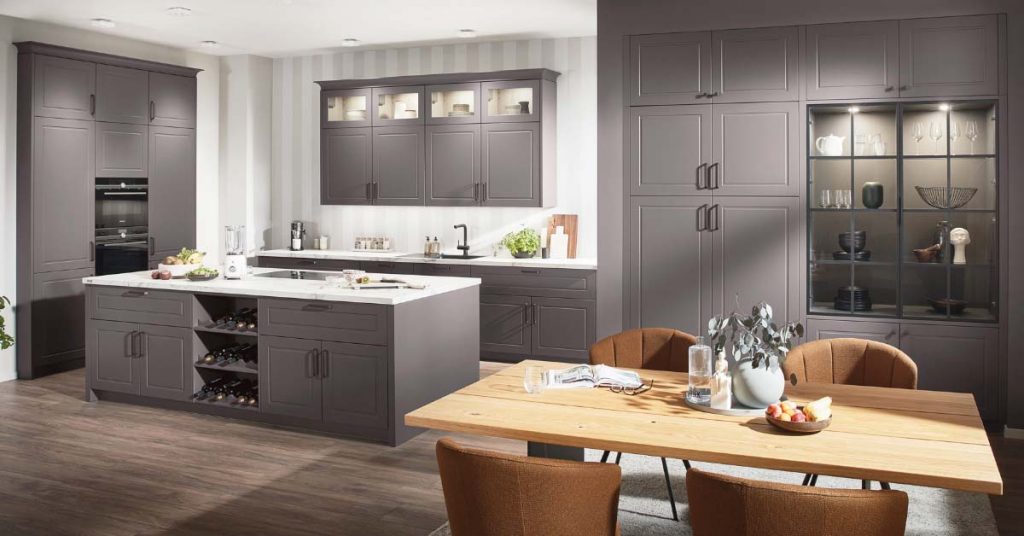 It's like a hug to the old-style kitchen design with the integration of new technologies to provide a better kitchen experience. The Nobel-B 43561 offers plenty of storage options to create a tidy and organised cooking space.
The inside of the drawers can help calm your nerves with its bespoke dividers allowing you to find your kitchen tools quickly. Plus, the kitchen cabinets are made height-appropriate for easy reach of your tools and needs perfect for that instant bond with your loved ones and friends.
3. Night Green with Noble Wood Kitchen Design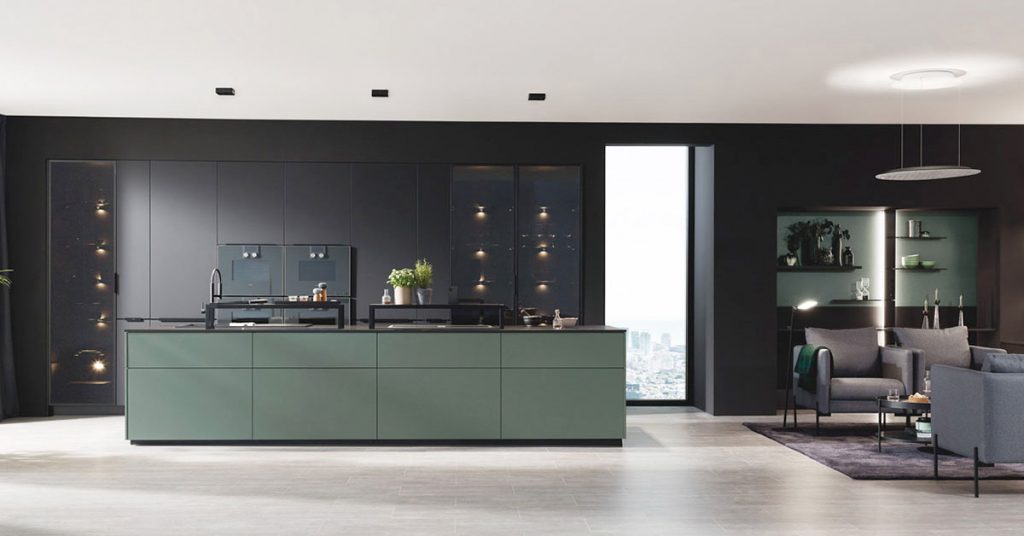 Immerse yourself into living in a world full of warmth, the Resopal-Pro 31006 is your perfect combination of modern colour night green and noble wood.
Open-space living creates a flow of life in your room without constricting space and allows instant cooking together experience.
4. Perfect of Dark and Light Powder Kitchen Design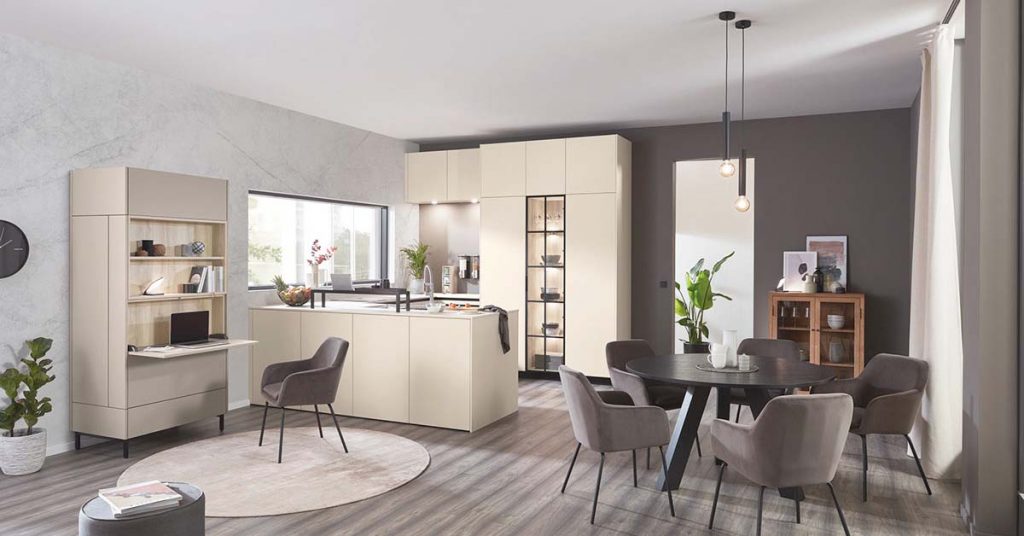 Urban living demands a new and flexible kind of furnishing and the Resopal-Pro 31031 has introduced a multi-cabinet HomeTool that can turn into a home office or a storage unit in a blink of an eye.
This G-shaped kitchen design has various kitchen features which can make cooking a breeze and the height-appropriate cabinets provide generous storage options.
5. Pristine Light Mix Kitchen Design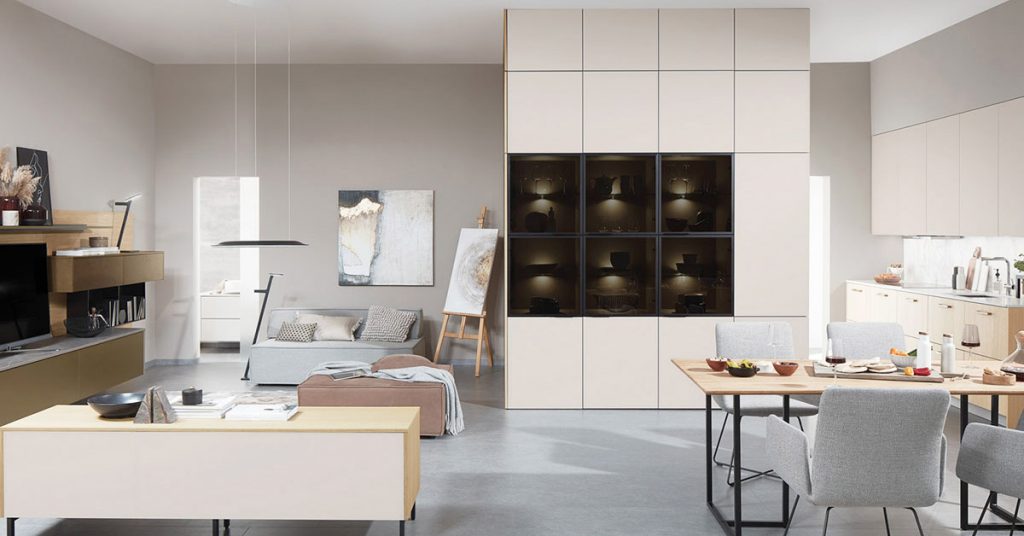 The Smart-M 4611 kitchen design is your open space living with a center side instant walk-in pantry that separates your cooking space from your living room without compromising space.
The single wall kitchen set-up matches well with the pantry room providing plenty of storage for your soon-to-be wine collection or various treats you can serve for yourself or your company.
6. Dark Finish Perfectly Balance with Wood look Kitchen Design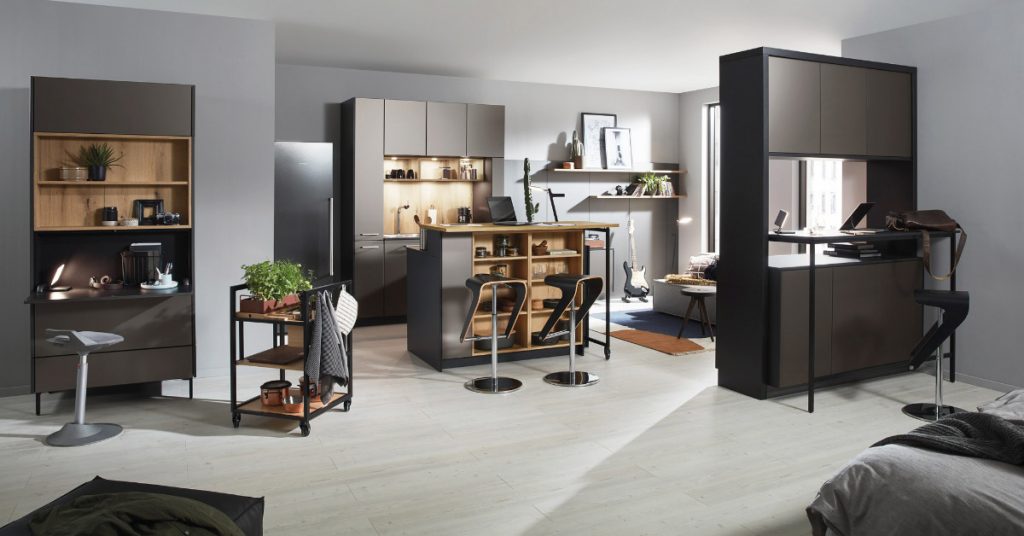 Urban living is making clever incorporations in your space to fully optimise its possibilities. The Smart-M 4641 provides a lot of possibilities to live in a cosy apartment that can accommodate all your needs.
From the Multi-cabinet HomeTool to the Pirouette swiveling table allows you to enjoy your space without compromise. Plus, the plenty of storage units have also room for your functional waste collector.
7. Diamant Oak and Titan Steel Combination Kitchen Design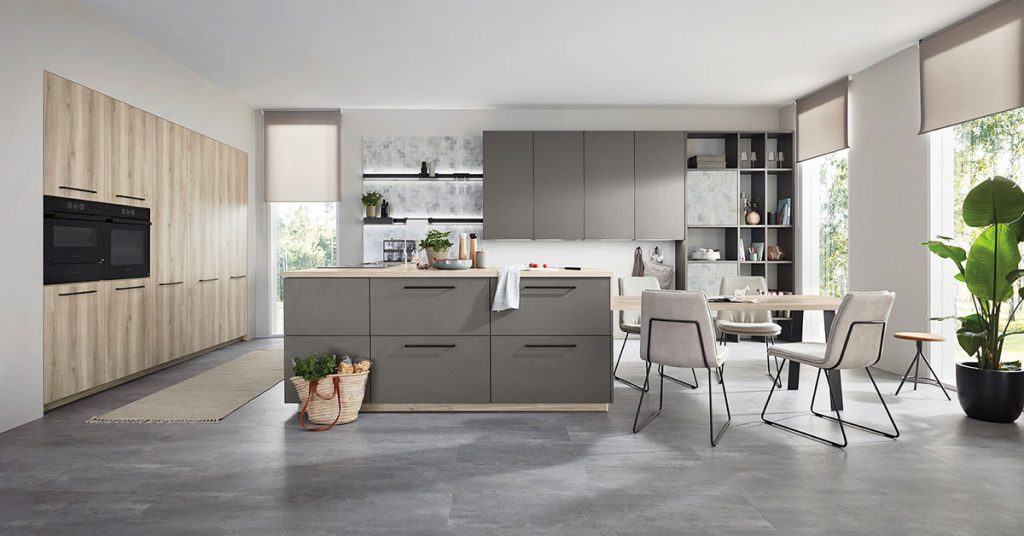 All your needs are planned and designed to avoid the outside dirt from coming into special spaces of the home. The Top 1626 kitchen design has a hidden door integrated into its tall cabinet unit design allowing easy access to your laundry room from your kitchen space.
This setup provides various storage solutions to organise your home the way you need and want it to be. Plus, the glassware shelves can be transported just about anywhere in the room to make cooking conducive.
8. Titanium Metallic Lacquer Balanced with Wood Kitchen Design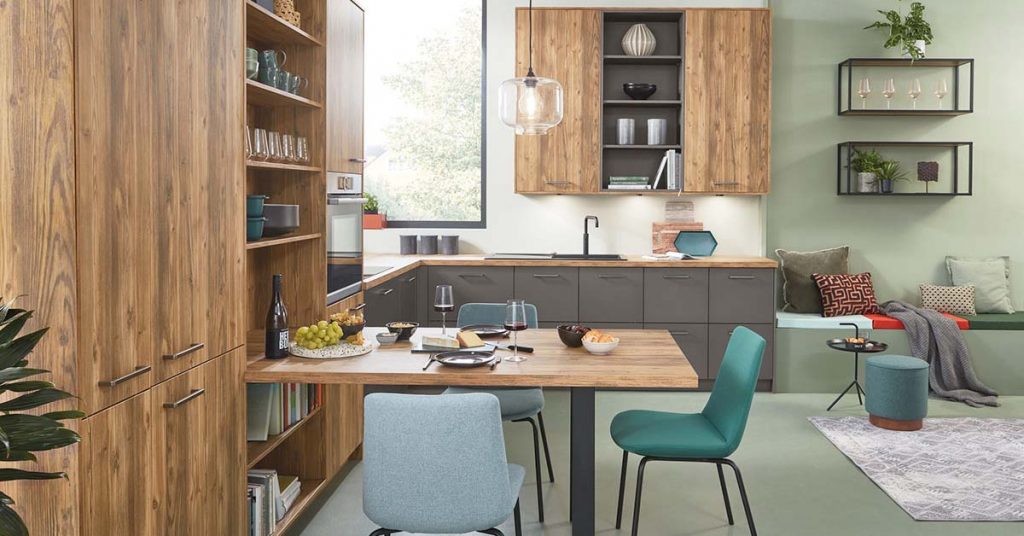 The L-shaped kitchen with the integrated dining table creates a convenient cooking space suitable for your open-space living. The Top 1631 kitchen design is your natural-looking style that has plenty of storage possibilities.
It is equipped with sliding high wall units and corner cabinet lemans that allow you to achieve a neat and tidy kitchen. Plus, the apothecary-style cabinets provide the feeling of generous storage space.
9. White Cassette Blended with Mountain Oak Kitchen Design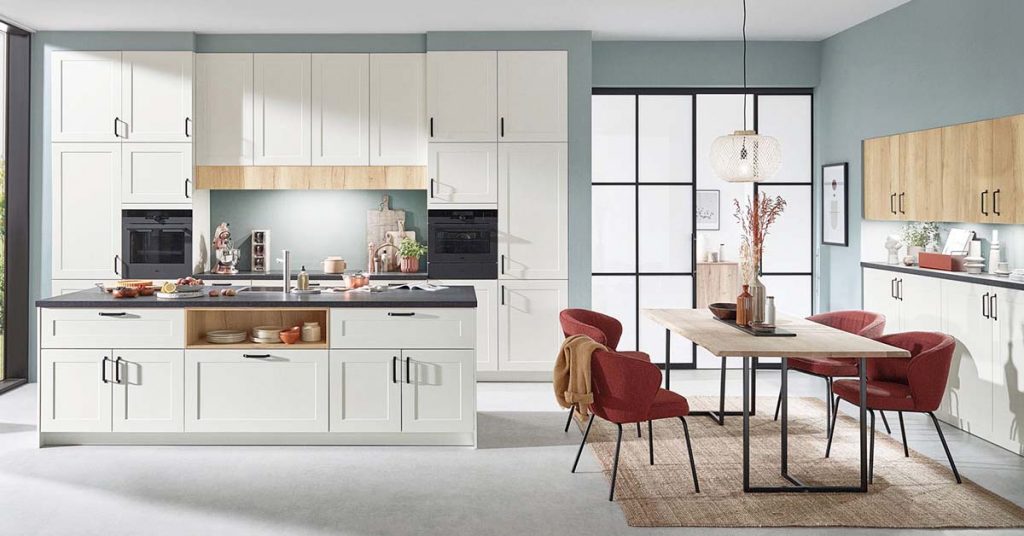 The Vivo 3550 kitchen design is your ode to the classics with the smart comforts of the present. The storage spaces are efficiently designed to allow easy maneuver around your lower pull-outs.
The prep island placed alongside the large table invites you to enjoy a warm time together. While the nifty glass chests make transporting all your spices easy in one go.
Over to you…
Are you ready and excited for the New Year like us? Embrace a better you next year with a little or new kitchen upgrades in mind. Happy cooking!