Back in Spring, we've featured delicious and healthy meals perfect for bonding and enjoying some company. As seasons changed, July-August seasonal vegetables and fruits come with salads and smoothies to better enjoy the season.
Take advantage of these seasonal vegetables and fruits and turn them into a yummy and scrumptious snack:
Salad Recipes
Smoothie Recipes
3 Easy-to-make Salad Recipes
1. Corn Zucchini Almond Salad Recipe (Vegan Summer Salad)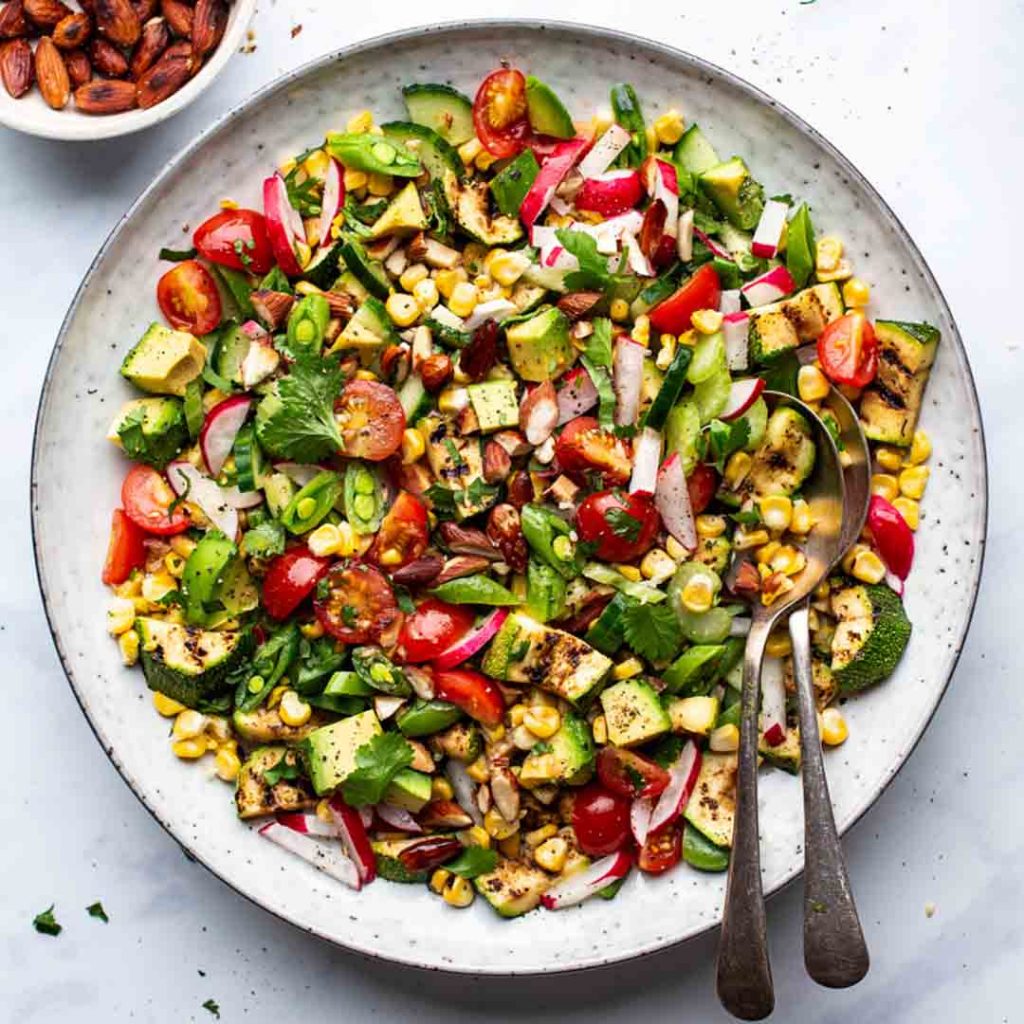 Enjoy the summer better with this crunchy, tangy and sweet, hydrating salad sure to refresh you during this hot weathered day.
No worries, this does not require much cooking but a lot of careful chopping. It's healthy yet not boring. Enjoy summer!
INGREDIENTS
SALAD
2 ears of corn
1 zucchini, cut into thick slices
olive oil
approx. 1 tsp cajun spice
15 radishes
½ long cucumber
15 cherry or plum tomatoes
1 small red pepper
1 ripe avocado
2 celery sticks
100 g / 3½ oz sugar snap peas
1/3 cup almonds
a handful of coriander, chopped


DRESSING
45 ml / 3 tbsp extra virgin olive oil
30-45 ml / 2-3 tbsp lime juice, adjust to taste
15 ml / 1 tbsp Cholula Chipotle OR a few drops of Smoky Tabasco, adjust to taste
1 tsp maple syrup
1 garlic clove, finely grated
salt and pepper, to taste


Instruction
SALAD
a. Heat up a griddle pan on a low heat. Brush the corn with a small amount of oil and place on the preheated griddle pan. Grill, turning every few minutes, until cooked and lightly charred all over. Once cool, shave the kernels off with a sharp knife.
b. Brush zucchini with a small amount of oil on both sides, season with salt, lightly sprinkle with cajun spice and place on the hot griddle pan. Allow them to cook undisturbed until you get nice char marks on one side, flip and cook until you get the char marks again. Take the zucchini off the pan and allow them to cool and chop into smaller pieces.
c. Prepare the remaining vegetables by cutting radishes into matchsticks, cucumber into quarter slices, tomatoes into quarters, pepper and avocado into large dice, celery sticks and sugar snap peas into thin slices, on the diagonal.
d. Heat up a small frying pan on a low heat. Add 1 teaspoon of olive oil and, seconds later, the almonds. Toss to coat the almonds in oil. Toast them, tossing from time to time, on a low heat until charred slightly, sprinkle with salt and set aside to cool. Once cool, chop roughly.
e. Combine all of the salad ingredients together in a large bowl, drizzle with the dressing and decorate with fresh coriander and chopped almonds.


Dressing
a. Combine all the dressing ingredients in a small bowl or a jar with a lid. Stir vigorously to combine or put the lid on the jar and shake very well. Season with salt and pepper to taste.

Corn Zuchini Almond Salad Recipe (Vegan Summer Salad)
2. Summer Peach Salad with Pistachios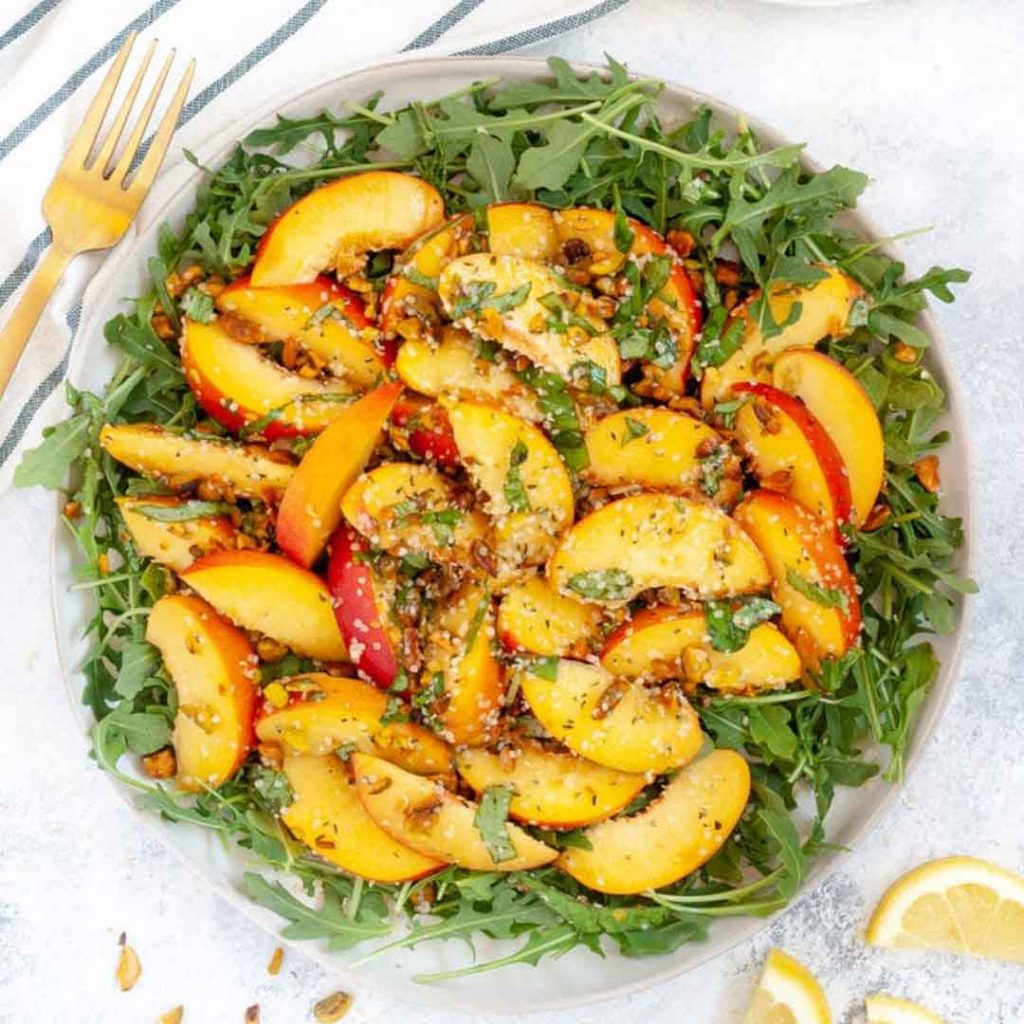 If you are one of those people who enjoys mixing fruits and vegetables and turning them into a salad then this one is for you. It's a sweet and crunchy combo that enjoys the ripeness of a juicy peach.
This is your easy-to-make perfect for that afternoon delight while you mow the lawn. The summers may be hot but you can stay fresh.
Ingredients
3 ripe peaches
7 to 10 fresh basil leaves
½ cup roasted pistachios, roughly chopped
1 Tbsp. grapeseed oil (or another neutral oil)
1 Tbsp. lemon juice
½ tsp. agave
Pinch of salt
1 Tbsp. hemp seeds
4 cups arugula


Instructions
a. Use a sharp knife to cut the peaches into 1-inch wedges and put them in a medium-sized serving bowl (you can discard the pits).
b. To slice the basil, stack the leaves with the largest on bottom and the smallest on top. Roll the leaves into a "cigar" and use a rocking motion with the tip of your knife to slice the basil into thin ribbons. Add the sliced basil to the bowl of peaches.
c. Warm a small skillet over medium-low heat and add the chopped pistachios to the pan. Toast for three minutes, shaking the pan once or twice, until the pistachios are fragrant. Remove from heat and transfer the toasted pistachios to the bowl with the peaches and basil.
d. Make a simple salad dressing by whisking the grapeseed oil, lemon juice, agave, and salt together in a small bowl. Pour the dressing over the peach mixture and use a rubber spatula to gently stir. Sprinkle on the hemp seeds and stir once more.
e. To serve, divide the arugula between four salad bowls and top each with the peach mixture.

Summer Peach Salad with Pistachios
3. Spicy Cucumber Salad with Pan-Fried Tofu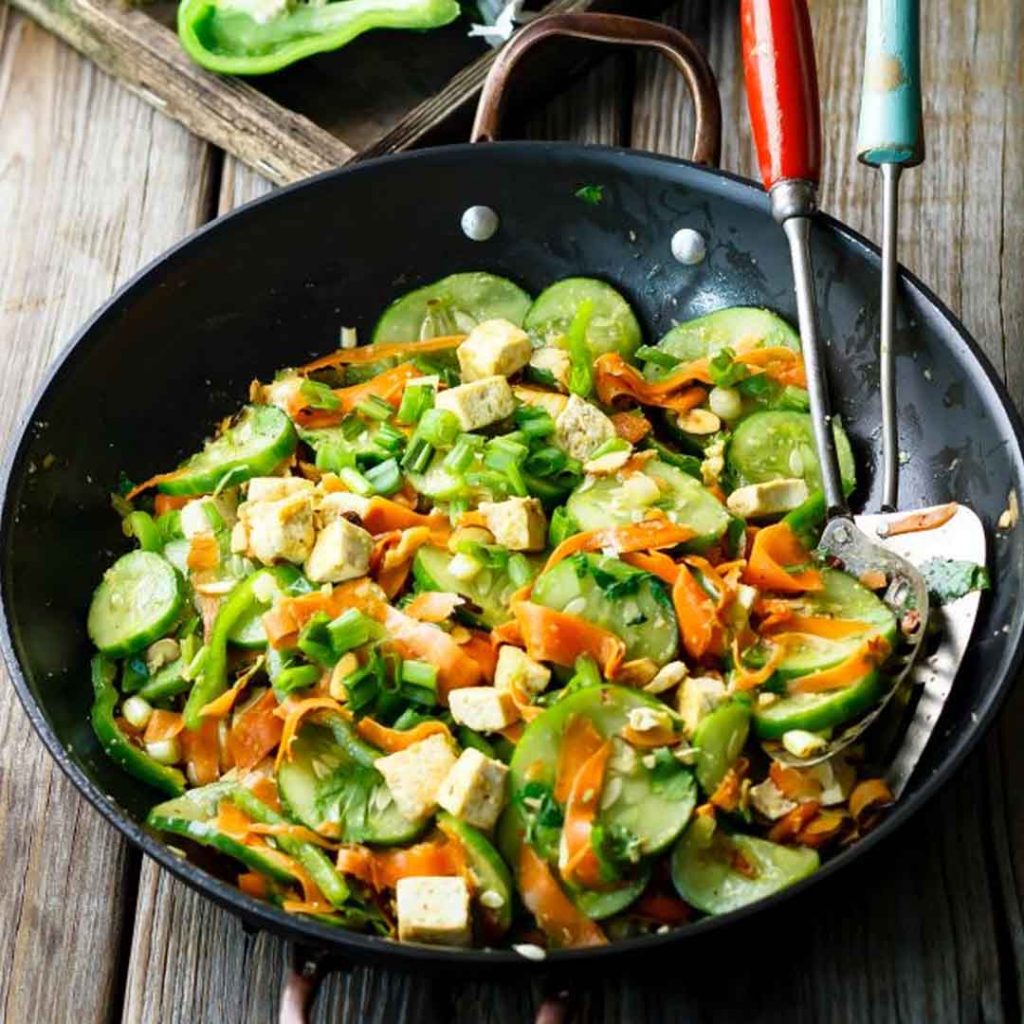 Just the right spice and something healthy? This spicy cucumber salad is your super healthy and quick-to-make snack. It is your perfect nice last summer meal.
Ingredients
14 oz. extra firm tofu, drained
1 Tbs sesame oil
2 large cucumbers, sliced thin
a few dashes salt
3 large carrots, shaved into ribbons
3 green onions, chopped
1/2 c cilantro leaves and stems, loosely packed
1/2 bell pepper, sliced into thin strips
1/4 – 1/2 or more red or green chili pepper, seeded and sliced into thin strips
1/3 c plain roasted almond slices or crushed peanuts
Dressing:
1″ ginger, peeled
1 large or 2 small cloves garlic, peeled
3 Tbs sesame oil
2 Tbs seasoned rice vinegar
1 Tbs soy sauce, lower sodium/gluten free
1 tsp maple syrup or agave
3 Tbs sesame oil
1/8 – 1/4 tsp red pepper flakes


Instructions
a. Place a nonstick saute pan on medium heat and add 1 Tbs of sesame oil. Cut the tofu into small cubes and add them to the pan. Brown the tofu for about 10 minutes, turning occasionally.
b. Slice the cucumber into a colander and sprinkle lightly with salt. Set aside in the sink to drain for about 10 minutes. Thoroughly rinse the slices and pay dry with a kitchen towel.
c. Combine the dressing ingredients in a food processor. Process until completely smooth.
d. Combine everything in a large mixing bowl. Pour the dressing over and toss to coat. Top with extra nuts, cilantro or green onion tops if you like.

Spicy Cucumber Salad with Pan-Fried Tofu
3 Easy-to-make Smoothie Recipes
1. Frozen Mixed Berries and Banana Smoothie Bowl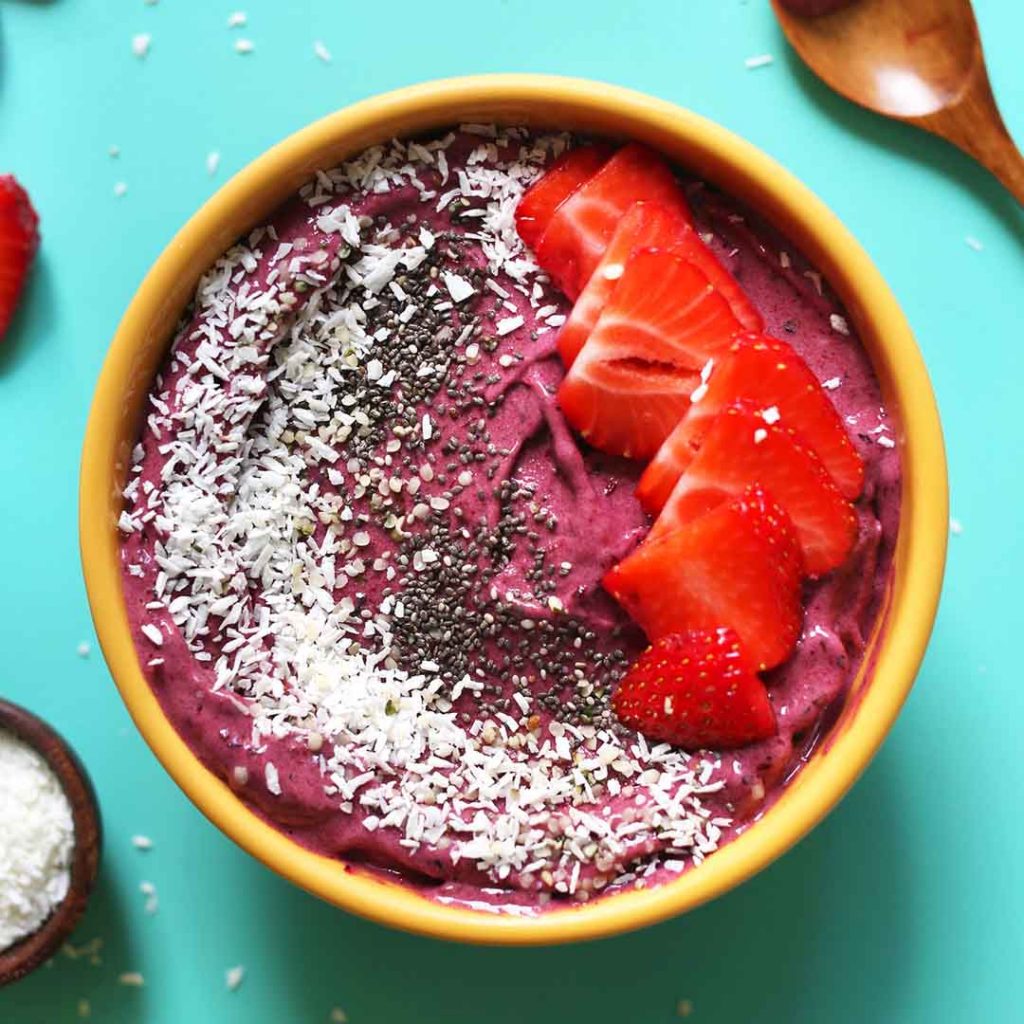 Looking for a quick breakfast? This quick-to-make snack is perfect when you're in a rush. It's your substantial and something pretty summer month's meal ready to cool you down.
Ingredients
SMOOTHIE BOWL
1 heaping cup organic frozen mixed berries
1 small ripe banana (sliced and frozen)
2-3 Tbsp light coconut or almond milk (plus more as needed)
1 scoop plain or vanilla protein powder of choice* (optional)


TOPPINGS
1 Tbsp shredded unsweetened coconut (desiccated)
1 Tbsp chia seeds
1 Tbsp hemp seeds
Granola (optional)
Fruit (optional)


Instructions
a. Add frozen berries and banana to a blender and blend on low until small bits remain – see photo.
b. Add a bit of coconut or almond milk and protein powder (optional), and blend on low again, scraping down sides as needed, until the mixture reaches a soft serve consistency (see photo).
c. Scoop into 1-2 serving bowls (amount as original recipe is written // adjust if altering batch size) and top with desired toppings (optional). I prefer chia seeds, hemp seeds, and coconut, but strawberries, granola, and a nut or seed butter would be great here, too!
d. Best when fresh, though leftovers keep in the freezer for 1-2 weeks. Let thaw before enjoying.

Frozen Mixed Berries and Banana Smoothie Bowl
2. Spinach and Frozen Banana Smoothie (Best Green Smoothie)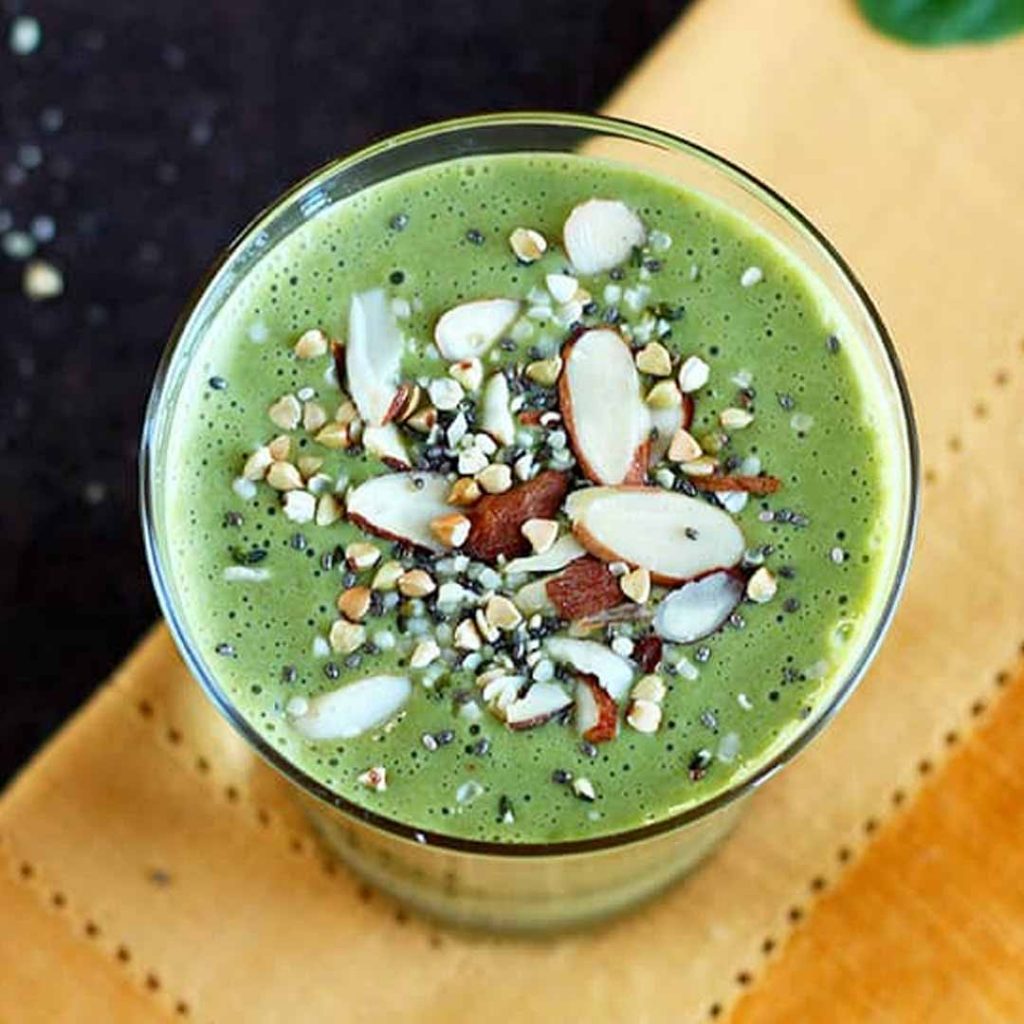 New to being green? Try out this best green smoothie and allow yourself to embrace a healthier version of yourself without being harsh to your palate. Blend away!
Ingredients
THE BEST GREEN SMOOTHIE
1 cup unsweetened almond or soy milk
1-2 handfuls of spinach
2 frozen bananas
2-4 soft pitted dates
2 tbsp hemp hearts
1 tbsp natural peanut butter
2 ice cubes


SUPERFOOD SMOOTHIE TOPPING (OPTIONAL)
2 tbsp hemp seeds
2 tbsp chia seeds
2 tbsp raw buckwheat groats
2 tbsp slivered almonds (or pumpkin seeds)


Instructions
THE BEST GREEN SMOOTHIE
a. Combine all ingredients, blend on high until perfectly smooth and frothy.


SUPERFOOD SMOOTHIE TOPPING (OPTIONAL)
a. Combine all ingredients. Sprinkle 1 tbsp on top of your smoothie.

Spinach and Frozen Banana Smoothie (Best Green Smoothie)
3. Raspberry and Blueberry Smoothie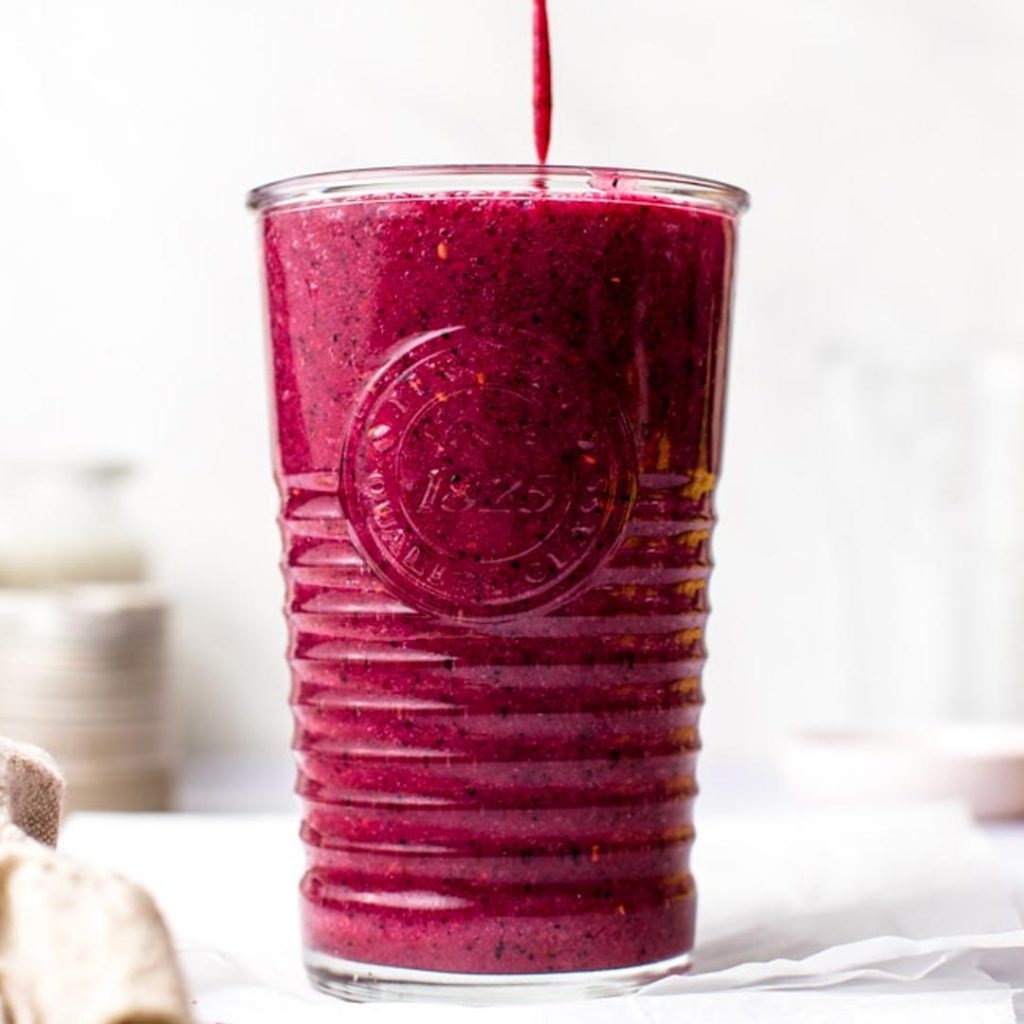 Just can't get enough of berries? Here's a good ole berry smoothie that does not use bananas but frozen apples instead. It's your beautiful drink perfect for a hot summer day.
Ingredients
1 apple (92g) – I used red British apples
75 g frozen raspberries
75 g frozen raspberries
200 ml oat milk or other plant milk
½ tsp agave syrup


Instructions
a. Add all your smoothie ingredients to a blender.
b. Blend until completely smooth.
c. Transfer to a glass and enjoy.
d. See storing suggestions above.

Raspberry and Blueberry Smoothie
Over to you…
Ready to enjoy this season with some scrumptious healthy snacks but your kitchen looking sad? Let us help you create a functional and convenient kitchen and bond over a healthy meal. Happy cooking!