The old dining kitchen set-up is out; explore new options with kitchen island with seating. This new kitchen design allows better mingling while one or more of you prepare for your meal.
Transform your kitchen and be inspired with these kitchen islands with seating:
1. Marbled Kitchen Island with High Black Bar Chairs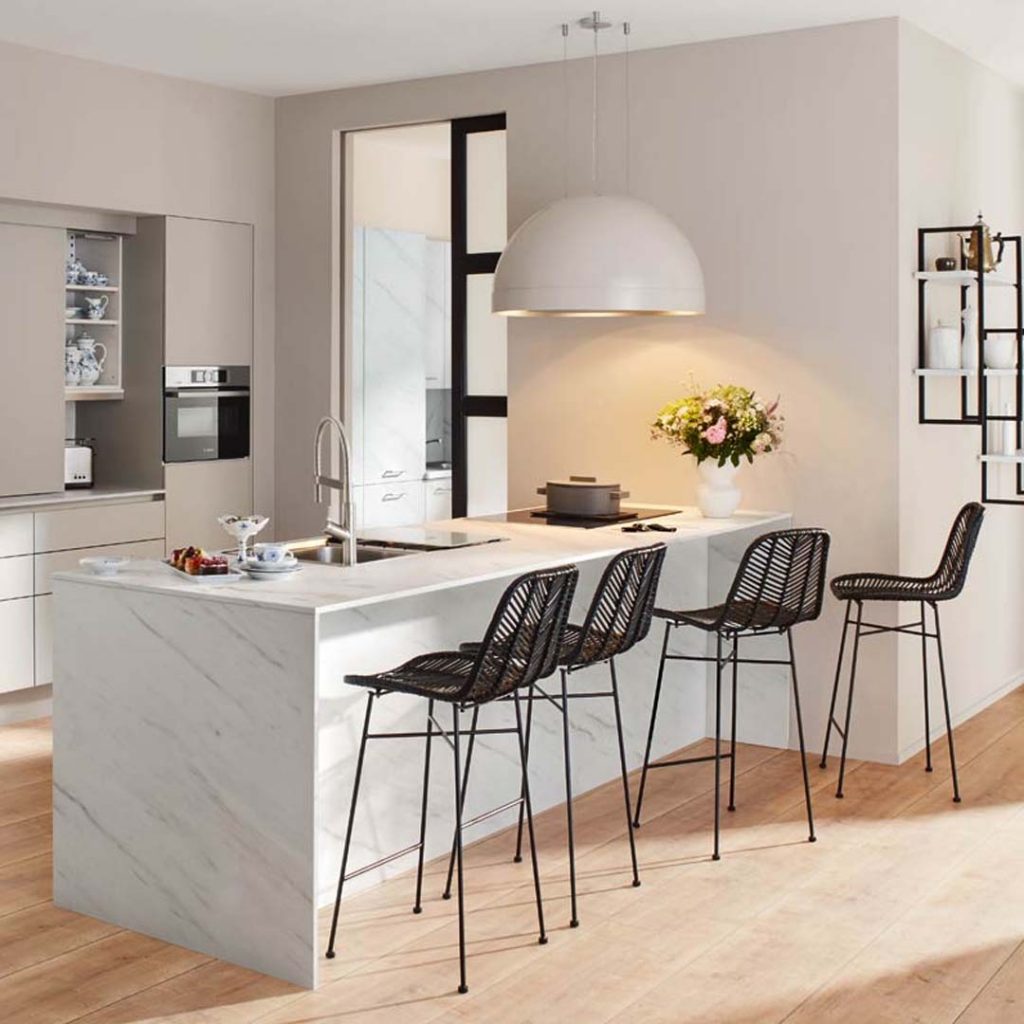 Turn your kitchen into like a bar-like setup but with a homey and friendlier ambiance; the Smart M 4611 kitchen design is your clean and ready for rush and quick breakfast/meal preparation. All the things you need in one table.
Aside from the cooking and washing area all in one place, drawers are also added in the island for a more convenient kitchen experience.
2. Velvet Dark Green Island with Regular Classic Chairs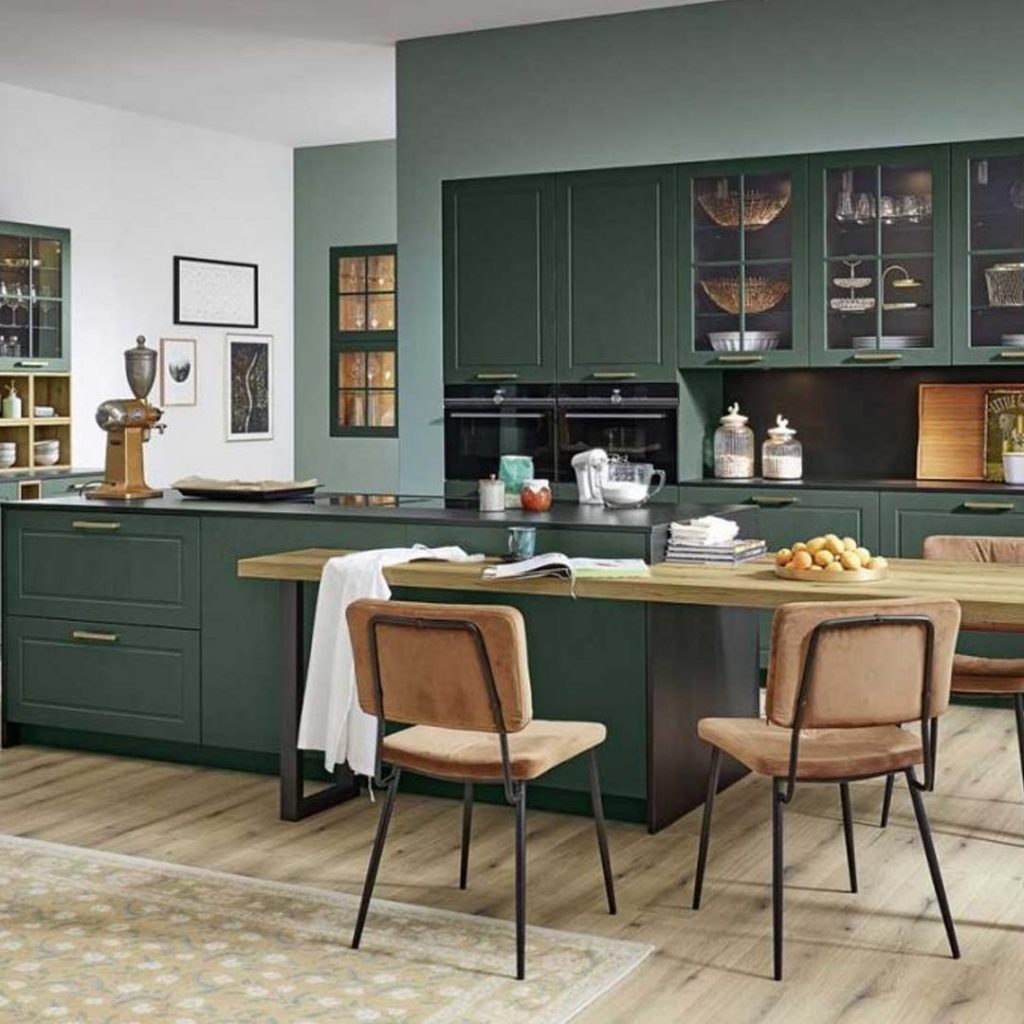 Research says looking at something green can calm your eyes and mind, what better way to calm them than incorporate green in your kitchen design.
The green velvet lacquer finish kitchen island can be equipped with an induction cooktop or a gas hob complete with shelf cubes and base units. The connected height-appropriate table is ready for instant mingling while cooking.
3. Dark Gray Island with Metal Bar Stools
Open space with enough cleverness will give you a functional kitchen island full of potentials. The Resopal Pro 31016 kitchen island has all the things you need: sink, induction cooktop with ventilation, and storage. The metal bar stools complement well with the overall kitchen style.
Plus, the freeBridge kitchen tool is equipped to hold your devices and grow some microgreens perfect tool when you're exploring new dishes.
4. Smoked Oak Kitchen Island with Square Bar Stools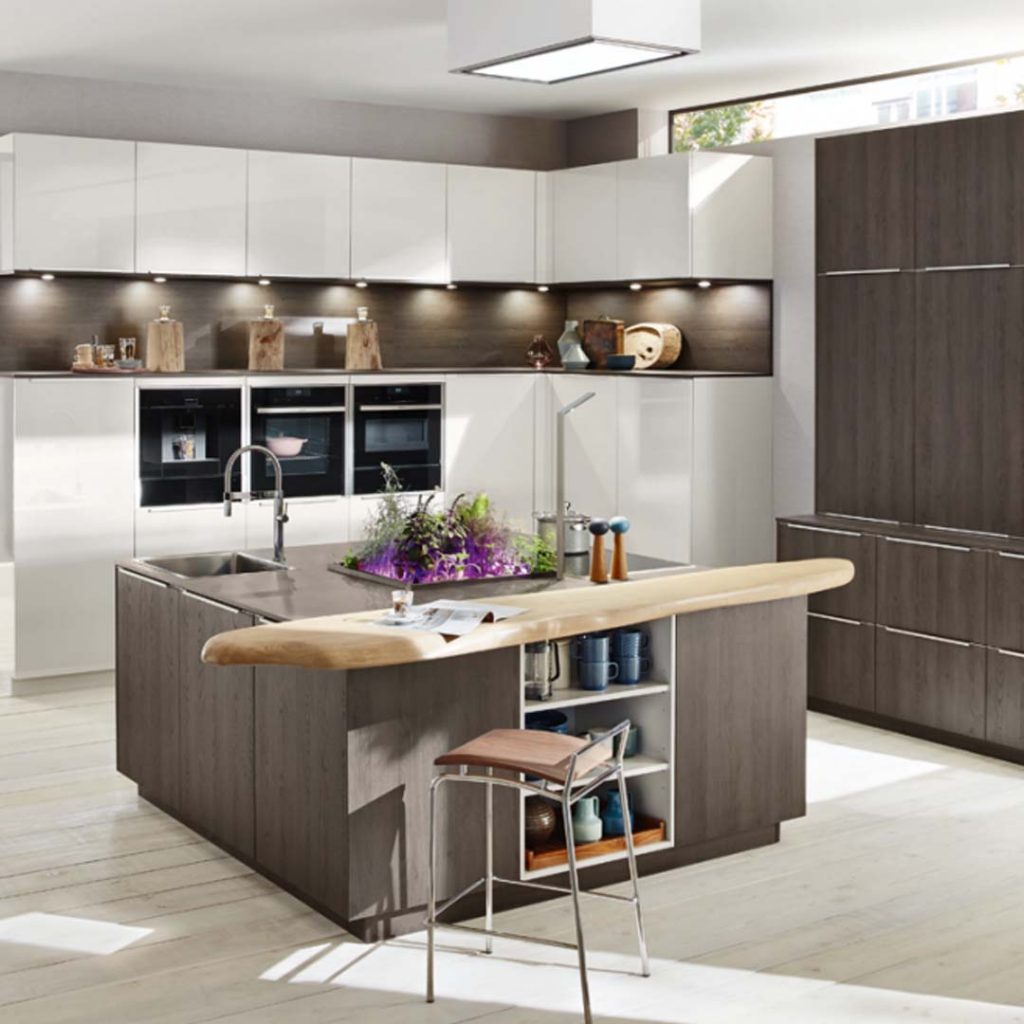 A square kitchen island design equipped with a sink, a cooking space, and a lot of storage potentials. The available countertop space for the 2-seat space allows a quick chat while cooking and bonding.
Plus, this top 1456 kitchen design has its very own built-in plant light which is good for growing microgreens near your cooking area.
5. Dark Wood Colour Island with Height Appropriate Table with Chairs
Chic, regal, and elegant, the Smart M 4641 is your dark kitchen set-up inviting you to bond over a meal and make the most out of your kitchen space.
The dark wood colour island can be equipped with induction cooktop with its own built-in ventilation. Plus, the freeBridge and freeMobile kitchen tools make cooking more convenient. The integrated half dining space allows intimate shared moments.
Over to you…
Ready to embrace better cooking space with kitchen islands with seating? Let us talk about your preferred design and make the most of your cooking space. Happy cooking!