Bread is an important source of dietary fiber. It helps to keep our digestive system healthy and makes us fuller for longer.
If you're a lover of bread or a newbie into bread tasting, here are easy to make vegan bread recipes you can indulge yourself into:
1. Vegan Cloud Bread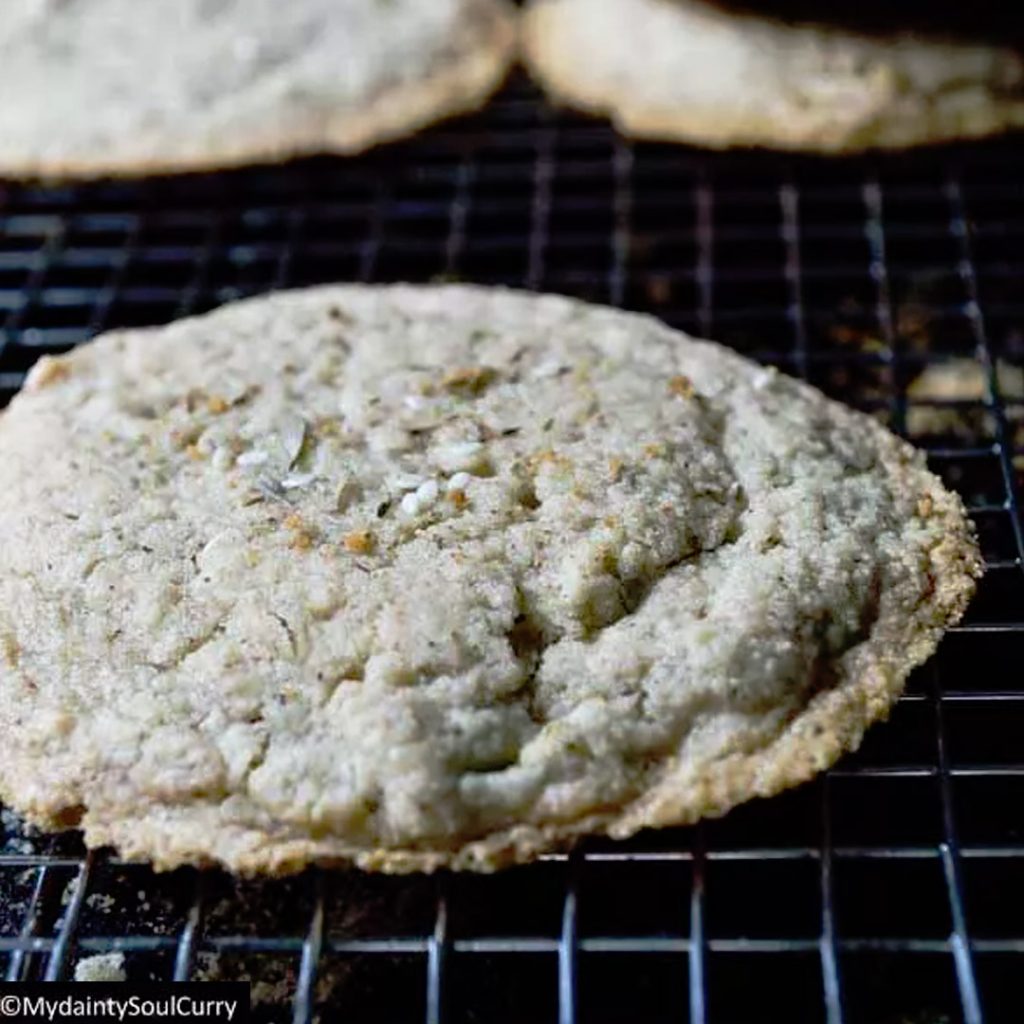 Cloud bread has been around 2016 posted on Pinterest and has recently taken fame in the last months becoming one of Tiktok food trends. Cloud bread is a good alternative to loaf bread as they are low-carb suitable to most of us.
If you're a vegan and wanted to join in the craze, it's never too late, here's easy to follow recipe of vegan cloud bread using aquafaba:
Ingredients
Dry Ingredients
1 cup blanched almond flour
1 tsp nutritional yeast, (Optional)
1 tsp garlic powder
1/4 tsp dried thyme
¼ tsp baking powder
A pinch of baking soda
Salt to taste


Wet Ingredients
1/3 cup almond milk
4 small slices of pickled jalapeno , (optional)
1 tbsp almond butter
½ tsp Toasted or raw sesame seeds
2 cups whipped aquafaba


Instructions
a. Vegan cloud bread
b. Preheat the oven to 350F.
c. Mix the dry ingredients well.
d. Blend the wet ingredients except aquafaba to make a smooth puree.
e. Add the liquid mixture to the dry ingredients and mix well.
f. Now fold in the whipped aquafaba slowly.
g. Scoop out the mixture onto a greased baking sheet.
h. Sprinkle some toasted or raw sesame seeds on each scooped bread.
i. Bake until the edges are brown.(10 minutes in my oven)
j. Turn off the oven. Let it stand it the oven for five more minutes.
k. Take the cloud breads out and allow them to cool on a rack.
l. Serve as a burger or as it is.Tastes best when fresh or slightly warm.
m. The recipe yield 14 cloud breads. (serve two per person)

Vegan Cloud Bread Recipe
2. Vegan Garlic Bread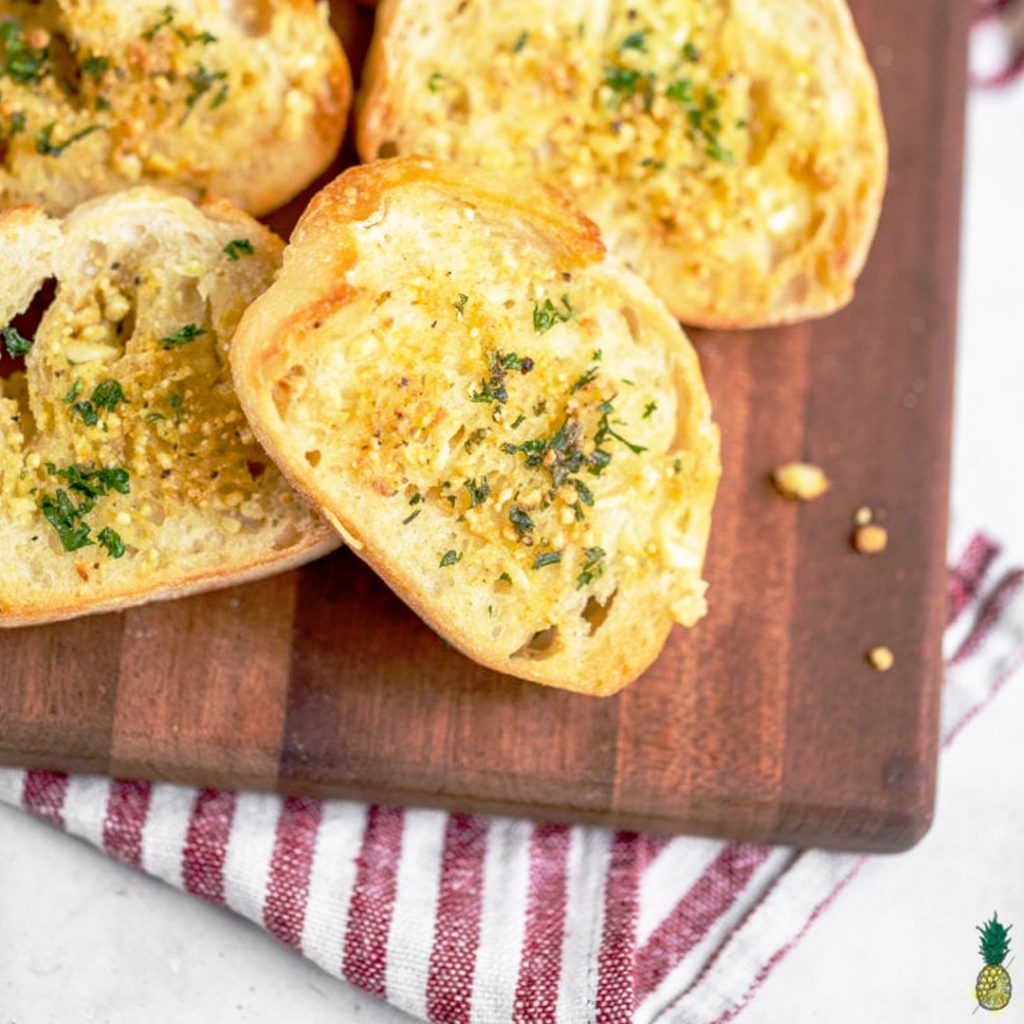 Garlic bread is your restaurant-style appetisers now can be made vegan that will require only 4-ingredients. This will only take 20 minutes of your time, try something new and taste the perfect side to any pasta dish.
Ingredients
1/3 cup vegan butter, melted (we used Earth Balance)
4 garlic cloves, finely minced
1 loaf (340g) bread of choice, sliced into 1″ pieces (we used sourdough)
2 tablespoons finely minced parsley
3 tablespoons vegan parmesan (optional but recommended)
Salt and pepper, as desired


Instructions
a. Preheat the oven to 350°F and line a baking sheet with parchment paper or a silicone baking mat.
b. Add the vegan butter to a small bowl and pop it in the microwave for 20-30 seconds, or until melted. Alternatively, you can also heat the butter in a small saucepan over medium heat until melted.
c. Once melted, mix in the garlic and set aside.
d. Arrange the sliced bread on the lined baking sheet. Using a brush, generously coat each slice with the garlic butter until you have used it all up. Sprinkle evenly with the fresh parsley and vegan parmesan.
e. Transfer to the oven and bake for 10 minutes, or until lightly toasted.
f. Set the oven to broil and allow the bread to bake for 1-2 minutes longer, or until golden. Keep an eye on the bread to prevent it from burning.
g. Remove from the oven and cool until easy to handle. Dig in!

Vegan Garlic Bread
3. Naan Bread Recipe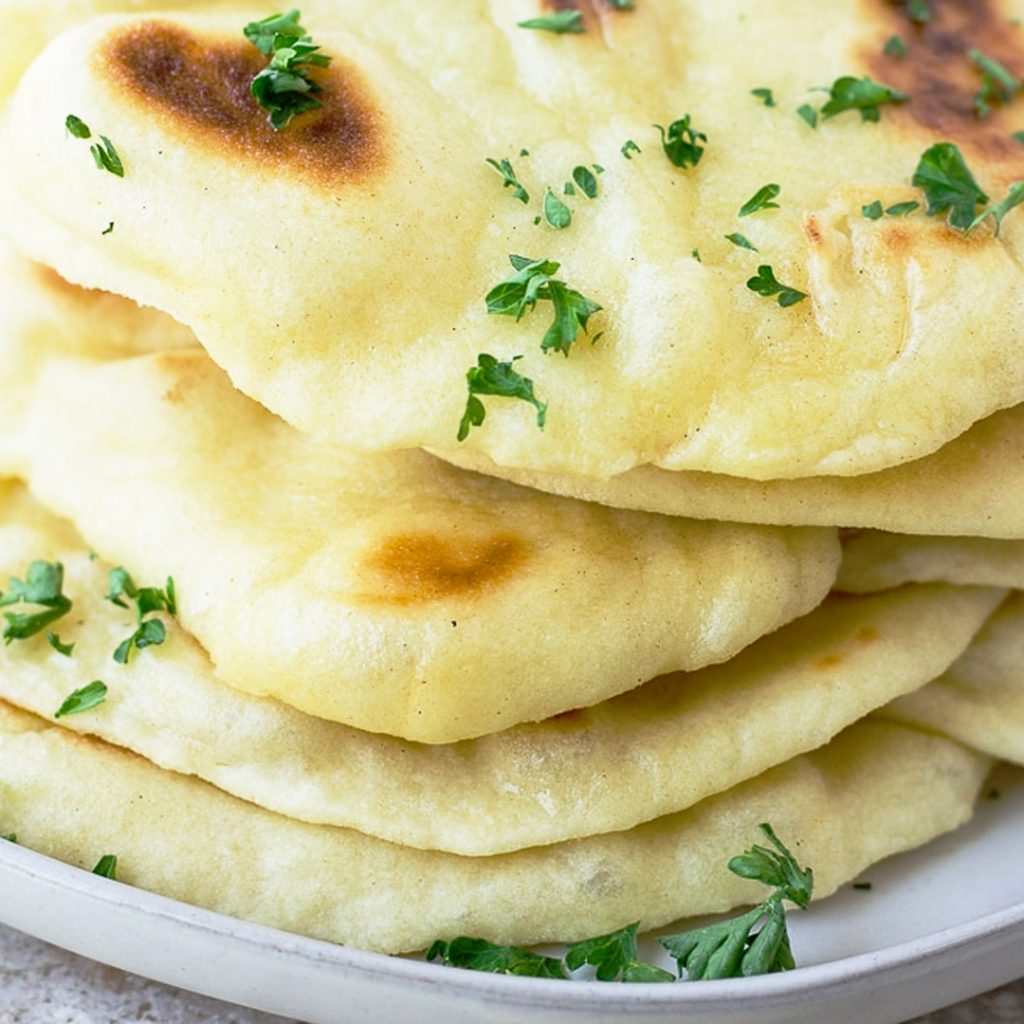 Naan breads are perfect partner to Malai Kofta dish or can be turned into naan chips best served with grilled onion dip.
It only requires 7 ingredients, some patience, and viola! Enjoy soft, fluffy naan bread perfect side dish to any Indian cuisine.
Ingredients
1 teaspoon instant yeast
3/4 cup warm water
1 teaspoon granulated sugar
2 cups all purpose flour, or white whole wheat flour
1 teaspoon salt
3/4 teaspoon baking powder
3 tablespoons coconut cream, *may omit if needed
2 tablespoons olive oil
Optional: melted vegan butter for serving, minced garlic or fresh herbs


Instructions
a. Add the yeast and sugar to a large bowl and pour the warm water on top (think bath temperature, not too hot or it will kill the yeast). Let sit for a few minutes until it is frothy on top.
b. Now add the flour, salt, baking powder, coconut cream and olive oil. Stir with a wooden spoon until it becomes difficult, then turn the ball of dough out on a lightly floured surface (I just use my countertop). Knead the ball of dough for about 2-3 minutes, until the ball of dough is smooth and soft. If it is too sticky, add a little more flour.
c. Place the dough in a large bowl, cover with a tea towel and let it rise for about 30 minutes. If you are in a hurry, you can skip the rising part. It will still come out quite good!
d. After it rises, flatten the dough and divide into 8 pieces.
e. Heat a large, heavy bottomed pan (cast iron preferred) over medium heat. Take a piece of the dough and roll it on a lightly floured surface into a circle or oval shape (about 1/4 inch thick). If using garlic, gently press a little minced garlic onto one side so it sticks at this point.
f. Place the dough on the heated pan and cook until large bubbles have formed and the bottom is golden brown. Flip and cook 1-2 minutes more until that side is golden brown as well.
g. Repeat with the remaining pieces. Cover the naan with a towel or wrapped in foil to keep warm until ready to serve. Serve plain or brush with melted vegan butter and sprinkle with fresh herbs, such as cilantro or parsley.

Vegan Naan
Over to you…
Inspired to cook but your kitchen not up for the challenge? Just book an appointment with us and let us help you achieve your dream bathroom together. Happy baking!