A clever kitchen requires clever storage units and to help ignite inspiration to your next kitchen project, here are top picked pullout kitchen drawer designs:
1. Green Velvet Lacquer Pullout Kitchen Drawer
The vintage green velvet lacquer matched with gold handles creates a luxurious yet timeless kitchen design that invites you to cook, mingle, and have a meal together.
A closer look at the pullout drawer of Lux-B 49499 shows that the sides are equipped with see-through glasses allowing you to see items not visible in the top view perspective plus the smooth gliding feature is just a breath of fresh air.
2. Polished Walnut Wood Pullout Kitchen Drawer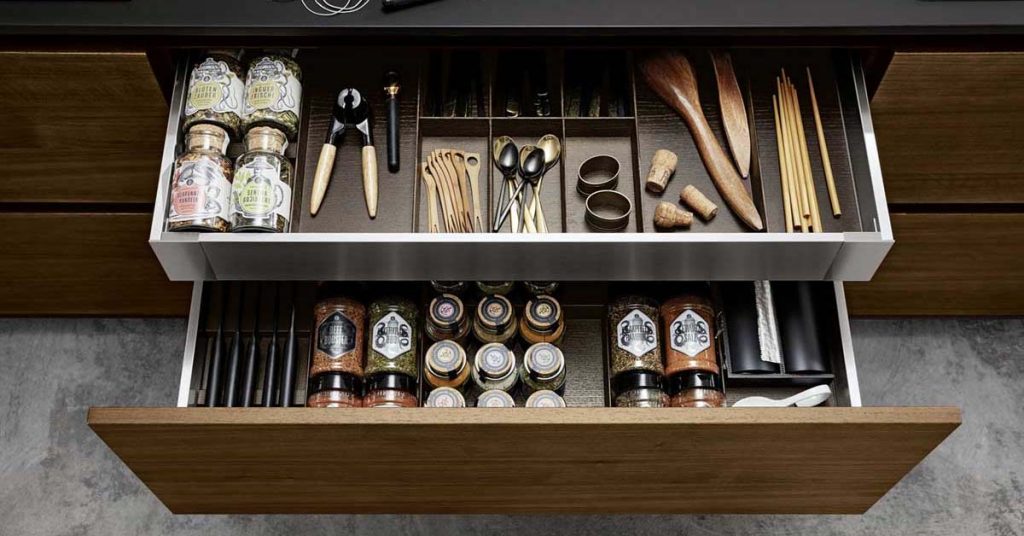 Choosing Florenz 6810 polished walnut is choosing something timeless that even 5-10 years have passed your kitchen is still stylish and warm.
The idea is to maximise your drawer unit by having a drawer in a drawer design. You can say it's a drawer-ception. The upper drawer is equipped with dividers in varying spaces perfect storage for your kitchen tools and even spices while the lower part offer a higher drawer space suited for canned goods and more.
3. Art Pepper Pullout Kitchen Drawer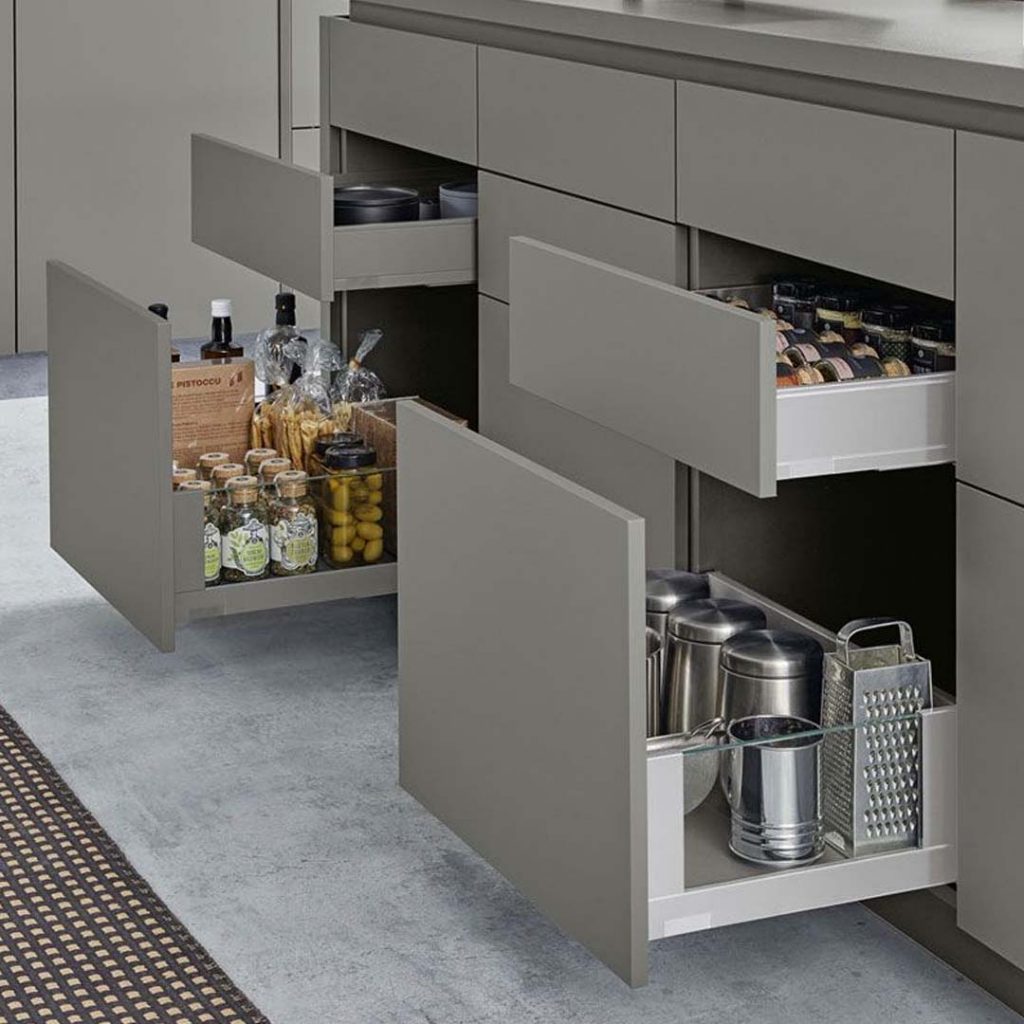 The Pur 2661 art pepper finish reminds you of the outside setting in gray tones. It is compact enough to store all your kitchen essentials in two varying heights.
Notice the transparent glass side details that feature is used in almost every design as it is that much convenient and useful.
4. Concrete Look Pullout Kitchen Drawer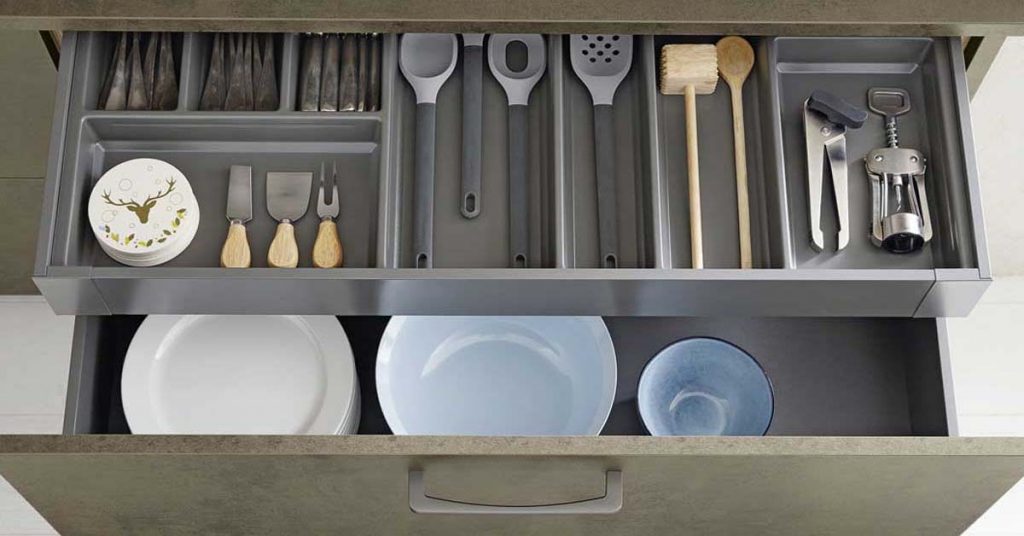 Top 1606 concrete look is your never get dirty kind of style. It is also a drawer-in-drawer style that has an upper drawer perfect for kitchen tools and the lower drawer suited for crockery.
Plus, the smooth-gliding drawers are always a crowd favourite.
5. Super Matt Resopal Pro Pullout Kitchen Drawers
It is always a pleasure to stare at a properly arranged drawer just like this Resopal Pro 30001 drawer unit. The inside is as breath-taking as the outside design enough to make you want to cook and mingle in your kitchen while bonding over a scrumptious meal.
6. Light Colour Shade Pullout Kitchen Drawer
The light shade colour of Sofie- B 4769 is your pristine, neat, and bright kitchen design that radiates freshness. The inside drawer is equipped with wooden dividers to match the overall interior of this kitchen setup making it cohesive and irresistible.
7. SealBrown DirektLACK Lacquer Finish Pullout Kitchen Drawer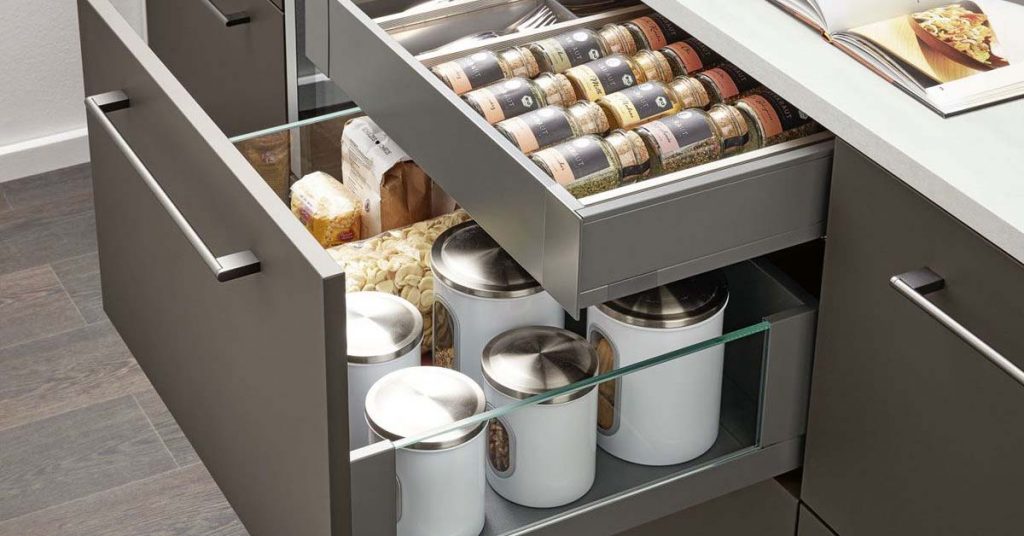 The Top 1466 design is used in a loft-living plan where clever designing is a must. The pullout kitchen drawers became quite the star in this set-up as it can store plenty of spices and varying heights of jars.
Plus, the smooth-gliding and side transparent glass features are still in place which makes this one more useful.
Over to you…
Ready to embrace clever pullout kitchen drawers? Just get in touch with us and allow us to create a functional and convenient cooking space you deserve. Happy cooking!